Easy Recipe To Cook Gluten-Free Korean Japchae That's Delicious And Aromatic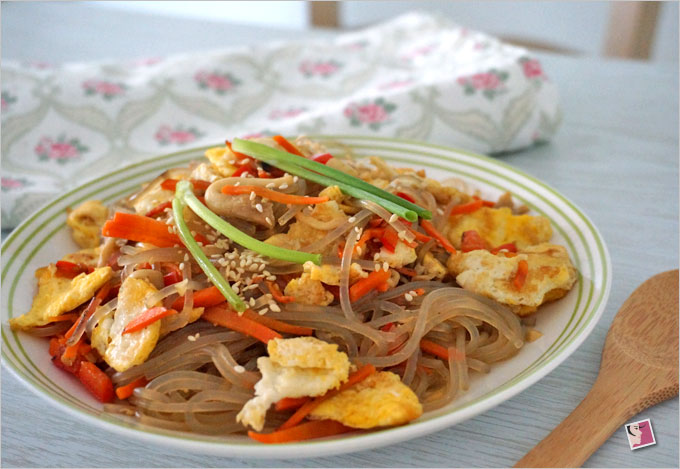 Korean japchae is the latest Korean fare I've been whipping up for my lunch box. I'm so loving that the sweet potato starch noodles is gluten-free. YAY! Finally, I've found something to replace wheat-based pasta and vermicelli. And the best part is, this dish is tasty and easy to prepare.
Some of you may be aware that japchae is a well-loved dish in Korea. And in case you're wondering, japchae is also known as jabchae, chapchae, chop chae, or chap chae. The funny thing is I didn't get to eat this dish when I visited the country. I was only interested in it after a colleague shared an easy recipe with me recently.
Chewy and tasty
What's unique about the dish is its unique springy, chewy and slightly sweet taste from the sweet potato starch noodles. It also looks appetizing because of the colorful ingredients.
Well, the colors really depend on what you add but typically, most recipes recommend carrots, green vegetables and mushrooms. You can also add meat if that's your preference.
Although the dish is easy to prepare, I'll have to admit it's time consuming. First, you need to prepare the different ingredients and second, the recommended way to cook japchae is to stir-fry each ingredient separately. It could easily take 45 minutes or longer for the dish to be served.
Besides the recipe shared by my colleague, I've watched some of the japchae making videos on YouTube. Both my colleague and I agreed that stir frying each ingredient separately is a lot of labor so we both have been cooking everything together to save time. I know, I know, that's unauthentic strictly speaking but hey, our fast-to-cook japchae is still good-to-eat. #k8SjZc9Dxk.#k8SjZc9Dxk
Also, apart from the basic ingredients of sweet potato starch noodles, garlic and sesame oil, I've cooked the dish to suit my own tastebuds. I will be sharing the recipe later but you might need to adjust according to your preference as what tastes good to me might be too bland for you.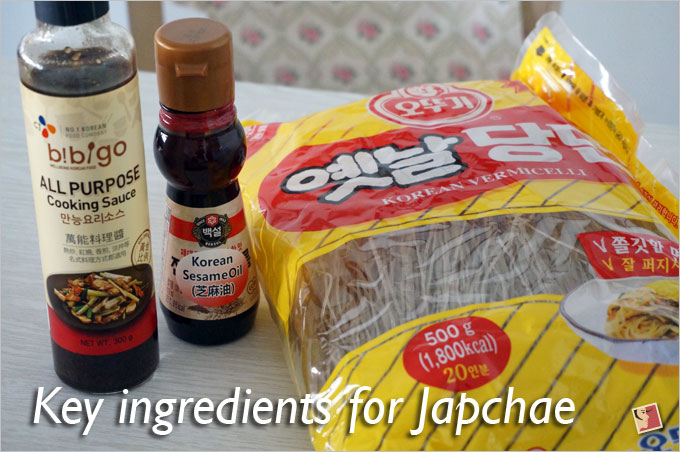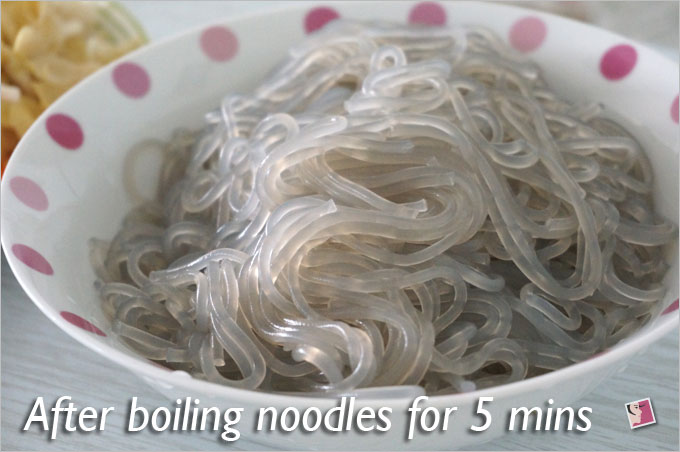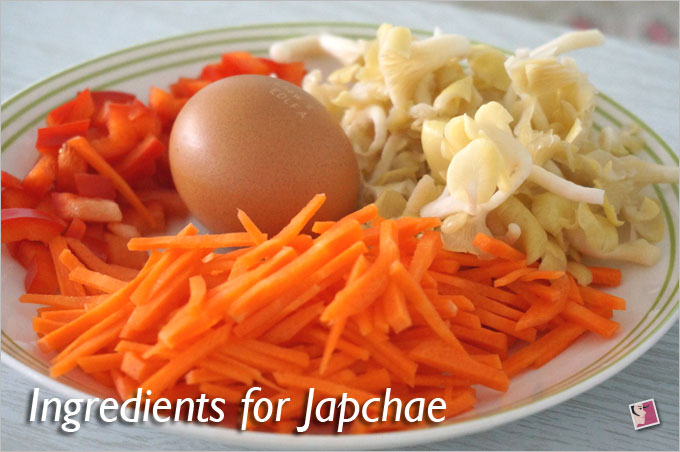 Preparation tips
Okay, let's get going to the how-tos now.
The first thing to do is to boil the noodles for 5 to 7 minutes. The portion is about the same as pasta–a handful is good for one person. I like that the noodles do not stick even after they've cooled down. This is why japchae makes an excellent lunch box recipe.
As mentioned, what you want to add really depends on your preference. As you can see here, I've added sliced carrots, mushrooms, chopped capsicums, and eggs. You may like to add onions, bean sprouts, or spring onions.
I hadn't added anything green leafy vegetables because I usually don't like to prepare greens for my lunch box as they'll turn out looking unappealing after some hours. In hindsight, a green capsicum might have done the trick.
Also, my presentation of the eggs isn't the best. I've seen how other professional food bloggers sliced them into thin strips to make the presentation more colorful. Erm…It doesn't really matter since this is going right into my tummy right? Beh.
Korean seasoning
I bought the Korean seasoning and sesame oil to cook the dish. For a one-person portion, I added about two tablespoons of the seasoning to stir-fry the ingredients. I then added about three tablespoons again after I throw in the noodles.
But the taste is light because the noodles can't really absorb the flavoring. If you don't have the Korean seasoning, you can use soy sauce opsauce. The sesame oil is great though–it really flavors the dish and the aroma certainly makes the dish more mouth-watering.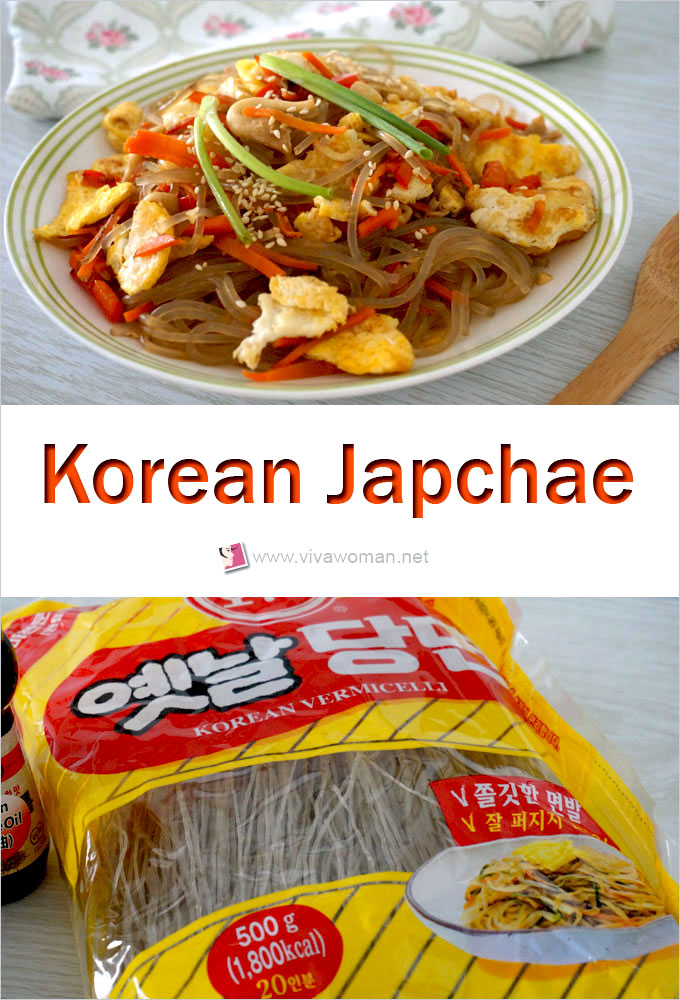 Gluten-Free Korean Japchae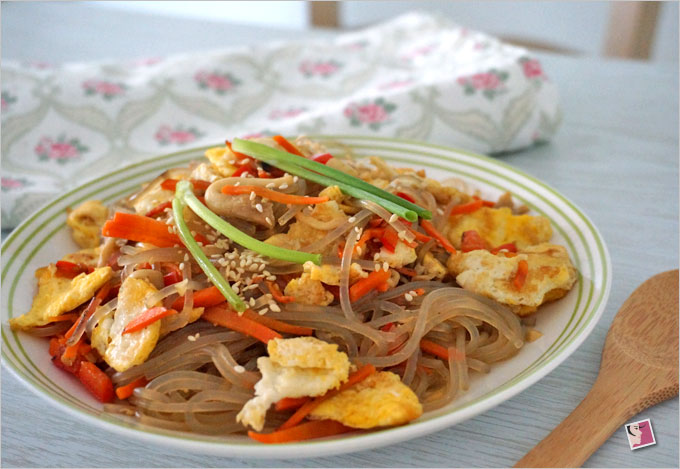 Japchae, jabchae, chapchae, chop chae, or chap chae (Korean: 잡채) is a Korean dish made from sweet potato noodles (called dangmyeon, Korean: 당면), stir fried in sesame oil with vegetables (typically thinly sliced carrots, onion, spinach, and mushrooms), sometimes served with beef, and flavoured with soy sauce, and sweetened with sugar. It is usually served garnished with sesame seeds and slivers of chili. It may be served hot or cold.
Ingredients
Korean sweet potato noodles
Korean all-purpose cooking sauce
Korean sesame oil
½ teaspoon of brown sugar
Chopped garlic
Sliced carrots
Chopped capsicum
Your favorite kind of mushrooms
One egg
Instructions
Boil the Korean sweet potato noodles for 5 to 7 minutes.
Set aside after draining.
Fry a beaten egg, cut into strips and set aside.
Stir fry garlic in some oil.
Add sliced carrots and capsicums, stir-fry for 2 minutes.
Add mushrooms and stir-fry with carrots and capsicums for 2 minutes.
Add two tablespoons of cooking sauce and ½ teaspoon of brown sugar.
Stir-fry for 2 minutes, add cut egg strips and stir fry for another 1 minute.
Add in noodles and stir-fry.
Add 3 tablespoons of cooking sauce and 2 tablespoons of sesame oil.
Continue stir-frying for another 2 to 3 minutes till ingredients are well mixed.
Serve.
I've basically made it easier by cooking all the ingredients together using the Korean all-purpose sauce. If you want to cook each ingredient individually, check out the video. I understand that japchae is supposed to be tastier when ingredients are cooked separately.
Where to get sweet potato noodles
You can find the sweet potato starch noodles at NTUC supermarket. But there are two versions. One is a smaller pack at S$1.50 that is made-in-China and cooks for two. What you see in the pictures here is a bigger pack that cost S$7.50 and is made-in-Korea.
If you live outside Singapore, check your local supermarkets. I don't know better than you but I'm guessing you can probably find the noodles at the Asian food or Korean food section.
In comparison, I'd say Korean sweet potato starch noodles taste better than the Chinese glass noodles (aka cellophane noodles) because they are thicker, more chewy and sweeter.
Can Korean japchae be batched cooked? Well, you can cook more and leave it in the fridge for reheating but I'm not too sure if freezing the noodles is such a great idea. Alternatively, you can boil the noodles and leave them in the fridge. They can keep for two days or so when stored properly.
Have you eaten Korean japchae? Do you love it? Is it something you think you'll enjoy cooking?
Comments