Chase your PMS blues away with essential oils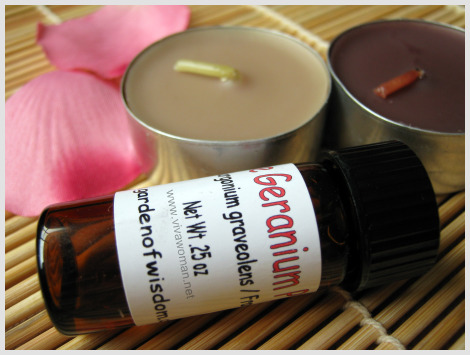 I wonder if premenstrual symptoms (PMS) get worse with age because I'm increasingly bearing the brunt of it all. It used to be just aches and some irritability that last two days at most but now, it stretches to a week and sometimes more. During these days, I feel unduly anxious and completely disorganized. Once, it got so bad that I crashed the front of our car into a wall while parking!
Evening primrose oil & milk
Evening primrose oil does not help me at all, even after I tried increasing the dosage. I've been relying on drinking milk to ease my PMS but it only helps partially, probably because I don't drink it every day.
Rose Geranium pure essential oil
I've never dabbled with essential oils until I met Grace of Geranium. She shared some useful tips with me about using such oils to cure common flu and they've proven to be useful for my child. I also like the idea that tea tree oil makes an effective natural deodorant! In fact, I ordered the Rose Geranium (Pelargonium Graveolens) pure essential oil during the last spree because I wanted to use it to mask the smell of tea tree oil but I realized that it helps me with my PMS!
Helps balance nervous system
From various sources I've come across, Rose Geranium essential oil apparently stimulates the adrenal cortex and helps to balance the nervous system, while lifting depression and relieving anxiety. The oil is said to have a regulatory effect on the hormonal system.
Aromatheraphy benefits
I use it via an aromatheraphy diffuser and the scent is sweet, but not overpowering. I would describe it as soothing and it does have a calming effect, helping me to feel less irritable. In addition, I also dab the oil on my pillow so that the scent can help me sleep better. The only problem I find is that the effects last only as long as the smell is present.  But at least it helps and I'm actually currently enjoying the benefits as I'm typing this.
Other essential oils for PMS
Apart from Rose Geranium, other essential oils like Rose, Lavender, Clary Sage, and Bergamot also offer effective help to relieve PMS. I like the scent of Bergamot but I haven't used it for PMS purpose though.  However, if you're pregnant or ill, you are usually adviced against using essential oils without expert guidance.
Essential oil body patches
I would be interested to try Naturopatch, which are body patches containing pure essential oils.  I'll probably order them via the next Lucky Vitamin spree as they look really interesting and I like the idea of having them on me.  Has anyone tried them?
Comments