Omega 3 fish oil to drive away my PMS blues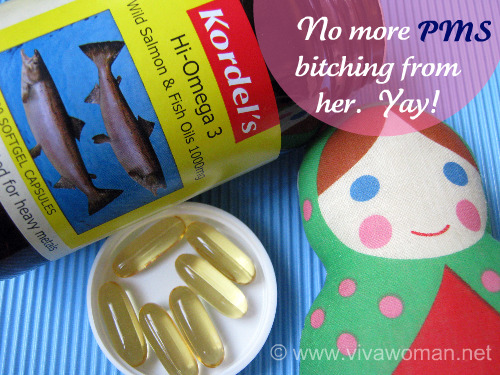 I know, I know. I seem like a sales promoter for Kordel's supplements. Well, sales promoter I am not but I'm definitely sold on their supplements because they work for me. So what new supplements have I been taking from their slate? It's the Kordel's Hi-Omega 3 Wild Salmon & Fish Oils. I didn't have success with the plant-based flax oil supplement and so decided to go back to taking fish oil, mainly for my heart, brain and skin. However, one of the first benefits that I'm reaping is that it is helping to ease my PMS tremendously.
General benefits of Omega 3 for women
Omega 3 fatty acids are widely known to be good for us as it reduces inflammation and increases blood flow, which is good for our heart, brain and even mood. It is also said to be able to help women protect against osteoporosis and breast cancer. In addition, it also helps us to maintain supple skin, lustrous hair, and stronger nails. More interestingly, the essential Omega 3 fatty acids found in fish oil can help to alleviate the symptoms of PMS including inflammation, uterine cramps and pain.
Alleviated my PMS blues
Prior to this, I was taking the Omega fish oil from Nordic Naturals but I hadn't really noticed that much of a difference, aside from an improvement in my hair texture. However, after taking the Kordel's Hi-Omega 3 Fish Oil, I forgot all about menstruation until the day it arrived. I didn't think about killing this blog, which is a thought that occurs whenever my PMS strikes. I had very slight backache. I hardly scolded my son although I was still nagging at my husband. In short, the PMS bitch sort of left me alone.
Omega 3 as opposed to evening primrose oil for PMS
I could have just taken a supplement of evening primrose oil but have been staying away from that since discovering that long term usage of evening primrose oil could cause hormonal imbalance. Anyway, I think the Omega 3 supplement is a better choice since it provides a host of other health and skin benefits.
Choose a quality Omega 3 fish oil supplement
If you're considering a fish oil supplement, do ensure that you buy only pharmaceutical grade, molecularly distilled products as most fish in the world is contaminated with mercury, PCB's, and other toxins. I'm quite happy with the Kordel's Hi-Omega 3 because it is stated to have undergone stringent testing for freshness and the presence of environmental contaminants including mercury, PCBs (polychlorinated biphenyls), DDT (an organic pesticide) and dioxins.
Comments