Facial cleansers: oil, cream, milk or foaming?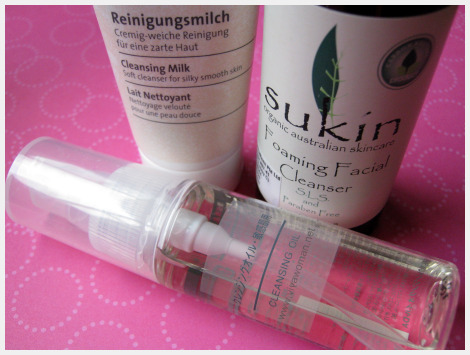 We know that cleansing is an important process to clear our skin of any dirt or impurities and we do have many options of cleansers available in the market. Those that I'm familiar with are oil cleansers, milk or cream cleansers and foaming cleansers.
Oil-based cleansers
The Japanese are known for using this type of cleansers not just to remove their makeup, but also to cleanse their face. As such, many of the good oil cleansers come from brands like Shiseido, Shu Uemura, Kanebo, DHC or Fancl, just to name a few. The idea of oil removing oil maybe alien to some but it actually works very well for those who have tried. Personally, I like using oil-based cleansers to remove my makeup, compared to other types of cleansers. However, I don't quite like the idea of washing my face just using an oil-based cleanser although it is possible since most of them emulsify with water, thus leaving our skin clean but not dry.
Cream or milk-based cleanser
This type of cleansers are often said to be good for matured skin as it is not over drying. I've tried a couple of brands in the past, and always only used them to remove my makeup. However, compared to oil-based cleansers, I find that they do not remove all my makeup that effectively. In addition, I don't like the "film" they leave behind. But, I admit that they're good in the sense that they do not dry out my skin.
Foaming cleanser
Despite the fact that I have matured skin type, I prefer using foaming cleanser. It could be psychological, because I feel that my skin is cleaner using this type of cleanser. However, there is the concern that such cleansers can dry up our skin – which is true if it contains SLS. Hence, although I always use foaming cleanser, I ensure that the ones I use do not contain SLS.
My cleansing routine
I've always been double-cleansing my face. If I wear makeup, I'll first use an oil-based cleanser to remove my makeup before using my foaming cleanser. If I don't use makeup, then I use a milk cleanser first, before ending off with my foaming cleanser.
What's your favorite?
What about you? What is your cleansing preference? Which is your favorite? And anyone uses washing powder to cleanse their face? If yes, I'll also be interested to hear about your experience.
Comments