Preservative & paraben free Dead Sea products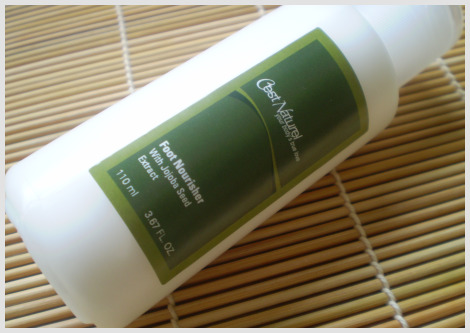 I love products using Dead Sea minerals but most of the commercial brands I've come across from Israel tend to contain quite a bit of chemical ingredients and this has somewhat deterred me from trying them out. So when Pamela contacted me earlier in the year to try her C'est Naturel range, I was reluctant to. However, I changed my mind when they added preservative & paraben free items to their C'est Naturel Dead Sea product range. Although the ingredients are not 100% natural and do contain some chemical synthetics, but the thought that they've omitted parabens made me at least more comfortable to want to try their products.
I was receptive to trying hair and body products and what Pamela sent me to test were the C'est Naturel Foot Nourisher and the C'est Naturel Extra Nourishing Mud Shampoo & Hair Detangler.
C'est Naturel Foot Nourisher with Jojoba Seed Extract
This is a foot cream that is enriched with Dead Sea salt, aloe vera gel, beewax, honey, jojoba oil, orange flower oil, rosehip oil, lanolin, and others.  It also contains synthetic ingredients like isopropyl myristate, propylene glycol and dimethicone for those interested to know.  The texture is very creamy but the absorption rate is good and I did not feel my feet being greasy or oily after awhile. I use this at night during bedtime and what I like about it is that it does not leave greasy stains on my bedsheet or the floor. Don't expect this to soften your hard heel callus but it will keep the skin on your feet moisturized and feeling soft because of the jojoba seed extracts.
Options for tube at 30ml
I received the 110ml bottle which cost S$23.90. Because of the thick creamy texture, I have to leave the bottle upside down so that it's easier to dispense. Otherwise, the tube at 30ml which cost S$7.90 might be a more convenient option in terms of usage. For more information on the product, look up information on the C'est Naturel website.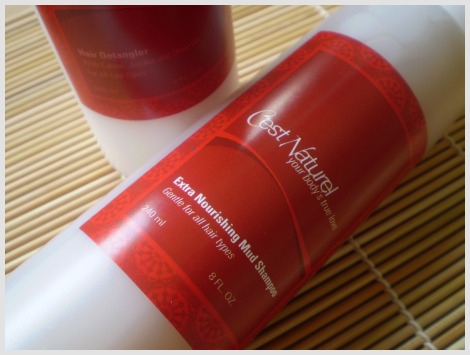 C'est Naturel Extra Nourishing Mud Shampoo and Hair Detangler
The shampoo is said to be suitable for oily & itchy scalp. However, I didn't feel that it worked for my specific hair condition. I have extremely greasy scalp and I would consider the results mediocre for me. What I didn't like was that it was over nourishing and made my fine hair looked limp and that was just the shampoo. So in the end, I passed the two bottles to a friend, who has normal hair type to try and her comments were more favorable.
A tad drying depending on hair condition
According to my friend, this shampoo thoroughly cleanses and removes grime from her hair and scalp. I believe the Dead Sea Mud coupled with the SLS contributed to the cleansing effects. However, it was a tad drying for her hair even with the Hair Detangler and hence, she only uses the products on alternate day basis. But to be fair, my friend does not have oily scalp to begin with so perhaps the C'est Naturel Calming Mineral Shampoo with Aloe Vera will work better for her.
The cost for the 240ml C'est Naturel Extra Nourishing Mud Shampoo is S$21.90 but there is a trial size at 30ml for S$4.90. C'est Naturel Hair Detangler retails for S$17.90 at  at standard size of 240ml only.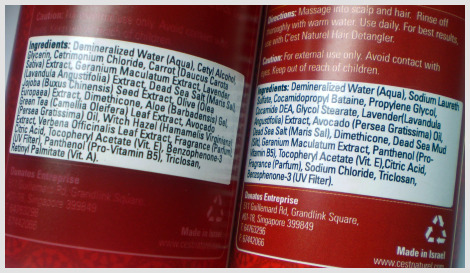 Summary on C'est Naturel range
I haven't made a comparison of other Dead Sea products in the market but I think the C'est Naturel body products are probably worth checking out as the prices seem reasonable. Like I mentioned, the products are not 100% natural but at least, they try to omit parabens which is a major concern for some people. So definitely a plus point for those who like products using Dead Sea minerals. In addition, what I like is that the company offers smaller sizes for some of the products so customers can test out their products at smaller budgets before committing to the full sizes.
Online store also offers 100% mud masks, sea salts & scalp tonic
For more information on the C'est Naturel range, check out their website. In addition, you might also be interested to know that Pamela also offers 100% pure Dead Sea Mud Mask and 100% natural scalp tonic for greasy scalp which I've recommened.
Comments