Review: La Claree Oliv' organic skin care range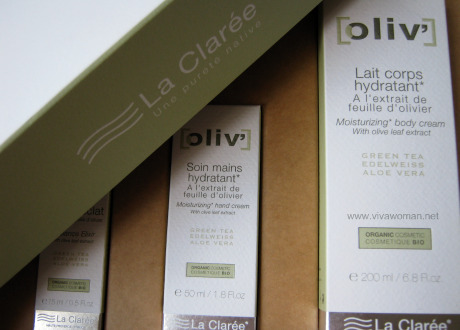 If you've visited Watsons at Ngee Ann City or ION Orchard recently, you may have noticed some new organic skin care products – one of which is La Claree, an organic brand originating from France. Oliv' is the organic facial and body care line introduced under the brand and the products are formulated with organic olive leaf extract, organic green tea, organic aloe vera and organic edelweiss.
I was sent a kit comprising four of their products mainly under their body care range by their local distributor StarAsia, and the first thing that struck me was the lovely olive scent. It's very light, but very calming and soothing. Definitely scored some major points there!
Certified organic by ECOCERT
Since the La Claree Oliv' range are organic, it means they are free from parabens, colouring agents or synthetic fragrances. The Oliv' range is certified organic by ECOCERT and products are made from 98% natural ingredients. Additionally, 30% of all the ingredients are from organic farming, even though the requirements only stipulate 10%. There is also no animal testing, and all product packaging are recycled and recyclable.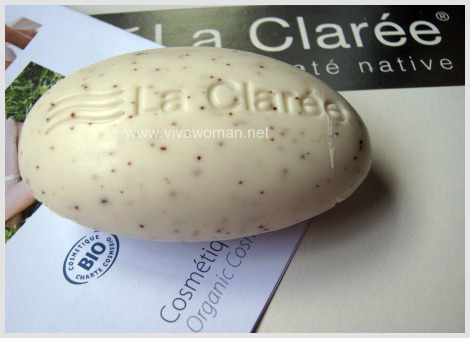 La Claree Oliv' Exfoliating Soap 75gr S$10.90
This is an interesting soap that comes with Argan kernel powder for exfoliating. Other key ingredients are 94% vegetable foaming base derived from coprah and coconut, 1% sweet almond oil, and 1% olive leaf extract. The exfoliating capability is quite good and I can give my hands and legs a good scrub. It also foams well and cleanses very thoroughly. The only thing is that because it's a soap, it's kind of difficult to exfoliate your entire body well because of the shape. But it works well if you're just exfoliating certain parts of your body or are planning to give your elbows and heels a good scrub.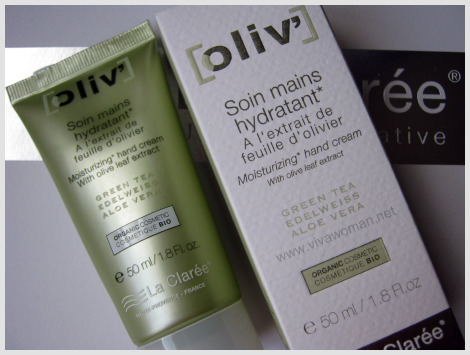 La Claree Moisturizing Hand Cream 50ml S$24.90
This is my favorite of the four items I've received. Love, love the scent and how well it moisturizes my hands without leaving it greasy or sticky. It's pretty lightweight but it's able to nourish my hands quite well, keeping it from drying out quickly. It's now my staple hand cream in the day. Active ingredients include 15% aloe vera juice, 9% olive leaf extract, 3% macadamia and sweet almond oils, 3% shea butter, 1% green tea and edelweiss, inuline, palmarosa, cedar and citrus essential oils. If your hands are not extremely dry, I would highly recommend you to try this for its soothing qualities.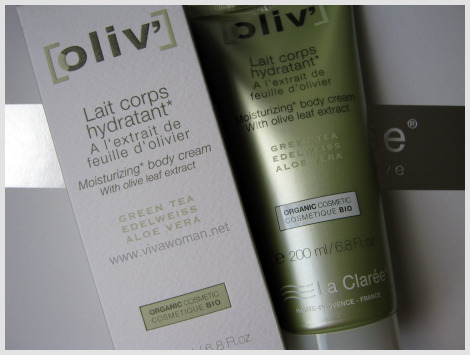 La Claree Oliv' Moisturizing Body Cream 200ml S$41.90
The body cream has the same scent although the smell seems a tad milder. This product contains 10% aloe vera juice, 8% olive leaf, 5% carthame oil, 3% macadamia and sweet almond oils, 1.95% green tea and edelweiss, 1% shea butter, palmarosa, cedar and citrus essential oils – pretty similar to the hand cream but not as concentrated. I'm half-minded about this one. On one hand, it's lightweight and absorbs into my skin easily without leaving any residue but on the other hand, it's not nourishing enough for my rather dry arms. Hence, I keep this for day use as this is perfect when I slap on another layer of sunscreen on my arms.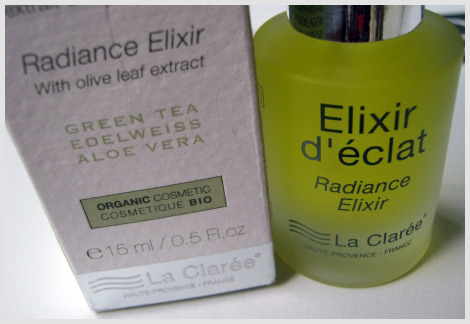 La Claree Oliv' Radiance Elixir 15ml S$54.90
I was told this is La Claree's star product and is described as a natural dry oil that can smooth out wrinkles, stimulate cell activity and protect the skin from the effects of ageing. Key ingredients include 53% jojoba oil, 18% macadamia oil, 3% sunflower oil, 3% olive leaf extract, 0.5% evening primrose oil, 0.5% vitamin E, green tea, edelweiss and aloe vera, palmarosa, cedar and lemon essential oils. I haven't really tested this product as so far, I've only managed to use it twice. First impressions are that application of 6 drops as per the instructions given is too much for me. Even after cutting back, I found it a tad oily for my skin. I guess it must be the jojoba oil, which has this effect for me. My guess is this is great for dry to normal skin type. Anyway, I'll need to test it out again before concluding but I don't quite like the fact that isopropyl palmitate is listed third on the ingredient list.
Overall summary
The La Claree Oliv' range is definitely of premium quality – comparable to some of the products from L'Occitane. The price points, at first glance, seem quite expensive but if you were to factor in the quality, then I would say this is definitely mid range with some of the products being retailed at a very reasonable price with the organic ingredients. If you're into organic body care products, I would recommend checking the range out – especially the hand cream!
Comments