Neal's Yard Bee Lovely & Wild Rose Hand Creams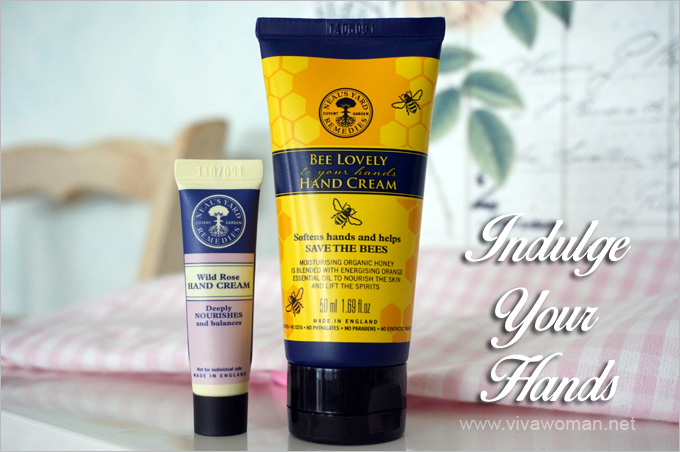 Hand creams are a staple in my life; I always need to have one within reach. In a day, I probably slather hand cream on my hands a dozen times on average–after every hand washing, while I am working, when I am bored and before I sleep. So I can tell what's a good hand cream in a fingersnap.
Besides being able to moisturize and nourish my hands, it must appeal to my sense of smell and lift my mood. Now there are many hand creams that are great in terms of moisturizing and nourishing but they do nothing for my mood. Then there are those that smell so potent, I feel like my senses got hit by a ton of bricks after taking a whiff.
So we have hand creams and we also have good hand creams, but what we really want are superb hand creams (hopefully without the corresponding price tag). These are those that make me look forward to using them whenever I get the chance and cause me to want to bury my face in my hands after each application. Oooooh…
Unfortunately, not too many hand creams make it to that superb grade and that's all right if they are reasonably priced. But with a price tag like S$30 for 50ml, my expectations are naturally higher. I mean if consumers are expected to spend that kind of money for a tube of hand cream, then they'd better meet the mark.
Like these two hand creams from Neal's Yard Remedies that retail for S$30 each. I got a sample size of their Wild Rose Hand Cream and a full-sized Bee Lovely Hand Cream, complimentary from Neal's Yard. Both comes in 50ml tubes and are no budget buys. But I am happy to report that Neal's Yard hand creams are well worth their price tags. In fact, they have far exceeded my expectations in terms of performance and scent.
Since I have already told you that I like them, let me share my thoughts on each and perhaps help you to decide should you want to pick one for a Christmas present or for yourself.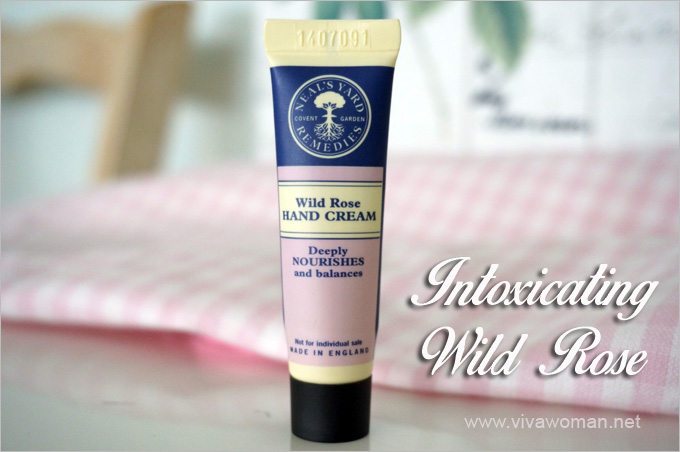 Neal's Yard Wild Rose Hand Cream | 50ml,S$30
I have to tell you about the scent because that's the first thing that got me. If you know wild rose, you know the scent is lovely but this one is top grade for the scent is not overwhelming. In fact, it's very soothing and comforting. If there is a Goldilocks scale of smell, this is the one that is just perfect. So perfect that I could not get enough. But then again, you must know that I am a wild rose lover. So yes, this review is bias.
On contact, this Wild Rose Hand Cream comes as a thick lotion that is almost creamy to the touch. But yet, it is non-greasy and does not leave any oily stains. The cream gets absorbed quickly enough upon massage and my hands felt very soothed, well nourished and moisturized until I wash them.
The ingredient list do justify the price tag–with a blend of natural beeswax, almond and soya oil, aloe vera, as well as antioxidant wild rosehip oil and a balancing blend of essential oils like frankincense, geranim and ylang ylang. It has altogether 92 percent organic ingredients and here's the full list:
Aqua (Water), Glycerin, Glycine soja (Soya) oil*, Cetearyl alcohol, Cera alba (Beeswax)*, Cetearyl glucoside, Rosa canina (Rosehip) fruit oil*, Prunus amygdalus dulcis (Almond) oil*, Pelargonium graveolens (Geranium) flower oil*, Citrus paradisi m. (Grapefruit) peel oil expressed*, Boswellia carterii (Frankincense) oil, Canaga odorata (Ylang ylang) flower oil*, Pogostemon cablin (Patchouli) leaf oil*, Aloe barbadensis (Aloe vera) leaf juice powder*, Levulinic acid, Sodium levulinate, Tocopherol, Helianthus annuus (Sunflower) seed oil, Potassium sorbate, Xanthan gum, Benzyl alcohol, Benzyl benzoate, Benzyl salicylate, Citral, Citronellol, Eugenol, Farnesol, Geraniol, Isoeugenol, Limonene, Linalool. *Organically produced ingredient. Natural constituent of essential oils listed. Made with 92% organic ingredients
The Neal's Yard Wild Rose Hand Cream isn't their most popular but I love it. Apparently, their Garden Mint & Bergamot Hand Cream is more popular and having taken a whiff of it when I visited their shop, I have to agree that the scent is very inviting too.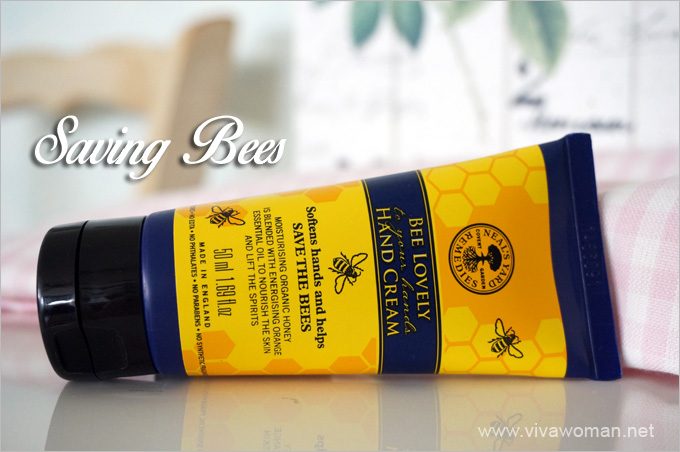 Neal's Yard Bee Lovely Hand Cream | 50ml,S$30
This product is popular in part because it is being sold to raise funds for three charities involved in supporting the bee population. But it is also popular because it has quite an impressive performance.
Unlike the Wild Rose Hand Cream, this one is creamy and quite thick. But it is also non-greasy. In fact the first time I used it, I slathered on too much but was surprised at how well it blended into my hands without leaving a heavy coat. And the best part is that the cream actually gets absorbed into the skin because I noticed that when I washed my hands some time later, I didn't feel like I was washing off a coat of cream from my hands. I've tried some hand creams with similar texture but all they do is just sit on top of my skin without being absorbed.
In terms of scent, Bee Lovely Hand Cream has an energizing orange scent. It's a bit sharper than the Wild Rose Hand Cream but isn't overpowering so it should appeal to most unless they absolutely dislike the citrus. The sweet and energizing scent is the result of the organic honey blended with orange essential oil and here's the full ingredient list:
Aqua (Water), Helianthus annuus (Sunflower) seed oil*, Bertholletia excelsa (Brazil nut) seed oil*, Cetyl alcohol, Cetearyl glucoside, Cetearyl olivate, Mel (Honey)*, Citrus sinensis (Orange) peel oil expressed*, Alcohol denat.*, Propolis extract*, Sorbitan olivate, Sodium hyaluronate, Camellia sinensis (White tea) leaf extract, Tocopherol, Xanthan gum, Potassium sorbate, Levulinic acid, Glycerin, Sodium levulinate, Citral, Limonene, Linalool. *Organic ingredients. Natural constituent from essential oils listed.
The product comes with 76 percent organic ingredients and can apparently be used by children too because it is said to be very gentle. Based on some reviews I'd read, it even seems to be good for those with eczema issues even though it contains alcohol.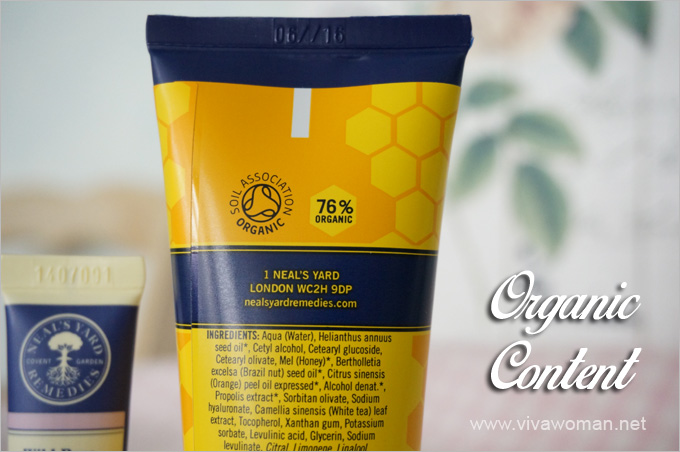 Overall summary
I enjoyed using both the hand creams but if you were to ask me to choose, my pick would be the Wild Rose Hand Cream simply because I love the wild rose scent. Also, the Bee Lovely Hand Cream contains alcohol denat. But if I want to be indulgent, I'll just go for both and use one in the day and the other at night.
Although the price tag of S$30 for 50ml seems expensive at first glance, it is actually quite reasonable considering the amount of organic ingredients. It is definitely better than some of the popular hand creams that are in the non-natural category.
Neal's Yard Remedies is located at Millenia Walk #01-75 or you can look up their website for more information. My only gripe is that the product is not available for sale online (in Singapore) and so you need to travel to their retail store to get the products.
Neal's Yard Remedies Bee Lovely Hand Cream
50ml, S$30
Pros
Uplifting smell
76% organic content
Non-greasy
Quick absorbing
Long lasting
Comments