Adopt a customized sun protection arsenal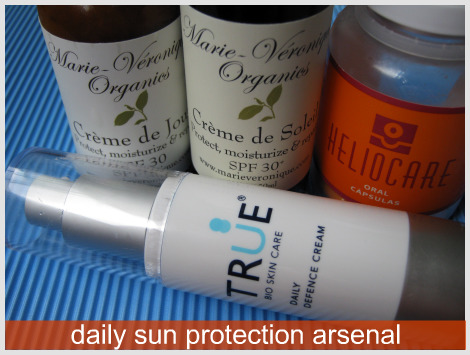 I know a number of you who read Viva Woman uses natural sunscreens or sunblocks like me, but also have questioned if what you are using is giving you sufficient sun protection.  The natural sunscreens use zinc oxide and/or titanium dioxide as the active key ingredients and unlike most of the European formulations, do not tell you the Persistent Pigment Darkening (PPD) rating used to measure UVA protection.
ZnO & TiO2 stay on our skin until being washed off
From some sources I have come across, it would seem that natural sunscreens do not offer high enough PPD and logically this make sense since their chemical counterparts always include a number of chemical sun protection active ingredients.  The natural sunscreen I use only has 20% zinc oxide for example.  The good news however, based on info I've come across, is that both zinc oxide and titanium dioxide stay on top of our skin until they're wiped or washed off, which means they're photostable!
Relying on more than one form of sun protection
Anyway, I've come to a point where I'm satisified with what I'm using for sun protection.  While my sunscreen is only using zinc oxide as the active ingredient and the PPD level may possibly be under 10, I also rely on other sources of protection to give myself peace of mind.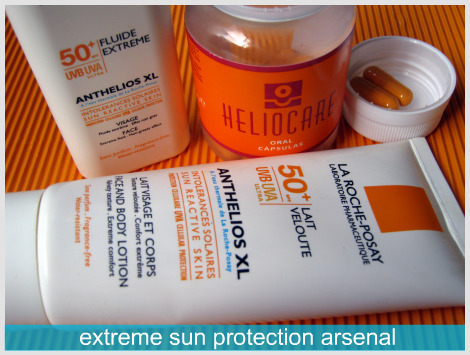 My sun protection arsenal
On a daily basis, where causal sun exposure is concerned, these are the items I use to protect my skin, on top of using an umbrella sometimes:
– True Bio Skin Care Daily Defense Cream Cream (TiO)
– Marie-Veronique Creme de Soliel for my face & neck (ZnO)
– Marie-Veronique Creme de Jour for my hands (ZnO)
– One capsule of Heliocare (antioxidant)
If I'm heading out to the beach or swimming and I know I'll be exposed to the oppressive sun for a prolonged period, then these are what I use although I try to avoid staying under the direct sunlight:
– La Roche-Posay Anthelios XL SPF50+ Fluid Extreme (PPD 28)
– La Roche-Posal Anthelios XL SPF50+ Lait Veloute (PPD 31)
– Two capsules of Heliocare
Right brain & left brain rationales
As I said before, my preference for natural sunscreen is a personal choice.  Because I'm using natural and organic skin care products on my face in particular, it really makes no sense for me to break the cycle and choose a chemical sunscreen just because of the high PPD.  *right brain talking*  But since I'm predisposed to developing pigmentation, then I have to be more careful by using more than one item for sun protection.  And when I have to be exposed to the extreme sun, then I have to be realistic and opt for a sunscreen with high PPD.  *left brain reasoning*
Increase your intake of vitamin C & E
So if you are not sure about the sun protection level of your sunscreen, you might want to use other forms of sun-fighting arsenal or even customize the items you're using to suit the weather.  I know many are uncomfortable about taking the oral sun protection pills.  So for this group, I suggest you have sufficient intake of vitamins C & E which will also provide you with the required antioxidants to battle the free radicals caused by exposure to UV rays – on top of using your sunscreen.
Comments