Can you chew your wrinkles away?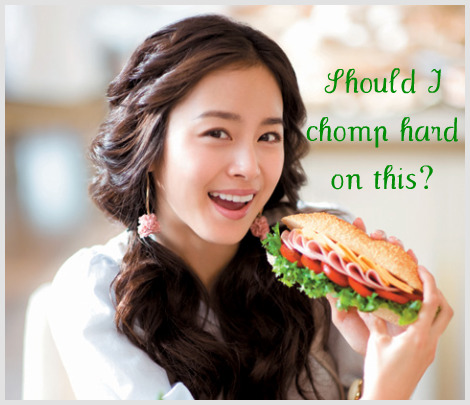 Those who have read Chizu Saeki's The Japanese Skincare Revolution might remember her advice that we should make a conscious effort to chew our food on that side of the mouth that is sagging or drooping more at the corner.  My first thought when I read that was – does that mean that chewing more can help to prevent wrinkles?
Chewing to prevent wrinkles?
And I was surprised to find quite a number of online resources suggesting chewing as a form of facial exercise to get rid of wrinkles.  In fact, some even suggested that we should chew gum every day from 5 to 20 minutes to reduce our facial wrinkles and look rosy!   This is because chewing can exercise our facial muscles, improve blood circulation plus result in wrinkle reduction and smoother skin.  
Really?
Chewing can contribute to wrinkles?
I remember being told that chewing gums can help to reduce double chin but I'm quite doubtful about chewing away the wrinkles.  In fact, I read that wrinkles are the inevitable results of muscles repeatedly contracting on our face, with chewing as one of the contributors.   Plastic surgeons are even suggesting that long term facial muscle movement, such as smiling and chewing, can also lead to the appearance of sagging lower cheeks and nasolabial folds.  Perhaps…I chew more on my right side and I do notice that there is one line at the chin area near my lips. 
Chew equally on both sides
Of course it's definitely not possible to avoid smiling and chewing and unless you're chomping excessively, I doubt normal chewing create wrinkles too.   However, neither am I in favor of chewing as a form of facial exercise and strongly feel that such activities should be done in moderation.  In fact, I think we should just chew equally on both sides of our mouths as opposed to chewing habitually only on one side.
Does chewing affect wrinkles?  What are your chomps on this?
© www.vivawoman.net copyright notice ☺
______________________________________________________________
Comments