A salmon twice a day keeps the wrinkles away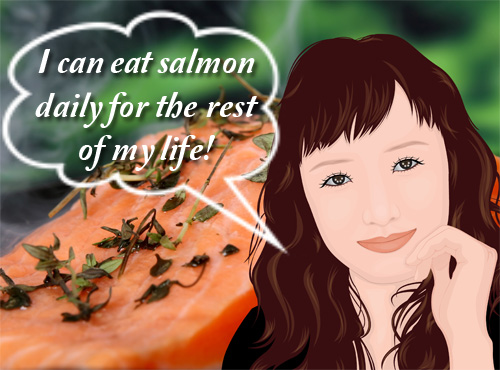 Would you eat salmon twice a day, three days in a row if I told you that it will increase your skin's radiance, glow and firmness? I probably can eat a small serving, like maybe the equivalent of three small slices you find on the salmon sushi but that's about it. I don't really like salmon much, especially not when they're cooked. So to eat 3-oz of broiled salmon for lunch and dinner is just too much to stomach. But that's what Dr Perricone recommends in his anti-inflammatory diet to aid in the elimination of puffiness and increase our skin's firmness.
Nutritional facelift diet
According to the Perricone diet, our skin can get immediate benefits by following what he calls a nutritional facelift diet for three days. The foundation of this diet is wild salmon, eaten twice a day with blueberries, strawberries, cranberries and raspberries. The antioxidants found in the berries along with the omega-3 fatty acids in the fish will make you looking markedly refreshed in three days. And in addition to eating lots of fish and berries, you are to cut out white foods like rice, bread, and pasta for those three days.
Benefits of omega-3 fatty acids for skin
Omega-3 fatty acids are polyunsaturated fatty acids that can be found in good amounts in fishes such as salmon, herring, mackerel, anchovies and tuna. The two major types of essential fats found in fishes are DHA (Docosahexaenoic acid) and EPA (Eicosapentaenoic acid). In several researches, EPA component of fishes plays a major role in skin care. This includes:
– protecting the skin from sun exposure.
– providing anti-inflammatory properties.
– acting as an antioxidant to combat free radicals.
– inhibiting the production of androgens–hormones that results in oily skin.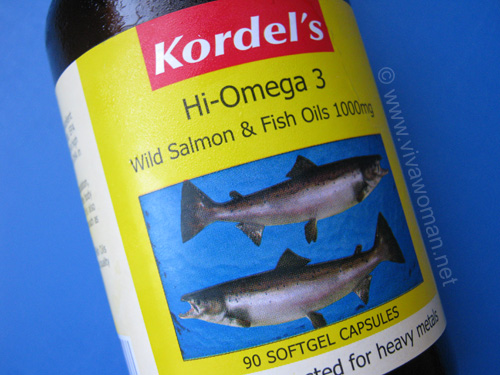 Fish oil supplement as an alternative
Salmon is easily the most accessible and familiar of the five top fish for omega-3s but how many of us are able to eat salmon twice a day for three days? I'm not keen on taking on the Perricone's diet even though I want firmer skin. So this is where fish oil supplements come in for people like me. It's convenient and fuss free! Just remember to choose those that have undergone stringent testing for freshness and the presence of environmental contaminants including mercury, PCBs (polychlorinated biphenyls), DDT (an organic pesticide) and dioxins.
Grilled salmon skin
My husband eats salmon rather frequently as it benefits his joints. He grills the fish and so it's quite tasty but still, I can't enjoy this this fish daily and much less twice a day, three days in a row. The most I can do is to eat it on alternate days and I'll rather fall back on taking the supplement. But I enjoy eating the grilled salmon skin, which is full of fat and really tasty. That I can eat daily! And you know what? Salmon skin contains high concentrations of omega-3 fatty acids! Okay, I know some people don't eat the skin because of the fear of mercury contamination but Norwegian salmon are quite safe according to our government. Plus, we always pick the smaller pieces (which are tastier) so chances of those smaller fish absorbing toxins are lower.
Omega-3 drives away PMS
What about you? Do you like salmon? And are you able to eat broiled salmon twice a day, three days in a row for your skin's sake? Oh and in case you don't already know, omega 3 is also good for alleviating PMS!
© www.vivawoman.net copyright notice ☺
______________________________________________________________
Comments