Kordel's Evening Primrose Oil for PMS relief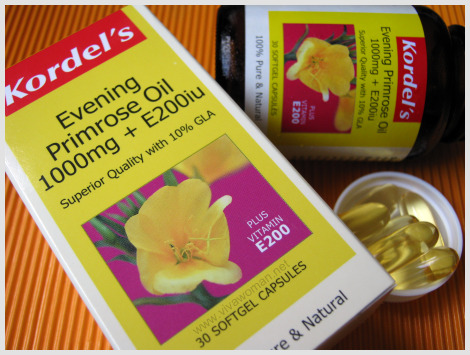 I want to thank Zhenling for bringing the Kordel's brand of evening primrose oil to my attention in my earlier post essential oils to help relieve PMS: 
I like EPO for menstrual cramps.  In my experience, the brand matters a lot. Only Kordel's work for me.  No more cramps that cripple me for 24 hrs. Yay! ~ Zhenling
I've been very skeptical about taking evening primrose oil because it didn't work for me, even after increasing my intake to 2000mg per day.  I wrote about this in my entry Evening Primrose Oil for PMS & Beauty last October.  However, because of Zhenling's comment, I went out to get a bottle of Kordel's Evening Primrose Oil 1000mg + E200iu from Unity Pharmacy. 
Relying on milk for PMS relieve
Before taking this supplement, I was relying mostly on milk to ease my PMS.  Although it has been helping me but I could only drink half a glass about three times a week, probably because  I'm Asian and it is said that most Asians lack the enzyme to digest milk once they become adults.  
PMS noticeably less severe
So  I stopped my milk intake when I started taking the Kordel's Evening Primrose Oil because I wanted to ascertain that it is indeed working for me.  And it did!  The PMS didn't ease completely but my backache was noticeably less severe and I wasn't feeling particularly moody or emotional although my temper was still quite short.  In fact, I would say it had the same positive effects as drinking milk. 
100% pure and free of gluten
I am not familiar with health supplements in general and I never realized that brands matter.  I did notice however that Kordel's Evening Primrose Oil is 100% pure and contains no added sugar, starch, yeast, gluten, salt, artificial coloring or preservative.  Besides promoting premenstrual relaxation, it is also said to aid eczema, acne, dry skin and other sensitivity problems.
Affordable and widely available
Kordel's is available at the pharmacies.  I can't remember the exact price but it is affordable – I paid about S$15+ for this bottle during a recent sale.  The brand offers pure Evening Primrose Oil but I figured out I can do with the extra vitamin E too.  Anyway, I'm going to continue on this supplement and with the help from my geranium essential oil, I hope I can chase the PMS blues away for good!
(Btw, I'm waiting for my Naturopatch to arrive and will review it once I'm ready.)
Comments