Evening Primrose Oil for PMS and beauty?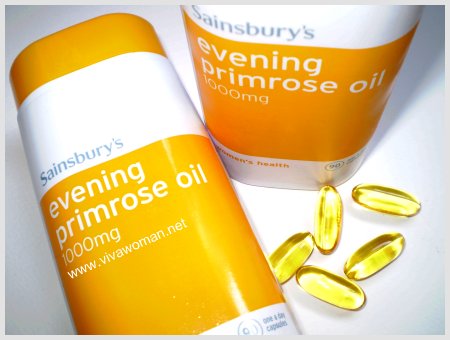 These two Sainsbury's Evening Primrose Oil came from my mother-in-law who strongly recommended taking them for overall health and skin benefits. Although I have long heard that Evening Primrose Oil can help to ease premenstrual symptoms such as cramps and breast pains but for some reasons, I wasn't keen to try them. Anyway, drinking milk to ease my PMS has been working and keeping me happy so I've left it at that. But I have been taking one of these 1000mg evening primrose rose capsules for awhile now because I wanted to find out if they're any good for me. And what's my verdict?
Contains concentrated sources of Gamma Linolenic Acid
First, for those who don't know, evening primrose oil is extracted from the seeds of the evening primrose flower and the purified oil is then available in capsules as well as liquid form for consumption. From what I understand, evening primrose oil is one of the most concentrated sources of Gamma Linoleic Acid (GLA), which is an essential fatty acid of the omega 6 family with anti-inflammatory properties and plays an important role to maintain hormone balance and healthy skin.
Provides various benefits for the skin
One of the most proven benefits of evening primrose oil appears to be its ability to treat dry, scaly, or itchy skin conditions, such as rosacea, acne and atopic dermatitis. It also reportedly, has some modest benefits for eczema. In addition, I read that evening primrose oil may also help clear skin allergies, rashes and even prevent pores from becoming clogged.
No complete easing of my PMS symtoms
Personally, I haven't found any PMS relieve from taking evening primrose oil. To test out if it will work for me, I deliberately stopped drinking milk for a week or so before my period and just relied on the intake of 1000mg of evening primrose oil per day. Well, not very wise because I suffered from my menstrual cramps and mood swings! It wasn't very severe but the symptoms were apparent, compared to when I was drinking milk regularly.
Helps women with low levels of GLA
Based on some of the sources of information I've come across, there is little scientific evidence to support that evening primrose oil have clear benefits of relieving premenstrual syndromes (source). In addition, I learnt that many women who suffer from premenstrual syndrome have low levels of GLA, which is why evening primrose oil supplements may help to alleviate symptoms of their condition. Perhaps mine is not a case of low GLA? Or maybe the liquid form will work better for me?
Topical application of evening primrose oil
I also haven't seen much of a difference to my skin after taking the evening primrose oil despite raves from my MIL. Perhaps I'll have better luck applying the evening primrose oil topically on my skin because I've come across information that shows the oil of GLA can be effective when applied to skin irritations such as dermatitis as well as to help decrease the appearance of bruises on the skin.
Well, we'll see. If I can find a suitable DIY recipe to use them, I may try.
Comments