10 skin care mistakes made when I was younger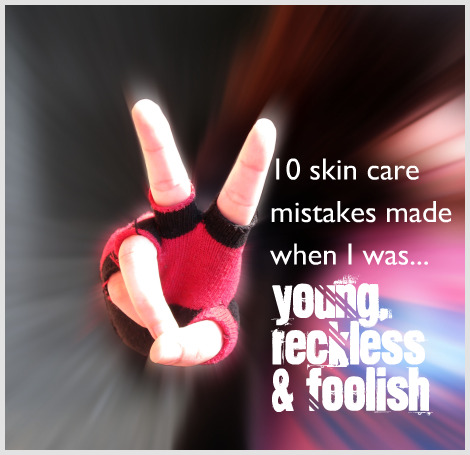 I know a number of readers here are quite young and fall in the early 20s age group. So I thought I'll do a post today about the skin care mistakes I committed when I was in my 20s. While many of you are already very beauty savvy, I still hope that some of you can learn from my mistakes and avoid what I did wrong when I was younger. Like they say, better early than late!
1. Not understanding my skin type
I only started going to the beauty counters maybe in my early 20s – in part because I couldn't be bothered and in part because I couldn't afford to. I had no idea what was my skin type. I just used whatever I saw on my mom's vanity table. I could have been using all the wrong products but the thing was, I never knew. What was lucky was, my skin was rather good as a whole and I never suffered any breakouts and acne was never my concern.
Advice: Get your skin type determined. There are many offline and online resources these days that can help you do this. And to be doubly sure, tally that result with a test done at the beauty counter.  Having a correct analysis of your skin type is important as it will determine what products you should be using or avoiding.
2. Not giving much thoughts to my cleanser
I started using soap when I was in college. My first soap was a Neutrogena soap and I like it very much then. A few years later, I moved on to using the soap from Clinque and I remember it worked quite well for me. My problem was, I never knew much about cleansing. I thought it was merely to keep my skin oil free. I can't say if those soaps stripped my skin of its natural lipids since I knew zilch about that then but if I were to be able to go back in time, I probably would have been more discerning. The good thing for me back then was, I hardly use makeup and I at least avoided those cleansers that left my skin tight and taut.
Advice: Be more selective about your facial cleanser. Choose one that does not contain SLS or if it does, it should not be listed right at the top. Don't think that you can afford to use any cleansers just because you do not leave the product on your face for a long period. If your face is stripped off its natural lipids, you're going to live with a host of other problems later.
3. Not cleansing thorougly enough
I started putting on makeup only when I started working. Again, I had no idea about the importance of proper makeup remover and of course, the concept of double cleansing was totally alien to me. Apart from using baby oil to remove my eye makeup, I only used my soaps to cleanse my face. Now I know it wasn't good enough but the good thing for me then was, I never wore thick makeup so I didn't have to live with much damage. The only times were when I went to sleep with my makeup after having too much to drink or when I got lazy.
Advice: Double cleanse. Get a makeup remover in the form of a milk cleanser or oil cleanser. Cleanse twice with these or use a foaming or gel cleanser the second time around if you dislike the reside left by the milk or oil cleansers.
4. Not moisturizing enough
I never understood the concept of moisturizing until I started using Clinque's 3-step skin care routine. I remember my face was rather dry when I was in the university and I only realized we needed to moisturize after seeing skin care products in my best friend's cupboard at the hostel. Horrors of horrors!
Advice: Choose an appropriate moisturizer to fit your skin type and moisturize religiously after cleansing your face every single day!
5. Not using a sunscreen
This was the biggest regret for me. I came from a generation that was never educated on the importance of using sunscreen. We never had the benefit of the Internet and face it, the importance of using sunscreen only surfaced these recent years. If only I knew, I would have slathered on sunscreen religiously but no. I swam about thrice a week under the hot sun as a teen and I went canoeing, rock climbing and trekking all without using a proper sunscreen. Maybe I did use something that I can't remember now but I'm certain it wasn't enough and that is why I'm now living with the damage.
Advice: Definitely use a sunscreen if you're heading out for sports. Make sure you're using something to protect your skin from both the UVA and UVB rays. In addition, wear protective gear like sunglasses and hats. For daily usage, a moisturizer with SPF can do the trick if you're someone who hates applying sunscreen.  Of course nothing beats using a proper sunscreen.
6.  Not discriminating about skin care products
I wouldn't call myself a beauty junkie when I was younger but I wasn't very discriminating about what I applied on my skin either.  Well, I didn't know better…and I was also gullible.  So I fell for some of the sales talks and went for products I totally did not need or treatments I shouldn't have done.  I remember using an eye cream that was so rich, it contributed to milia seeds for me.
Advice:  Know your skin type and use only what is necessary.  While there is no harm to start on an anti-aging regimen when you're younger, some of these products are unnecessary with their potent ingredients and may give you more grief than joy.  Be selective!
7.  Not caring from my neck down
It's totally laughable that I have to come to my current age to understand that the other parts of my body are going to give my age away if I never cared for them properly.  Well, it wasn't pure ignorance but more like, I was plain lazy!  So I never really cared that much about applying moisturizers to my neck or my body.  In fact, I only started applying sunscreen on my neck and hands these recent years!  Better late than never they say.
Advice:  Extend whatever goodies you're using on your face to your neck and moisturize your hands and your body religiously every day if you want them to look good too.  It's a bit of work there but you'll be thankful someday.
8.  Not sleeping on my back
I used to sleep on my left side, right up to last year.   So my left side of the face is slightly flatter and also, I have more wrinkles on that side of the face!  Perhaps there were other reasons, but I believe, the wrinkles were hugely a result of my sleeping posture.
Advice:  Sleep on your back!  Or invest in a soft pillow.
9.  Not watching my diet
This is probably something we all go through when we're young – eating indiscriminately.  I ate lots of junk food and drank lots of coke!  I went on binge drinking at one stage of my life; downing alcohol almost every other night.  The only good thing was that my mom cooked me lots of nutritious food as well so that probably helped counter some of those negative impacts.
Advice:  Watch your diet!  It might be a bit hard for some of you to be selective about what you eat but at the least, don't eat too much sweet stuff and don't drink too much canned beverages!  Avoid the alcohol at all costs!
10.  Not drinking enough water
This is a huge problem for me, even up to now.  So I'm always told I'm not drinking enough.  My skin suffers from it too because it's not as hydrated as it should be.
Advice:  Drink lots of water.  Canned drinks and cokes don't count.  And don't wait till you're thirsty before you take a sip because you should be hydrated from inside out.
It's easy to take some of these advices for granted when we're young especially because our skin can heal relatively fast and in certain cases, the damages do not appear until we are much older.  But like I mentioned, better early than late! And remember, at the end of the day, the best skin care products can only help provide 40% of the desirable results. The rest of the 60% comes from your lifestyle and your diet. So start nourishing your skin from inside out as early as possible!
Comments