Review: Juice Beauty Cleansing Milk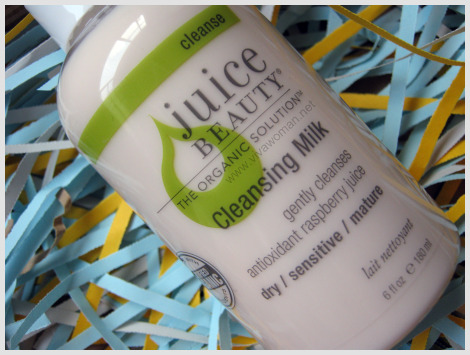 I've been hunting for an affordable organic milk cleanser that does not contain alcohol and have been quite frustrated with my search.   I was using Lavera milk cleanser and although I like it, alcohol ranks 5th on the list of ingredients.   Anyway, I bought it during their clearance sale for a song and now that it is used up, I decided to move on to try new ones.
So I finally found one in Juice Beauty.  The ingredient list is rather long but at least, it doesn't list alcohols right at the beginning.  It contains some amount of plant-based alcohols like phenoxyethanol and benzyl alcohol but since they're listed near or at the bottom, I'm less bothered.   Anyway, it's fairly reasonable at S$39 for 180ml and I didn't mind giving it a try.
Soap-free formula to remove makeup
Juice Beauty Cleansing Milk comes in a plastic pump bottle.  The pump seems a little faulty at times but otherwise, it is functional.  One pump is sufficient to cleanse the entire face.  I was told this is good enough to remove all makeup, include those on the eye with the help of a cotton pad.  It's true because there were still slight remnants of my eye makeup when I just used my bare fingers.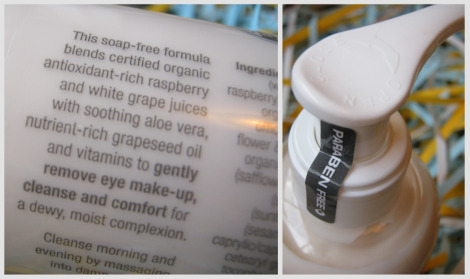 Non-drying formula
Texture wise, this cleansing milk is rather thick and of course it doesn't foam.  I like the fact that it doesn't leave my face dry as my original intention was to use this prior to my foaming wash.  You can of course use it by itself if you like as this doesn't leave the skin sticky or greasy. And come to think about it, I actually like using this more than using oil cleanser because of how my skin feels afterwards. The only plus point about using cleansing oil is that it removes eye makeup more effectively.
Strong chilli-like scent
Okay, something irks me about the Juice Beauty Cleansing Milk.  The smell is so strong!  When I first used it, I thought I was applying some chilli on my skin, except that this doesn't stink.  Seriously, I cannot smell any raspberry, grape, aloe vera or calendula – it smells totally like chilli.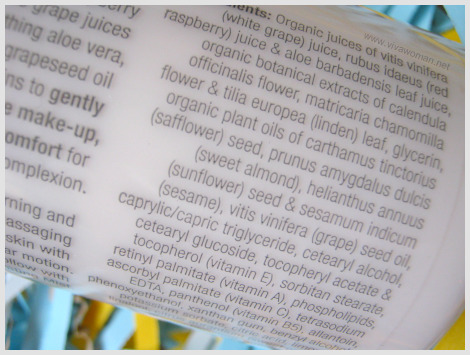 Complete ingredients
organic juices of vitis vinifera (white grape) juice, rubus idaeus (red raspberry) juice & aloe barbadensis leaf juice, organic botanical extracts of calendula officinalis flower, matricaria chamomilla flower & tilia europea (linden) leaf, glycerin, organic plant oils of carthamus tinctorius (safflower) seed, prunus amygdalus dulcis (sweet almond), helianthus annuus (sunflower) & sesamum indicum (sesame), vitis vinifera (grape) seed oil, caprylic/capric triglyceride, cetearyl alcohol, cetearyl glucoside, tocopheryl acetate & tocopherol (vitamin E), sorbitan stearate, retinyl palmitate (vitamin A), phospholipids, ascorbyl palmitate (vitamin C), tetrasodium EDTA, panthenol (vitamin B5), allantoin, phenoxyethanol, xanthan gum, benzyl alcohol, potassium sorbate, citric acid, limonene, linalool, citrus aurantium (sweet orange & orange blossom), anthemis nobilis (chamomile) & boswellia carterii (frankincense) pure essential oils.
Some ingredients of concern
Like I mentioned, I don't really like the long list of ingredients.  I really think organic products should be made simpler so that those with sensitive skin have lesser worries.  Anyway, there are some ingredients within this Juice Beauty Cleansing Milk that maybe of some concern when it comes to toxicity and possible irritations or allergies.  These include tocopheryl acetate, benzyl alcohol, phenoxyethanol, limonene and linalool – but since all of these are listed nearly at bottom and so I'm not really bothered.
Unclear about the organic certification
One thing I noticed however, is that this Juice Beauty Cleansing Milk only carries a logo stating that it's made with certified organic ingredients; it doesn't state certification by any bodies.  When I checked the website, it looks like only certain products under their range are USDA certified and this particular one doesn't fall in that category.  So I'm quite hazy about the certification for this product.
Overall summary
I find the price fairly reasonable for this product, given that it's S$39 for a 180ml.  I only need one pump to cleanse my face and I estimate the bottle should last me awhile.  The scent is something that bothers me a little but otherwise, it's an effective cleanser for me.  I don't use much makeup except for foundation mostly and this cleanser can take them away well.  In addition, this is not my main cleanser as I still use a foaming cleanser after using this so my only concern is that it shouldn't leave my skin drying – which this doesn't.
I'm not really hot about repurchasing this item again but if I can't find something better or it's attractively discounted, I probably might.
Comments