Why I prefer picking products from the last row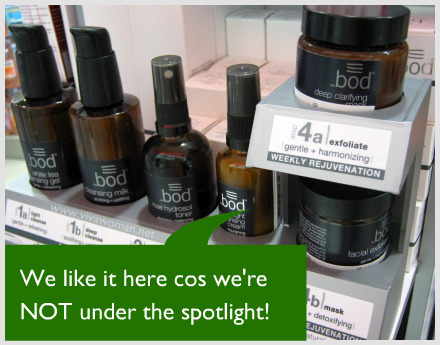 Over the weekend, I was at Parkway Parade and when I stepped into one of the pharmacies, I noticed that their organic skin care products were were placed on brightly lighted display stands. And when I picked up a few of the products at the front rows, they felt very warm. The white lights must have "heated" them up!
What happened to cool, dark and dry?
These are organic skin care products, which means, they likely do not contain the usual chemical preservatives and hence, are more vulnerable to spoilage if they're not stored properly. As it is, we are already instructed to store our normal skin care products containing chemical synthetic preservatives in cool, dark and dry places so what's more when it comes to organic products? Shouldn't the retailers know better than to expose such products to heat? And it wasn't just the testers alone that were exposed to the light and heat, but the new stocks as well because the entire display stand was all lights.
Spotlights can affect product efficacy
I recalled that Grace of Geranium was concerned that the quality of her products might be compromised with the spotlights used at her mobile cart and preferred to store the ones for purchase in the cupboards. Hence, my concerns are definitely not unfounded. In fact, I have also been slightly worried about purchasing organic products online since I can't tell for sure how the products have been handled and if they have been exposed to any form of heat.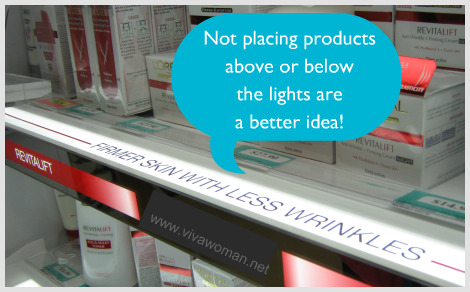 Organic skin care products should be stored out of direct heat
But coming back to the pharmacy selling the organic products. They, or the distributor of the organic skin care range should be more aware that these products should be placed away from direct heat. In fact, this is why many organic skin care products are stored in dark packaging in order to preserve their product integrity.   While I understand that brighter display stands are more enticing, but the integrity of the products shouldn't be compromised because of that.
Retailers ought to be more responsible with product display
Well, I hope retailers selling organic or natural skin care be more responsible when it comes to handling such products. It is one thing to bring attention to the products through brightly lit display stands, but another to ensure that customers get the best out of the product. And we should get the best, considering that this category of skin care product usually cost more than usual!  That's why I prefer picking that product from the end of the row, where it's farther away from the bright display lights and also away from any contamination due to some itchy fingers.
© www.vivawoman.net copyright notice ☺
______________________________________________________________
Comments