Cherry-picked cult beauty products galore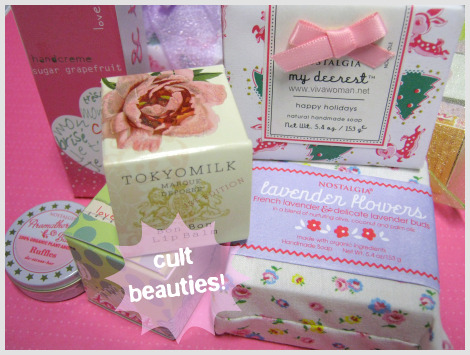 My senses were immediately heightened when I opened the box that came from Soap n' Sorbet containing these lovely cult beauties. They are such a delightful visual and olfactory treat and I totally heart all of them! In fact, after going through the online store, I have to say that these products will definitely appeal to both our right and left brains because they're not only pretty, they're affordable as well!
Soap n' Sorbet is a Singapore online store that specializes in cherry-picked, unique and imported bath, beauty and lifestyle treats. Brands they've brought in include Steam Cream, Tokyo Milk, Love + Toast, Lalalicious and Nostalgia. The store has just been launched and owner Rachel Leung had offered to send me some of the products for review, plus to participate in the VivaBella Bonanza Giveaway. *wink*
Since I've used Steam Cream before, I picked a few items from Tokyo Milk, Love + Toast and Nostalgia – which contain mostly natural ingredients.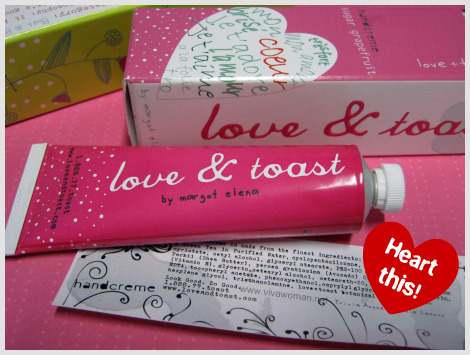 Of the lot, the Love + Toast Sugar Grapefruit Handcreme is my favorite! The ingredients are fairly natural and the smell of grapefruit is totally delicious! And the best part is, it made my hands soft and smooth. Very nice and it cost only S$19 a tube!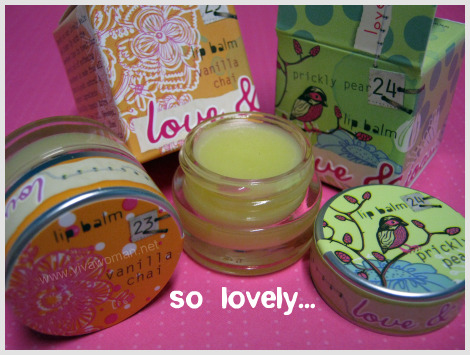 I also tested the Love + Toast Prickly Pear Lip Balm with natural ingredients like organic extra virgin olive oil, organic jojoba oil, aloe vera oil, shea butter, viatmain E and more. Although I usually don't like lip balms in a pot, I have to say I like this one. And at S$17, I'll say it's pretty affordable.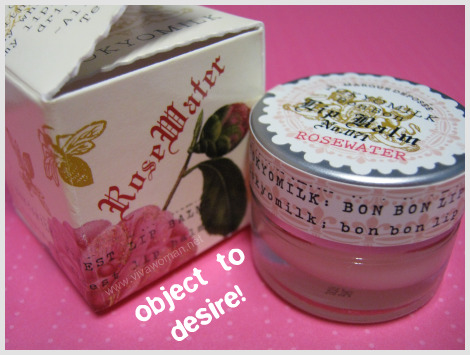 This is the famous Tokyo Milk Bon Bon lip balm and the Tokyo Milk RoseWater Lip Balm is quite similar to the one from Love + Toast in terms of texture and feel and is available for S$22. Although this one contains mostly natural ingredients, it does have petrolatum. Oh, you may like to know that both Tokyo Milk and Love + Toast are actually created by the same US designer, Margot Elena.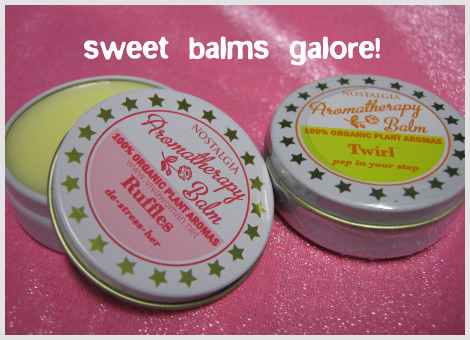 These Nostalgia Aromatherapy Balms remind me of Badger Balm. They're said to be 100% organic plant aromas but I find the scent rather mild. Good to carry around for some quick pick-me-up and they can also double up as cuticle balms too. Five different aromas to pick from and each is priced at S$17.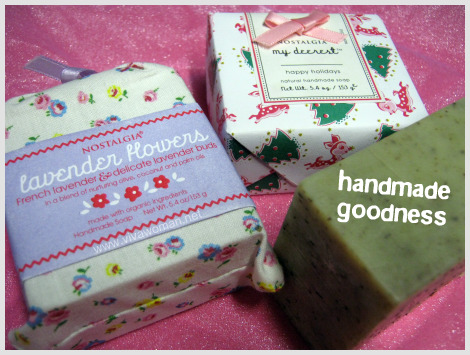 The Nostalgia brand from Arizona also offers all natural handmade soaps. They're very nicely packaged to make great gifts and prices are S$17 and S$20.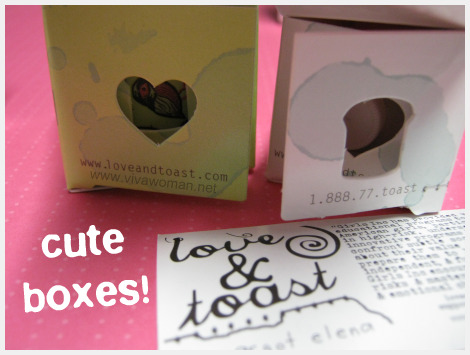 I was totally intrigued by the packaging of Love + Toast products. A cutout of a heart and a toast! Anyway, besides these that I've highlighted, the online store is also carrying Steam Cream at S$26 as well as body creams, body oils and scrubs from Lalalicious.
Special promo & lucky draws
So do check out the local online store. Soap n' Sorbet also offers international shipping for those outside Singapore. And as part of the grand opening, Rachel is running a special promo offering 10% discount on all regular priced items till end January next year. In addition, you can enter the lucky draws over four consecutive weekends starting from 13 Dec. All you need to do is to visit their website and register to get the promo code. No purchases required!
Comments