Cure Natural Aqua Gel to keep skin smooth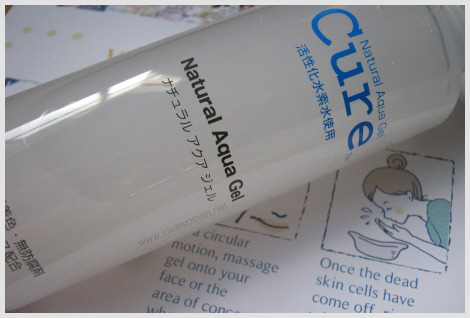 You got to give it to the Japanese for creating interesting products that make you want to buy them, even though you may not actually need them. Take Cure Natural Aqua Gel from Japan for example. It's one of those products I can do without but after months of checking it out everytime I'm at Watsons, I finally caved it and bought a bottle. AtS$38, it's not cheap but I wanted to know how well it works since a number of users were raving about this and it's said that "one bottle is sold every 20 seconds in Japan"!
Anyway, I wasn't planning to use this on my face but rather on my arms and neck. I've been very obsessed with them lately and want to improve their skin texture after so many years of neglect. Although I use some DIY recipes, I am quite short of time on some days and find commercial products more convenient for that reason.
Gets rid of dullness to help skin products penetrate better
Cure Natural Aqua Gel is said to work like an exfoliator but only better. It's said to remove dead skin cells by reacting with protein from your skin to take away the extra amino acids (protein). And what's different about the Cure Natural Aqua Gel is that it improves the texture of the skin without using harsh chemical ingredients like AHA. Besides getting rid of dullness, the product is said to allow your serums, lotions and moisturizers to penetrate more effectively into your skin.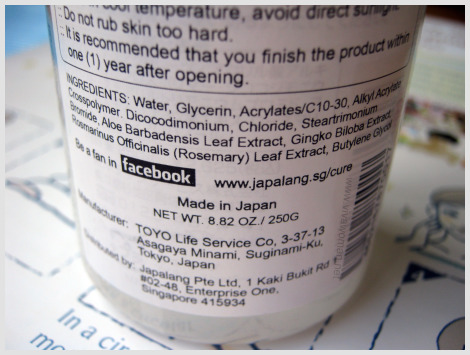 Gentle formulation with 91% water
The product contains 91% water and hence, it's gentle. I also like the idea that Cure helps to remove the dead skin and dirt to support the natural regeneration process of our skin. It's pretty easy to use. All you need is to massage Cure Natural Aqua Gel onto clean, dry skin. The gel will become liquid and you need to massage till you get some white stuff forming on your skin. Those white stuff are supposed to be the dead skin cells. After which, just rinse off and continue with the regular skin care routine. The gel has a mild scent though, but it doesn't bother me too much.
Made my skin soft and smooth
I've actually tried using this gel once on my face and it's pretty gentle compared to the usual commercial exfoliating scrubs. So perhaps that's why this gel is said to be good even for those with sensitive skin. Personally, I found my skin to be very soft and smooth after using the Cure Natural Aqua Gel. I don't think I've ever felt this way with other types of exfoliating products. But, while I like it, I won't say I saw a tremendous difference to my skin texture. Oh, it doesn't remove blackheads by the way, for those who want to know.
Great in removing dead cuticles
However, I found Cure Natural Aqua Gel useful to remove dead cuticles on the fingers and toes. If you have lots of those, this gel will effectively help to remove them. I found it really good prior to doing my pedicure. Definitely beats all the trouble of cuticle pushing!
Do not use this gel every day
Cure Natural Aqua Gel can be used up to twice or thrice a week. It should also be used within a year after opening. But at the rate I go with my neck and arms, I would have no problems finishing the bottle soon. Well, like I say, this is one of the products I want to try and fortunately, I like it. Anyone else with similar experience using this product?
Comments