Cure Natural Aqua Gel giveaway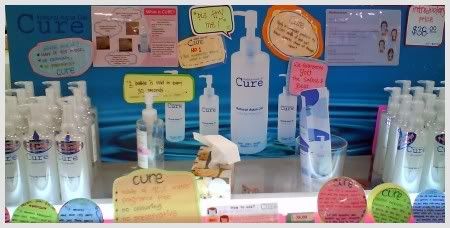 Have you seen the Cure Natural Aqua Gel from Japan at Watsons? Well, if you have and are curious about the product, you'll be happy to know that the folks over at Fr3b, Singapore's 1st online sampling platform which I wrote about last week are offering THREE lucky Viva Woman readers in Singapore a chance to win a Cure Natural Aqua Gel worth S$38.00 each.
What is Cure Natural Aqua Gel?
The product is said to be very popular in Japan. I have seen the product but I didn't know much about it. However, I did a search and feedback on the product have been very positive based on those I've come across at the beauty forum, Cozycot. You can find the users' comments on this thread. In fact, I'm so tempted to try the product after reading all the positive reviews.
What can Cure Natural Aqua Gel do for your skin?
Apparently, the product works like an exfoliator to remove dead skin cells by reacting with protein from your skin to take away the extra amino acids (protein). And what's different about the Cure Natural Aqua Gel is that it improves the texture of the skin without using harsh chemical ingredients like AHA. Besides getting rid of dullness, the product is said to allow your serums, lotions and moisturizers to penetrate more effectively into your skin. You can read more about the product at Fr3b and this is the ingredient list I picked out from the Cozycot forum.
Ingredients:
Water, Glycerin, Acrylates/c10-30 alkyl acrylate crosspolymer, Dicocodimonium chloride, Steartrimonium bromide, Aloe barbadensis leaf extract, Ginkgo biloba extract, Rosmarinus officinalis(rosemary) leaf extract, Butylene glycol
How can you win one of the three Cure Natural Aqua Gel?
Easy! As long as you have a valid Singapore mailing address, you can register with Fr3b via Viva Woman's unique referral link by clicking here. If you have a blog, you can even increase your chances of winning by blog dropping at Fr3b's blog with the slogan "I am from Vivawoman ". Closing date is 30 November 2008 and the winners will be announced via Fr3b's blog. So hurry and enter!
Good luck everyone!
Comments