DIY Beauty: easy homemade recipe for skin whitening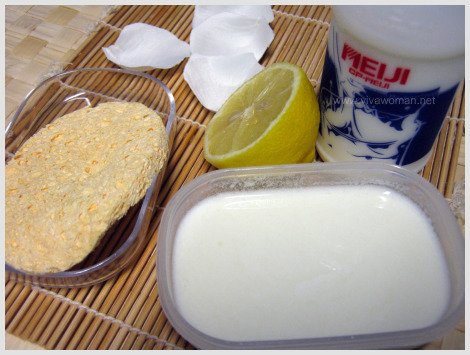 Consider whitening your skin the natural way by trying this homemade recipe using milk and lemon. It's really easy and pretty effective if you use it often enough, but note that lemon can make your skin sensitive so you'll need to be careful. The recipe is suitable for your face and body but do make sure you put on your sunscreen if you try this.
Ingredients and recipe
Depending on where you want to apply this, you can use half or one whole lemon mixed with equal parts of milk. I used Meji milk for this purpose. Once the milk and the lemon is mixed together, the milk will curdle because of the acidity of the lemon juice. If you do not like too much acidity, then lessen the amount of lemon juice.
No need to rinse off after polishing
After you have mixed the two ingredients in a container, soak a flat complexion sponge in the mixture until moist and massage the moist sponge into clean skin in gentle, circular motions for about for two minutes. No need to rinse off. I do this in the night before bedtime on my hands and tissue off the excess. I have also tried it on my feet because I have some small pigmentation marks there. My skin feels nice and smooth, but the smell of the milk can be overbearing. If you use this on your face, I suggest you leave the mixture on for about 10 minutes and rinse off before toweling dry and carrying on with your usual skin care routine.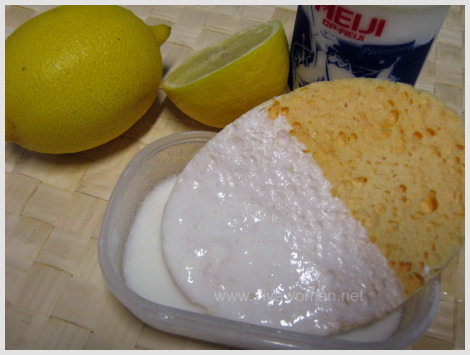 Benefits of using milk and lemon
Milk contains lactic acid that will exfoliate and remove dead skin cells and the protein and enzymes in milk will help to moisturize our skin. In addition, it will help to soften the skin to allow the lemon juice to better penetrate. Lemon juice is acidic and on top of also exfoliating the skin, it works as a bleaching agent to help fade uneven pigmentation.
Words of caution
I noticed that with continual usage at one stage (three to four times a week), my hands were a shade fairer and some of the smaller pigmentation spots were fading. I hesitated to use this recipe on my face as lemon is a photosensitive ingredient. So if you really want to try this on your face, I suggest doing this once or twice a week at most in the evenings and please use sunscreen during the day. If you have acne-proned skin, I would advice you against using this because milk may trigger breakouts for some people. Additionally, some people may not like this recipe as lemon can sting the skin a little. So my advice is not to try this DIY recipe if you have sensitive skin. But otherwise, this is an easy recipe for skin whitening.

Comments