Japanese matt powder for soft hair styling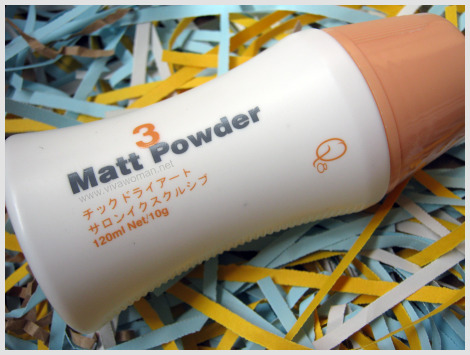 My hairstylist was raving about this new Matt Powder from Japan and how it was quickly snapped up at his salon and the whole of Singapore when it was introduced into the market. And due to the hot demand, the price has risen from S$12 to S$15 for the second shipment.
Anyway, this is supposed to work like a hair styling gel, except that it'll create a soft matt style.  Just sprinkle a small amount of powder into your palms and rub together. Rake through dry hair and lift into style for a matt finish and natural touch.
Inhaling the powder during application
I tried the powder and found that unlike the dry shampoo I'm always using, this powder is very fine and I don't need to use a lot of it. It feels a tad sticky when I rubbed them with my fingers but when applied, my hair didn't feel sticky and hard like conventional gel. Although my hairstylist told me this Matt Powder can prevent hair from getting greasy quickly, I didn't really see a noticeable difference. I think my dry shampoo does a better job.However, it does help me in terms of styling my hair better; just that because it's so fine, I inevitably inhale some of the powder and I don't like the idea at all.  To get round the problem, I have to cover my nose with a towel when I use this so it's very inconvenient!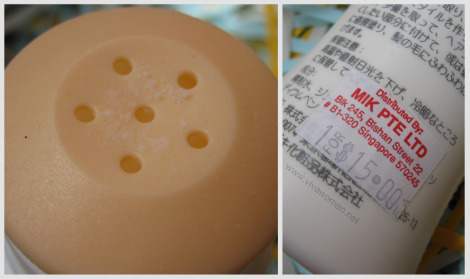 Doesn't keep my hair grease free
While this product does sound convenient and is inexpensive, I personally don't like it very much due to the reasons I've stated. It doesn't really do that much for me and my hair still remains greasy. And it is doesn't make sense to use this and the dry shampoo together. Granted, it does give my hair some style but I find the soft effect very subtle, which I can do without.  In addition, there is no English listing of the ingredients but I was told they are mostly chemical so it's not a good idea to sprinkle the powder directly on the scalp.
My hairstylist thinks conventional hair gel will be replaced by such product. Well, I don't know.  I don't use hair gel or styling products so I have no idea.  Has anyone tried this product or something similar?
Comments