Organic Apoteke Rejuvenating Eye Cream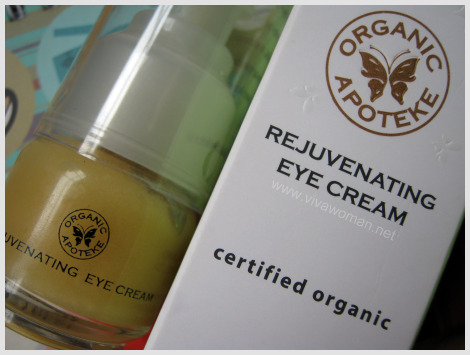 I bought the Organic Apoteke Rejuvenating Eye Cream sometime during the GSS and haven't really used it consistently. I tried it for three weeks and then stopped for awhile before resuming again on some days. Moreover, because of the formulation, I could only used this eye cream in the night so the results that I'm going to discuss here are not entirely representative.
The 0.5 fl. Oz. is rather small and the original price is S$54 but since it was on sale, I only paid S$39 for it. The texture of the Organic Apoteke Rejuvenating Eye Cream is lotion like and is neither rich nor sticky. The color is citrus like and it has a rather pleasant smell, probably due to the rosa damascena distillate.
Formulated to stimulate microcirculation
I like the idea that the ingredients in Organic Apoteke range are mostly organic and made to penetrate our skin. How they achieve this is that their products are formulated to stimulate microcirculation while nourishing our skin. Stimulating microcirculation means getting oxygen & nutrient rich blood flowing through the skin. This is why, when I applied this eye cream around my eye area, I immediately felt a tingling sensation and the skin turned slightly pink. Well, there was once or twice I overapplied and the area turned lobster red! The redness do go away after awhile but it's better to use this eye cream in the night or everyone would be wondering what's wrong with your eyes.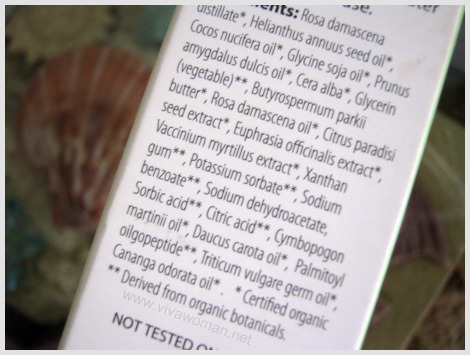 Some visible initial results
When I first started using the product, I noticed that the skin around my eye area softened a bit and the fine lines seemed less noticeable. This eye cream is also supposed to reduce dark eye circles and under-eye puffiness but perhaps because I haven't used it consistently, I couldn't tell the difference. The reason why I'm not using this product consistently is because I am using a range of salon products. Well, I didn't need this eye cream but I bought it because…it was on sale.
Pump slightly difficult to control
The product uses a pump and I found it slightly difficult to control at times. This is why I sometimes pump more than I need and end up with lobster red looking eyes! But other than that, a pump is really more hygenic when it comes to skin care products.
Overall summary
Overall, even though I didn't use the Organic Apoteke Rejuvenating Eye Cream consistently, I would be happy to continue trying this if not for the fact that I'm using another eye gel. I like the ingredients and most importantly, I like their delivery system. And like I said, I did see some subtle difference. My only gripe is that this product can only be used at night. Anyway, I just realized that the bottle will expire after six months upon usage so I better start using it again. However, I may also apply this on my hands as I realized that this eye cream makes my skin very soft and smooth. Well, better than to let the product go to waste isn't it?
Availability
Organic Apoteke products can be found at The World Of Organic Skincare at #03-18/19 East Point Mall, #02-187 Marina Square and their new retail space within Metro at the City Square Mall. And those outside Singapore who are keen on trying Organic Apoteke, you can look up the range at Love Lula.
Comments