Organic Apoteke facial for that natural blush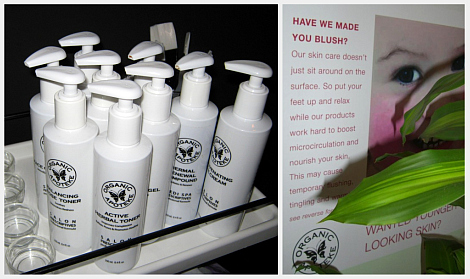 Would you say yes to a facial that gives you a deep blush because it uses products that reach the deeper layers and nourish your skin at a cellular level?  If your answer is yes, then you will have no problem trying out any of the Organic Apoteke facials offered by The World Of Organic Skincare.
Unique nutrient delivery system to work deep into our skin
Organic Apoteke is a line of award winning natural organic skin care line developed by Dr Nitasha Buldeo who uses a unique nutrient delivery system to deliver nutrients to the deeper living layers of our skin and thus, promoting the health of new cells, restoring and renewing collagen and elastin fibres plus normalizing oil production.
Improved circulation to detoxify and clarify our skin
According to the Organic Apoteke website, "stimulating circulation in these tiny capillaries improves their efficiency and enables them to perform the valuable task of delivering oxygen and nutrients found within the bloodstream to the skin cells. This improved circulation also helps in carrying away cellular waste – detoxifying and clarifying the skin."
Sampling of the 75-min Organic Apoteke Rejuvenating Facial
I had the opportunity to sample the Organic Apoteke Rejuvenating Facial at the invitation of The World Of Organic Skincare.  I had tried and loved their Sheer Indulgence Manuka Honey Facial but was slightly hesistant to try the Organic Apoteke until recently.  Part of the reason was that I was a bit concerned that my face would turn lobster red after the facial, and another concern was their old location at River Valley.  However, all that became non-issues after learning that they've moved to Eastpoint Mall.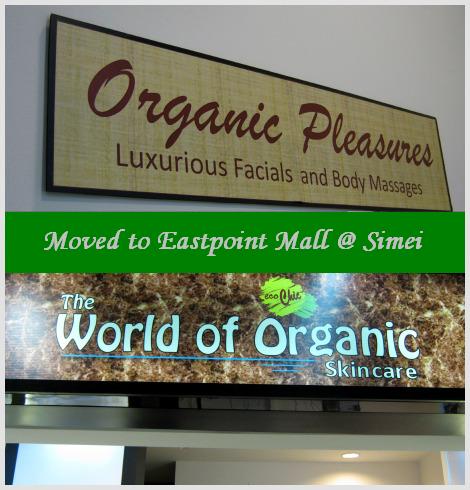 Immediate radiance and nice dewy soft look the morning after
Anyway, to cut a long story short, my face didn't turned lobster red after the facial.  It was a bit pinkish, but definitely radiant.  What was really nice was that my face took on a dewy soft look the morning after; definitely something I've not seen in quite awhile.  And to add on, the products do not sting and all I felt was a slight warmth when the serums and creams were applied on my face.
More neck and shoulder massages for the Organic Apokete facials
The Organic Apoteke Rejuvenating Facial is not like the Sheer Indulgence Facial for those who have tried that at The World Of Organic Skincare.  Sheer Indulgence is very luxurious and pampering.  The Organic Apoteke Rejuvenating Facial on the other hand, is less so because the products are supposed to do the work.  So don't expect so much facial massaging.  However, what I liked about this facial is that the therapist spent a lot of time massaging my neck, shoulders and hands.  That was lovely to me because I have very sore muscles on those areas!
Organic Apoteke facials are suitable for all skin types
I was told that the line of Organic Apoteke facials are actually suitable for everyone; even those with sensitive skin!  However, The World Of Organic Skincare is aware that clients with sensitive skin are worried about having their skin looked more red after a facial, and hence, are less inclined to recommend that unless the person is ready for the after effects.  But I would recommend the facial if you're someone looking for performance.  Of course, don't expect one facial to do miracles.  You'll need to have a couple and use the Organic Apoteke products to benefit as well.
Personal experience using Organic Apoteke products
Personally, I like the whole concept of Organic Apoteke skin care range.  Actually, some months ago, I was considering the Organic Apoteke Rasayana Rejuvenating Serum.  I didn't get it because of the price point but instead, I got the Organic Apoteke Rejuvenating Eye Cream and used it briefly.  That made the skin around my eyes lobster red a couple of minutes after application!  However, the redness is temporary and subsided after awhile.  I haven't used the product extensively because I'm currently testing another product.  Perhaps I'll come back to it again in another month or so.
Options of Organic Apoteke Clarifying & Renewal Facials at S$98
For those interested to try the Organic Apoteke Facials, you can contact The World Of Organic Skincare at 68380168 and their new address is #03-18/19 East Point Mall, which is just opposite the Simei MRT station. Besides the Organic Apoteke Rejuvenating Facial which is a 75-min session, you can also choose from the Organic Apoteke Clarifying Facial or the Organic Apoteke Renewing Facial, both at S$98 per 60-min session.
Availability of Organic Apoteke products
Organic Apoteke products can also be found at their shop at #02-187 Marina Square and the new retail space within Metro at the City Square Mall. And those outside Singapore who are keen on trying Organic Apoteke, you can look up the range at Love Lula.
Update at 3.30pm on 25 Oct: The World Of Organic Skincare has just informed me that they would like to extend a promotion to Viva Woman readers in Singapore. The first three to call them at 68380168 will received a FREE Organic Apoteke Rejuvenating Facial each while the rest get 50% discount and pay only $69 for the same facial. Just mention you were referred by Viva Woman. Valid till end of September 2009. Only applicable to first time new customers to The World Of Organic Skincare.
Comments