Can our complexion improve with sun tanning?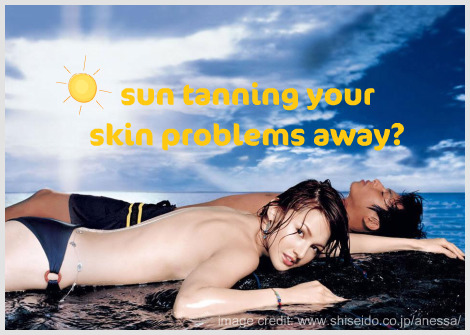 I am currently reading Simple Skin Beauty by Ellen Marmur, MD and I came across an interesting explanation about why our complexion tend to clear up and improve when we head out in the sun. This reminded me of the following comment left by reader Jolie in a previous post.
"I find that suntanning is the best way for me to erase all my acne scars. I think blogger Xiaxue mentioned it somewhere before too. I know its not supposed to be good but its really effective and I personally find it to be my long term solution, weird as it sounds!"

Well, it's not weird according to Dr Ellen Marmur and this is how she explained it in her book:
"Initially ultraviolet wavelengths penetrate the epidermis and interact with the Langerhans cells (those air traffic controllers directing the immune system) to shut them off temporarily. This stops the immune system from working at its best. Now, some skin diseases, such as psoriasis, acne, and eczema, happened because your inflammatory system is in overdrive. So the UV light helps quell the immune system's overreaction temporarily so the skin can normalize again. But the sun soon becomes toxic once the wavelengths being tanning or burning the skin and those rays can actually start killing the Langerhans cells and damaging the immune system. How long it takes to become dangerous depend on your skin type (whether it's fair or darker).
In addition, the author further indicated that soaking up UV rays is actually addictive according to a 2004 study pubilshed in the Journal of the American Academy of Dermatology.
So while you may experience an improvement to your skin condition under the sun, do note that sun tanning cannot be a long term viable solution to getting rid of your acne marks or eczema. The sun does cause injury to your skin and can effect a positive anti-inflammatory response as ultraviolet rays zap your skin at different depths. Most immediately, people will experience sunburn when the UVB damage the epidermis but the long term harm really comes from the harmful UVA, which strikes deeper in the dermis.
Comments