5 tips to get maximum sun protection at the beach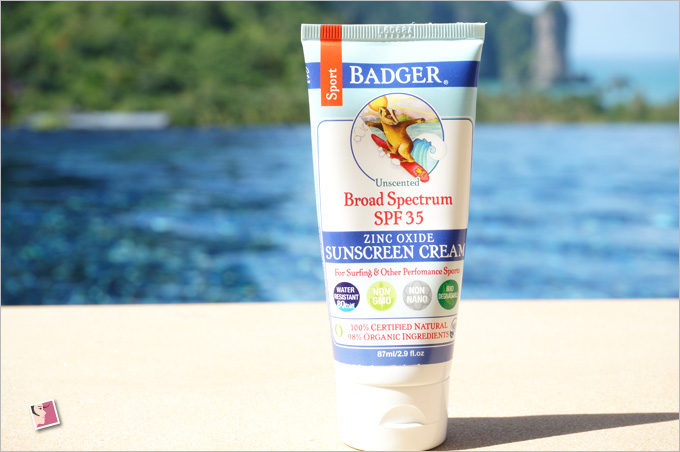 Planning a beach holiday? What should you prep to get the most protection for your skin and yet still enjoy all the sun and sea?
Well, I just spent 5 days under the blistering hot sun in Krabi last week without getting burned. That's definitely a feat. So today, I want to share my 5 sun safe tips to help you stay protected when you head to the beach.
None of you know this but it's been over 10 years since I've gone on a beach holiday. I used to love the sun and sea but no thanks to poor sun protection, I developed a phobia because of the damage to my skin.
This time, after deciding to plunge the sea so to speak, I made sure I prepped well ahead in advance. Heck, I even ordered three different brands of sunscreens from iHerb! Too excessive? I know right?
So ready to find out how I stayed burned free during my 5 days of beach holiday? Here goes…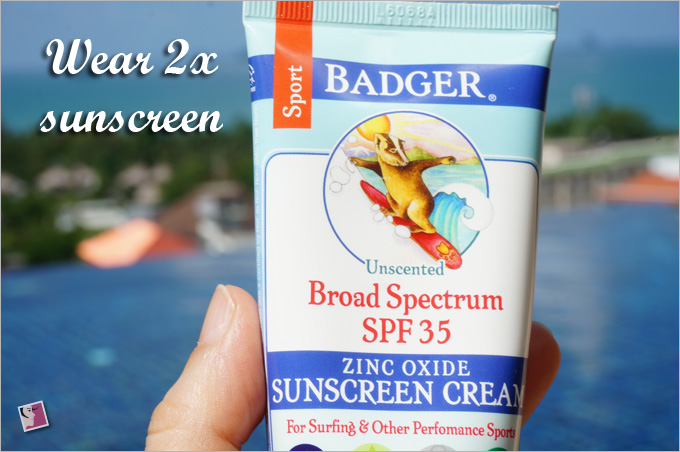 1. Use an additional sports sunscreen with broad spectrum protection
When it comes to sun protection under the blazing sun, two is better than one. On top of packing your usual sunscreen, pack a sports sunscreen that is water resistant. Sounds crazy? Perhaps. But I assure you that it's the most sensible thing you can do for your skin.
So what's the rationale behind this? Are we talking about getting a higher SPF with two different sunscreens? Like getting SPF60 with two SPF30 sunscreens? Well, no.
SPF numbers don't add up no matter how many sunscreens you use. If you use an SPF30 and an SPF50, the higher SPF number prevails.
And since we are on the topic of SPF number, you might want to know that a sunscreen with a high SPF number is quite useless if it does not offer broad spectrum protection against both UVA and UVB rays.
When I was shopping for sports sunscreens recently, I spotted one that states SPF50 but contains only titanium dioxide as the active sun protection ingredient. For those who don't know, titanium dioxide protects well against UVB rays but only protects partially against UVA rays. I know I wouldn't use such a sunscreen no matter how high the SPF number is.
Anyway, why do I encourage you to use two sunscreens? My friend, extreme weather calls for extreme protection! You can benefit from the added active ingredients to protect your skin.
What do I mean?
If your normal sunscreen has only two active ingredients, you can get more protection if you use a sports sunscreen with three active ingredients. Or if the percentage of active ingredient on your sports sunscreen is higher, you get better protection using that on top of your usual sunscreen.
In fact, what I used to do was to wear a chemical sunscreen and then top it off with a mineral sunscreen. However, I've not been using chemical sunscreens for a long time because it appears to aggravate pigmentation issues.
So what I did during this trip was to bring along two sports sunscreens. Both contain at least 20 percent zinc oxide and both are water resistant. Of course, using two sunscreens can potentially clog your skin but the key is to cleanse your skin properly afterwards.
Okay, you don't have to accept my recommendation if you don't agree with me. You can always stick to using just one sunscreen. If that is the case, just ensure you're using a sports sunscreen with broad spectrum coverage. And remember to reapply as often as you can especially after a swim.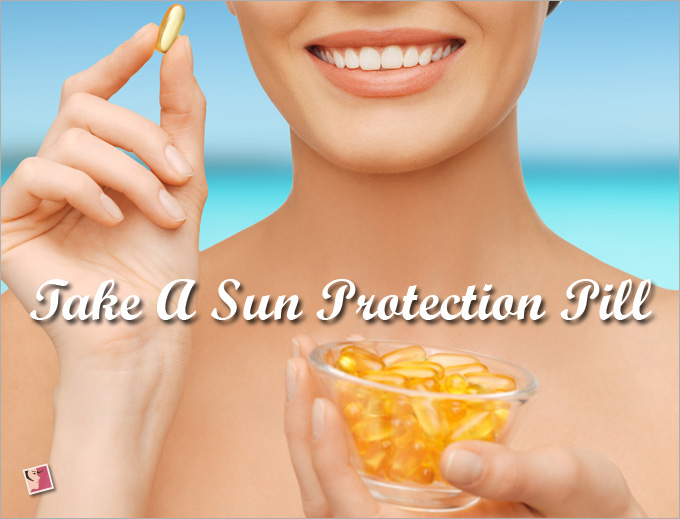 2. Take a sun protection supplement
I know many of you dislike taking supplements but if you're planning to enjoy your beach holiday, I would highly recommend taking a sun protection supplement.
One of the brands I've tried and found effective is Heliocare Oral. According to the instructions, you should consume one pill at least 30 minutes prior to sun exposure. But if you want to be certain, then consume a week ahead of your trip and continue to consume it during the trip.
Alternatively, take a combination of vitamin C and vitamin E (using the dosage recommended for each type). According to a study published on PubMed, vitamin C is capable of additive protection against acute UVB damage when combined with a UVB sunscreen. And a combination of both vitamins E and C provides very good protection from a UVB assault.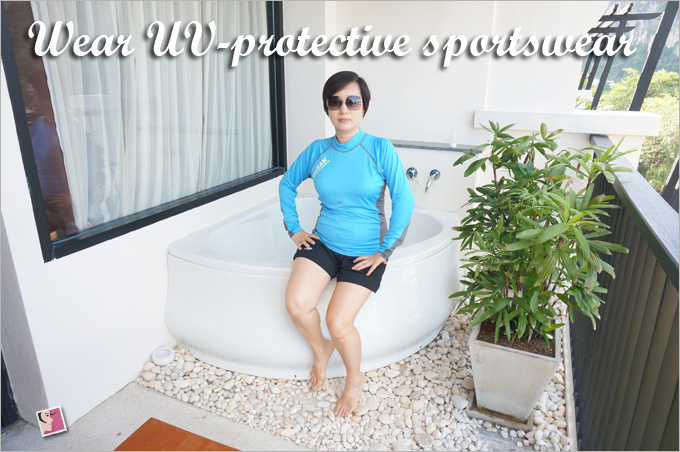 3. Wear UV-protective sportswear
No matter how much sunscreen you slather on, you're not going to get full-proof sun protection. Here's where UV-protective sportswear are useful for those sun and sea activities.
These UV-protective sportswear carry a UPF value ranging from 15 to 50+. UPF is similiar to SPF but stands for Ultraviolet Protection Factor and is a rating system used to gauge a fabric's effectiveness against ultraviolet rays. Naturally, the higher the UPF number, the greater degree of UV protection a garment offers as a fabric.
So where can you get them? Well, sports shop that sells ocean sports stuff should offer them. The one you see me wearing here was bought at a shop in Krabi. It's very comfortable and absolutely great for sea activities.
Okay, maybe it doesn't look sexy compared to bikini but I don't care. Between sexy and protected skin, I'll choose the latter anytime.
Oh, oh, you should still apply sunscreen to your entire body before putting on your UV-protective sportsgear. That way, you'll get maximum protection from inside out.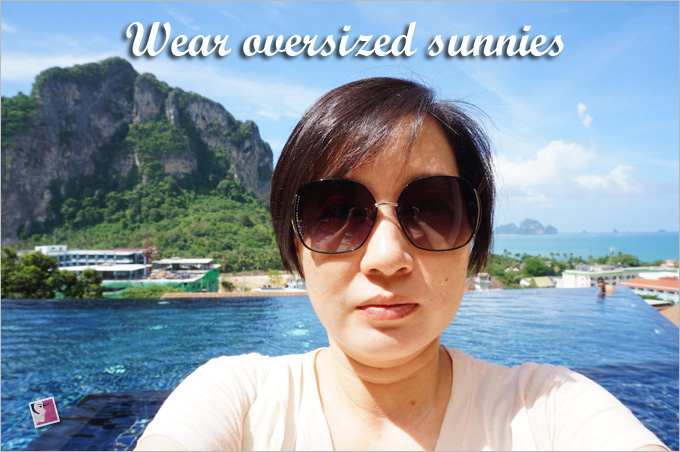 4. Wear sunglasses with UV protection
Sunnies are an absolute necessity for a beach holiday. I mean who goes to the beach without them anyway? You want to keep your peepers protected from the sun too.
For adequate protection, ensure that your sunglasses are labeled as "UV 400" as this will block all light rays with wavelengths up to 400 nanometers and protect you from 99 percent to 100 percent of both UVA and UVB light.
Also, the larger the frame, the greater the protection. You may even want to consider wraparound sunglasses to prevent harmful UV rays from entering around the frame.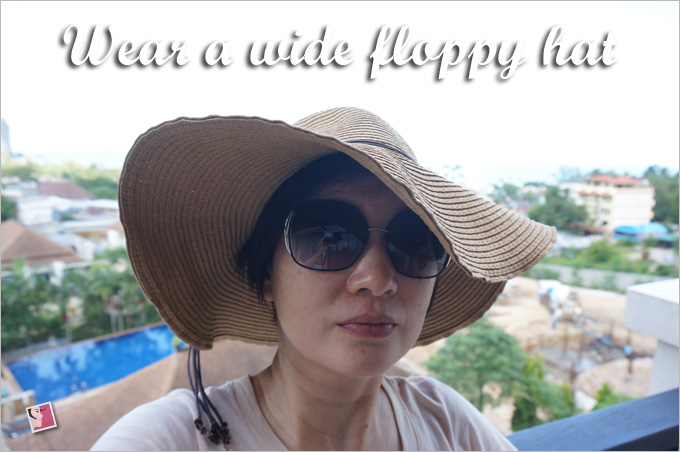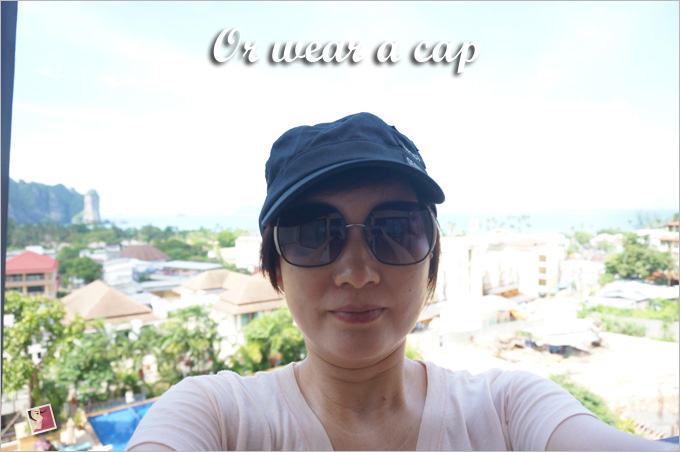 5. Wear a cap or a wide brim floppy hat
Wide brim floppy hats are your face savers when it comes to shielding from the scorching sun. They aren't always the best looking but heck, you don't want permanent sun damage to become your fashion accessory!
If you're still bent on looking good, then go with a cap at least. It'll only shield a small part of your face compared to a wide brim hat but I guess it's better than not wearing one.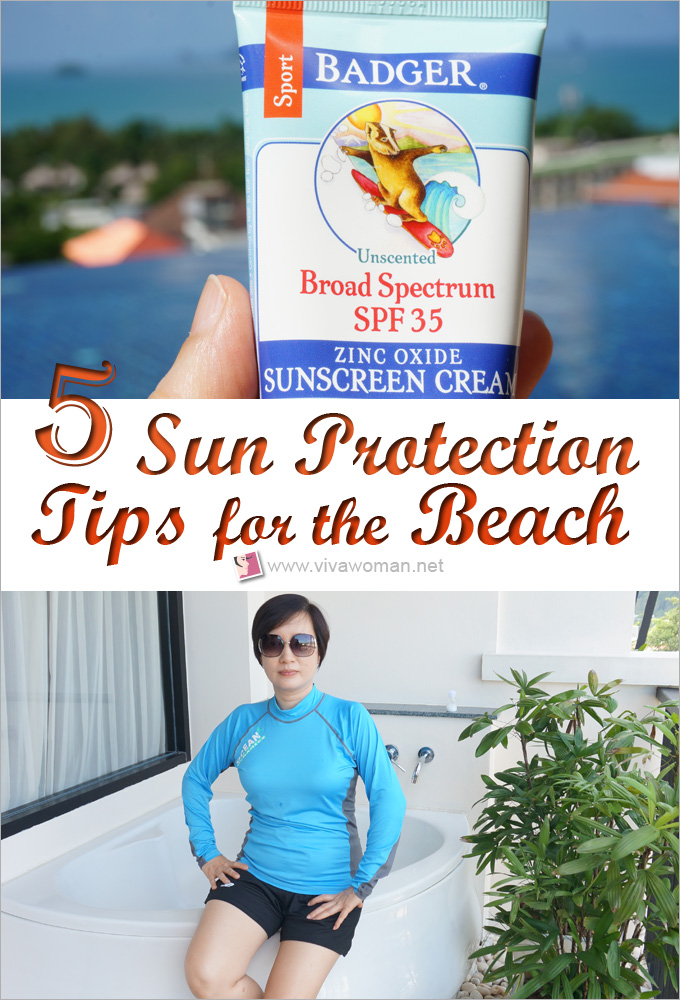 So there. My 5 tips on sun protection during a beach holiday. These are tips that can take you from the shore to the sea and back safely without getting burned. I managed to head out to the islands, swim and snorkeled under the hot sun without getting darker. I must say the dual sunscreen is very effective.
Oh, the Badger sunscreen you see here is the second sunscreen I used. The first is this brand called Thinksport which I'll be reviewing very soon. Both are mineral sunscreens available at iHerb.
The Badger Broad Spectrum SPF35 Sunscreen isn't very wearable as in it's thick and somewhat greasy. But for the purpose of protection, I think it does a great job. I used the same sunscreen on my son and he didn't even look a shade darker after hours under the blistering sun. And I could only reapply once for him because he thinks sunscreens are venom.
Okay, stay tuned for my upcoming sunscreen review. I'm really excited about it and I think many of you would be too. #k8SjZc9Dxk.#k8SjZc9Dxk

Comments