How much do you care about your man's skin?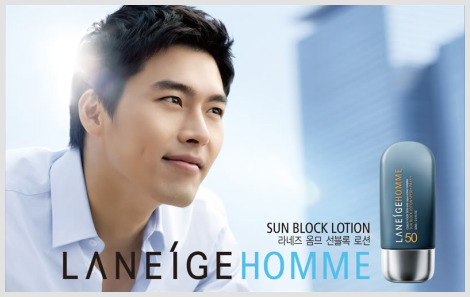 In a recent conversation with someone in the beauty industry, we spoke about skin care for men. She was lamenting that the sales of products for men are slow and the topic inevitably moved to why men don't seem to bother about caring for their own skin. Actually, I think there's an increase in the number of men wanting to care for their skin but unlike ladies, they probably prefer products that are all-in-one or at least convenient to use.
Anyhow, I'm not going into the statistics of men using cosmetics and the reasons why they're still not into cosmetics. Rather, I'm keen to find out if you try to influence the man in your life to take care of their own skin and to what extent do you do so. The man in your life need not be just your boyfriend or husband; he can also be your father, brother or perhaps a really good friend.
My say
Personally, I only insist that my husband apply sunscreen when he exercises under the hot sun. That's about the only thing I'm really into. Other than that, I sometimes offer him my share of facial scrubs and body lotion. However, I do not insist that he uses them. But my husband is quite "vain" and would buy his own facial wash and moisturizer although I think he hardly uses the latter. He also loves to go for facials!
Okay, secretly between you and me (he hardly reads this blog), I'll tell you why I don't insist on him having a proper skin care regime. Well, the reason is because I don't want him to look too good! I don't deny there's a bit of insecurity there but if you were me, you probably would feel a tad so with a partner younger than yourself. As it is, he's quite fit looking and often get stares from men so I'll rather be safe, than be sorry. In fact, in a facial session we went together, I even told the beauty therapist not to do too much work on his skin but rather, to focus on mine. *chuckles*
So what say you?
Comments