What does Alice eat & drink to stay beautiful?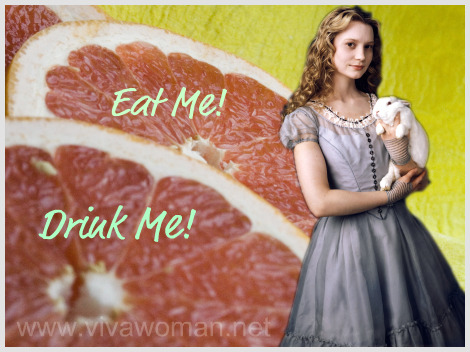 Okay, the title is meant to tease because I'm currently much obsessed with Alice in Wonderland, after watching the movie yesterday. It also amuses me much that Alice would eat and drink anything labeled "Eat Me" and "Drink Me". I certainly don't mind some of that potion, minus the spit, that can make one grow vertically. But fantasy aside, we are indeed what we eat in reality. So today, I'm going to share with you a quiz taken from Total Beauty to find out which foods will make you age twice as fast, while others can smooth away your wrinkles and brighten your complexion.
I got 9 out of 10 correct because I hadn't realized that there was something better than water to keep us hydrated. So if you don't know the answer to that, go check out the quiz. You'll also find out why it's important to flush toxins from our bodies in order to help keep our skin healthy plus what type of antioxidants can help neutralize free radicals in your body, and support collagen production. In addition, learn about other key nutrients that help make our skin and hair look gorgeous as well as foods that are good for teeth and gum.
© www.vivawoman.net copyright notice ☺
______________________________________________________________
Comments