Drink milk to stay slim and trim?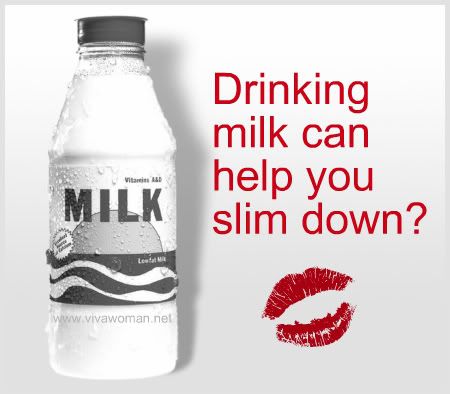 I was planning to post something else today but changed my mind when I received this in my email inbox from Leon of Beauty Secrets Revealed:
By the way, I would like to thank you for recommending milk for PMS, you won't believe how quickly I am losing my belly fat, I guess its because of milk. The only new thing I added to my diet in the past one month is milk so I am pretty sure its milk.
Leon was referring to my entry on the beauty benefits of drinking fresh milk with regards to reducing the symptoms associated with PMS.
Calcium in milk can help us trim down?
I was pretty excited reading Leon's comments because I vaguely recalled reading something about the calcium in milk being able to help our body break down and burn fat. A BBC article I found dated 1999 stated that researchers at Purdue University in Indiana found that young, normal weight women who had 1,000mg of calcium every day – the amount of calcium found in about 1½ pints of semi-skimmed milk – lost about 6lb over two years.
A bit unthinkable since milk is always thought to promote growth, and thus fats!
Hence it is no wonder that on the other side, we have experts who dispute this claim. One is Dr. Amy Joy Lanou of the department of health and wellness at the University of North Carolina in Asheville who refutes that low-fat dairy products or calcium can help people lose weight, saying that such claims are untrue as featured in a Reuters news.
Drinking milk suppress our appetite and contribute to slimming?
Personally, I haven't noticed that drinking fresh milk, even the low-fat ones have helped me lose any weight. My weight loss was evident only when I started eating more fruits, in particular pineapples.
But I am more inclined to believe a new Australian research from the School of Medicine and Pharmacology at the University of Western Australia that suggest that drinking milk can help to suppress our appetite which then contribute to the slimming effects. (source) I mean, that does make sense doesn't it?
So what do you think? Does drinking milk promote weight loss and do you have any positive experience with that too? If you do, I'll certainly be keen to hear of your experience!
Comments