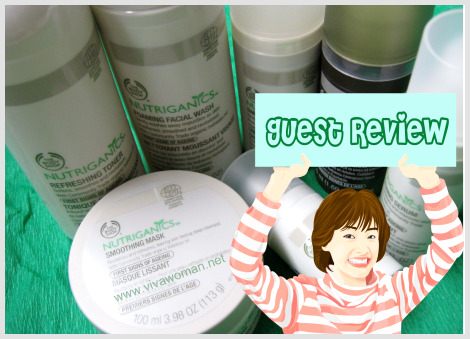 Some of you may remember that I ran a giveaway on the Nutriganics range from The Body Shop last September. Well, local readers will be happy to know that the range will be available in the Singapore stores from next Monday! Nutriganics is a certified organic skin care range with over 95% of its ingredients meeting the certification standard set by ECOCERT. I was told that The Body Shop took about two years to develop this range as they wanted to give their customers a truly high quality organic range. This collection consists of seven items that make up a full skin care regime complete with cleanser, toner, moisturizers and a deep cleansing mask. I received the products a month ago and Cass, a reader of Viva Woman, kindly accepted my request to review the products.
Cass has combination skin with an oily nose proned to blackheads. However, she hardly has pimples. She indicated that she likes how the bottles are designed because there is no wastage since she only needs to pump and the bottles will disperse the right amount of foam, serum or cream. The following are her comments on each of the products.
Nutriganics Foaming Facial Wash 150ml S$24.90
Within the range, I love this the most. This comes in a pump bottle, which disperses cleansing foam. My past experience with foam cleansing was terrible as it stripped off all oils and made my face felt so tight. However, this facial wash didn't. I used this to double cleanse my light makeup and my skin didn't feel dry. In fact, it left my skin feeling soft. I had fun using this as well, since it dispersed foam that could be used directly on my face. The smell was acceptable with no artificial fragrance. I would definitely recommend this product; only thing is those with hyper sensitive eyes like mine have to be careful not to get the foam into your eyes because it stung my eyes when it accidentally got in.
Rating: 4.5 out of 5 hearts
Nutriganics Refreshing Toner 200ml S$28.90
Most toners that I have used were watery and could be easily swept on my face. However, the name of this toner is kind of misleading as I didn't find it very refreshing. It is thicker than normal toner and when I applied the toner using cotton pad on my face, it felt slimy and sticky. In fact, tiny wee foams even formed when I swept the toner on my skin and I deduce that the toner might provide a protective coat over my skin to prevent it from drying. But I would say that this toner did hydrate my face and I even used it on my eye area after a week of testing. I guess the texture of this toner needs some getting used to and this product should be suitable for people with dry instead of oily skin.
Rating: 3.5 out of 5 hearts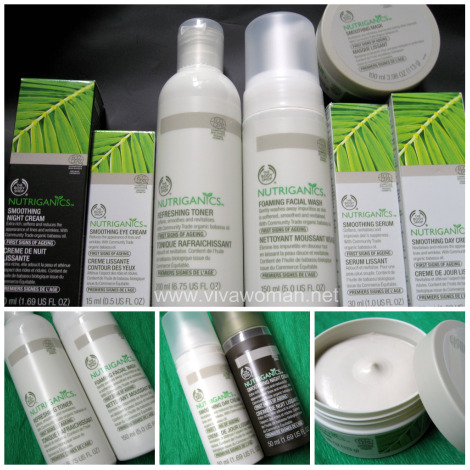 Nutriganics Smoothing Serum 30ml S$39.90
I like the texture of this serum. It is lightweight and could be easily absorb. There was not a touch of stickiness or oiliness upon application, even a few hours later. I like how this product hydrates my face and after 3 weeks of usage, I could see that my laughing lines are softer and less obvious. My overall complexion also seems to be brighter although I would like to qualify that it only brighten my skin tone, but not my freckles. The smell of the serum is acceptable.
Rating: 4.5 out of 5 hearts
Nutriganics Smoothing Night Cream 50ml S$36.90
This is the cream which I dislike the most. It was thick, rich and heavy plus the smell reminded me of hospital as well. On application, I had to rub really hard to let the skin absorb the cream. After 30 mins, my face really became very oily and felt waxy. Furthermore, I do not sleep in air-conditioner room and under Singapore's humid weather, my face in particular my nose and forehead felt very uncomfortable with this cream. However, I persisted and used this cream on my face for 2 weeks, but had to stop as it caused a breakout. Eventually, I switched to applying this cream on my neck instead for both day and night and this proved to be a right choice. It really hydrated my neck area and the area appears more supple, softer and brighter than before. The lines, while still present, looks less visible now. In my own opinion, those who sleep in an air conditioned room or have chronic dry skin like my mum can give this a try. But for combination skin, please stay out.
Rating: 1 out of 5 hearts for the face but 4.5 out 5 hearts for the neck
Nutriganics Smoothing Day Cream 50ml S$32.90
This is a lighter version of the night cream. It smooths on easily on my face, but I would prefer a moisturizer with SPF so that I don't have to apply multiple products on my face. I am not sure whether it was the serum which hydrated my skin or this day cream as my face stay moisturized the whole day using the combination.
Rating: 3.5 out of 5 hearts
Nutriganics Smoothing Eye Cream 15ml S$32.90
An eye cream for me is one that provides hydration and does not irritate my sensitive eyes. Fortunately, this eye cream fulfilled both my requirements. It is lightweight and yet after using for 3 weeks, the fine eyes seem less harsh and more moisturized. But this eye cream didn't brighten my eye as my dark circles are still as black and neither did it help to reduce my eye bags.
Rating: 4 out of 5 hearts
Nutriganics Smoothing Mask 100ml S$39.90
Honestly, I couldn't see any differences after using this mask once a week over 3 times. I don't see my face significantly brighter, cleaner or suppler after using this mask. This mask resemble mud mask which is supposed to deep cleanse. I am not sure if the deep cleanse includes cleansing blackheads as mine were still around after using this mask. Furthermore, I am not a fan of wash off mask but prefer sheet mask as I find it a hassle to wash my face too many times. So definitely not too keen on this one.
Rating: 1 out of 5 hearts
15 blends of organic ingredients
Nutriganics range features a blend of 15 organic ingredients including Organic Babassu Oil from Brazil, Organic Aloe Vera from Guatemala, Organic, Cold-Pressed Virgin Coconut Oil from Samoa, Organic Olive Oil from Italy and Organic Sugar from Paraguay.  For more information regarding Nutriganics, check out The Body Shop's website here or visit the stores next week to test the products.