Nutriganics Skincare Range from The Body Shop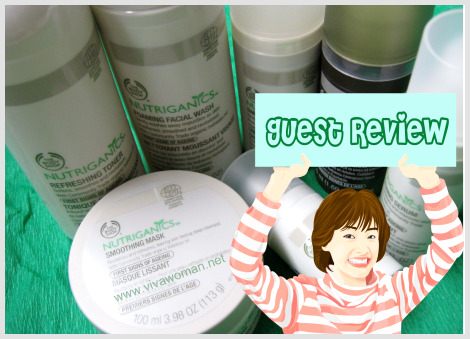 Some of you may remember that I ran a giveaway on the Nutriganics range from The Body Shop last September. Well, local readers will be happy to know that the range will be available in the Singapore stores from next Monday! Nutriganics is a certified organic skin care range with over 95% of its ingredients meeting the certification standard set by ECOCERT. I was told that The Body Shop took about two years to develop this range as they wanted to give their customers a truly high quality organic range. This collection consists of seven items that make up a full skin care regime complete with cleanser, toner, moisturizers and a deep cleansing mask. I received the products a month ago and Cass, a reader of Viva Woman, kindly accepted my request to review the products.
Cass has combination skin with an oily nose proned to blackheads. However, she hardly has pimples. She indicated that she likes how the bottles are designed because there is no wastage since she only needs to pump and the bottles will disperse the right amount of foam, serum or cream. The following are her comments on each of the products.
Comments