Nutriganics from The Body Shop & a giveaway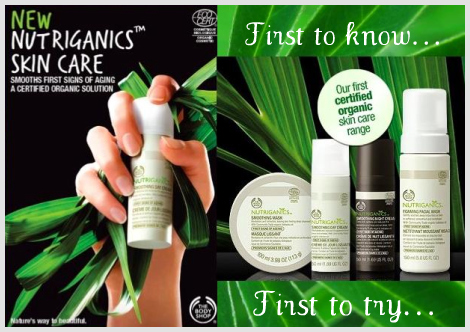 While I like the core values at The Body Shop, but I've always wished that the company can make their mission more complete by promoting more natural and organic products. They do have some interesting products but every time I look at the ingredient lists, I just stop short of purchasing. Well, all this might change now that The Body Shop has just launched Nutriganics, their first certified organic skin care line!
The Body Shop Nutriganics is certified by ECOCERT
Nutriganics is The Body Shop's certified organic skin care range which carries the world respected ECOCERT mark, and is a collection of 7 new products specifically designed to address the first signs of aging.  Although the prices are listed in US$ on the website, they seem very affordable for a certified organic range!  At the moment, they're only available in US but I imagine the range would be introduced to other countries too.
Giveaway for one lucky reader from US
I was happy to receive an email from Lisa of Ignite Social Media about the new range and her offer to provide a package of the entire line as a giveaway to one lucky reader at Viva Woman! However, because the product is now only available in US, so this giveaway is limited to readers with a US mailing address only.
Seven items from Nutriganics worth US$140 for free
The entire package of 7 products is value at US$140 and includes:
1. Nutriganics Smoothing Day Cream $22
2. Nutriganics Smoothing Night Cream $24
3. Nutriganics Smoothing Serum $24
4. Nutriganics Smoothing Eye Cream $20
5. Nutriganics Foaming Facial Wash $14
6. Nutriganics Refreshing Toner $14
7. Nutriganics Smoothing Mask $22
Certification guarantees organic ingredients
I couldn't find the ingredients listed on the website so I can't comment on the products but you might like to know that ECOCERT is an internationally recognized organic certification that guarantees the genuine practice of environmental respect throughout the formulation and manufacturing of the product. The certification ensures that 100% of the total ingredients are of a natural origin.
Guidelines for giveaway
Okay, to enter in this giveaway, just leave a comment here to tell me what you like about The Body shop or why you like to win the 7 Nutriganics items. Other guidelines to note are – each US-based reader is allowed one entry only, please provide a valid email address and the items are not redeemable for cash. The giveaway will be opened till 12 midnight SST on 5 October 09. So enter right away!
Giveaway Disclaimer: Viva Woman has not tested all the products in the giveaway and cannot be responsible for any negative product experiences that arise from using them. Please use the products at your own discretion should you win them.
Comments