How loyal are you to your skincare products?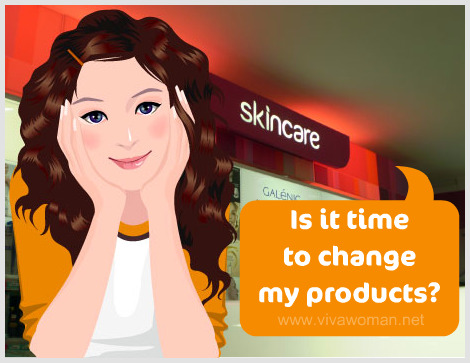 If you're a regular reader here, you might have noticed that I don't review that many facial skincare products myself compared to other beauty bloggers. Besides sunscreens, I haven't been that keen to test new products for my face. This is the reason why you see guest reviews instead. I have stuck to using a specific range of products for more than half a year now. While I do like the products but recently, I've been toying with the idea of changing. In fact, I've already started to add some new products to my regime and am planning to transit further. So that prompted me to wonder: how long do people stay loyal to their skincare products, and what prompts them to change especially if their current products are working fine?
Actually, I was kind of amused and at the same time doubtful about an advertorial I came across over the weekend. An elderly user of a skincare brand was quoted as saying that she has been a long time user of one specific product. If I recall correctly, the longest I've stayed loyal to a skincare product is probably around two to three years. And although I've addressed why we need to periodically rotate our skincare products but I'm not facing any of those reasons currently and my products aren't giving me problems.  Yet, I want to change. Why?
Optimal efficacy
I think even the best products will reach an optimal state on our skin. This is probably why we're usually so pleased with a great product initially but a few months down the road, we find that there aren't anymore visible results on our skin. I often change my skincare products for this reason too although I may revert to the same product again later.
Cost
I have to admit I sometimes change products due to the prices. I've used some really good products but after two bottles or so, find that I can't afford them and I just had to switch to ease the burden off my pocket.
Boredom
This is a major problem for me. I can be very happy with a product and yet want change because I'm just tired of the same smell and texture. I attribute this to being fickle as well.
Curiosity
This is probably the bigger culprit as I often get sucked in by new products with sexy sounding ingredients. But thanks to my concerns with some rather common ingredients, I've painted myself into a corner and can't try more products than I'll like to.
Promotion
My recent change of products was actually prompted by a sale. I doubt I would have bought them otherwise.
So tell me – what's the longest period you have stuck to using one skincare brand or product and what prompted you to change (or not to change).
Comments