Marie Veronique Comeback With A PRO Collection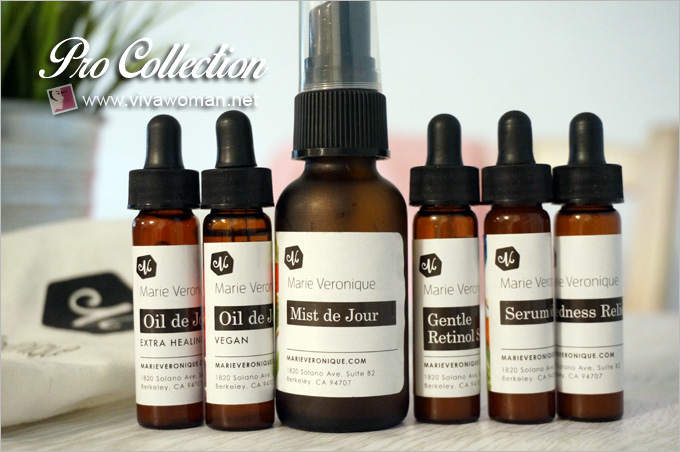 Many of you know that I was a fan of Marie Veronique products, especially in their sun protection series. However, I got quite flustered with all the changes in their branding and website that I dropped them completely off my radar. I even abandoned my favorite sunscreen for a good while, and began considering various alternatives.
I know it's normal for brands to change and re-brand but having been their customer since 2009, the changes were getting too frequent and random—I remember at least three different names for their sunscreen! However, I stuck it out with all those changes until they moved to a new website and I couldn't use my login information any more. Readers were even emailing to ask me what was going on.
It also happened that my liasion at the then Marie Veronique Organics (MVO) had left and all my connections with the company were suddenly broken. I felt kinda stranded and so I decided enough was enough; if I have to start all over with them, I might as well start somewhere else. I felt sad because I truly love the brand and their philosophy.
Then last November, a representative from the company got in touch with me again, indicating that they like to continue where we'd left off and asked if I was interested to try out their PRO collection. They assured me that despite all the changes, the company's philosophy and standard of quality remain unchanged.
I gave the matter some consideration and thought well, why not? Afterall, I haven't found a sunscreen that is on par yet. Also, I believed their quality would not be compromised because Marie Veronique Nadeau, the founder, is still helming the formulations. Her products are amongst the few brands in the natural/organic category that I am confident of recommending.
So I said yes to them, to which they promptly sent me the samples of the Marie Veronique PRO Collection and now I'm ready to share about them.
The PRO Collection comprises six products that address various skin concerns, from wrinkles, adult acne to rosacea. A few of the products feel similar to those I've used from MVO in the past but my guess is their formulations have probably been improved under this collection. Except for the mist, the samples were all about 10ml and here are my thoughts about them after having used them.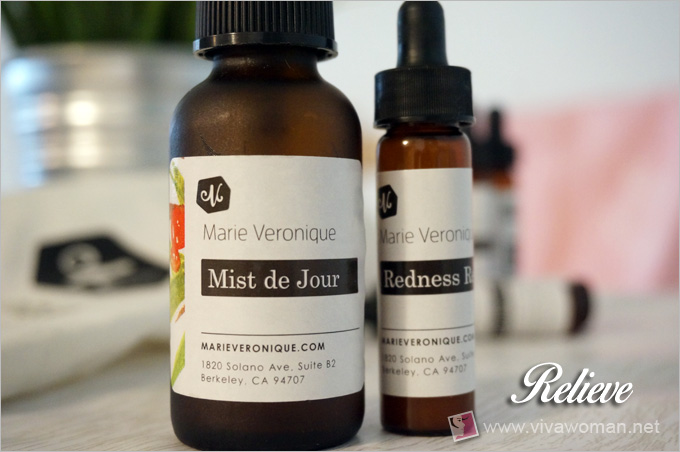 Mist de Jour | 60ml, US$20
This is a facial mist formulated to relieve dry, flaky skin as well as sensitive, or rosacea-prone skin. What makes this face mist unique is that it contains a complex of 34 probiotic live strains, including a high concentration of Bifidobacterium to balance the skin's microbiota, thereby reducing inflammation that contributes to irritated skin, redness, rashes and other common skin disorders. Additionally, the formulation comes with coconut water with high lauric acid content to keep blemishes under control and green tea to minimize oxidative stress.
I don't have any particular skin issues and so I use this mostly to hydrate and prep my skin for the application of oil and serum. It comes with a distinct herbal scent (as with the other Marie Veronique products) and I think it's probably due to the licorice extract. Although I don't have a compelling reason to purchase this, I have to concede the price point is pretty attractive considering the ingredients used in the formulation.
Ingredient list
Camellia sinensis (green and white tea), Cocos nucifera (coconut) water, Glycyrrhiza uralensis (Chinese licorice) extract, glucosamine HCl, sodium salicylate, niacinamide (vitamin B3) probiotic complex, beta glucans. Essential oils: Daucus carota (carrot seed), Curcuma longa (turmeric), Lavandula angustifolia (lavender), helichrysum italicum (helichrysum), Myrtus communis (green myrtle)
Redness Relief | 30ml, US$80
I didn't use this at all because I don't need it as this is created for those with rosacea to be used both day and night. But I did try out the texture and it is a watery brown lotion that is not sticky or greasy. The serum comes with a distinct herbal scent too.
Described as a highly effective serum containing sodium salicylate, a powerful anti-inflammatory to calm redness, this Redness Relief Serum also contains micronutrients to strengthen capillaries, and a probiotic complex to balance skin and prevent flushing episodes. In addition, it includes sea buckthorn oil that creates an environment in which the human Demodex (a mite 50% more populous on rosacea-prone skin) fails to thrive.
Ingredient list
Camellia sinensis (green and white tea), Olea europaea (olive) oil, Calendula officinalis (calendula) hydrosol, Lavandula angustifolia (lavender) hydrosol, glycyrrhiza uralensis (Chinese licorice) extract, hippophae rhamnoides (sea buckthorn) oil, sodium salicylate, rutin, probiotic complex, glucosamine HCl, niacinamide (Vitamin B3), arabinogalactan, lycopene, non-GMO lecithin, xanthan gum. Essential oils: Psidia altissima (lary), curcuma longa (curcumin), helichrysum italicum (helichrysum), Lavandula angustifolia (lavender)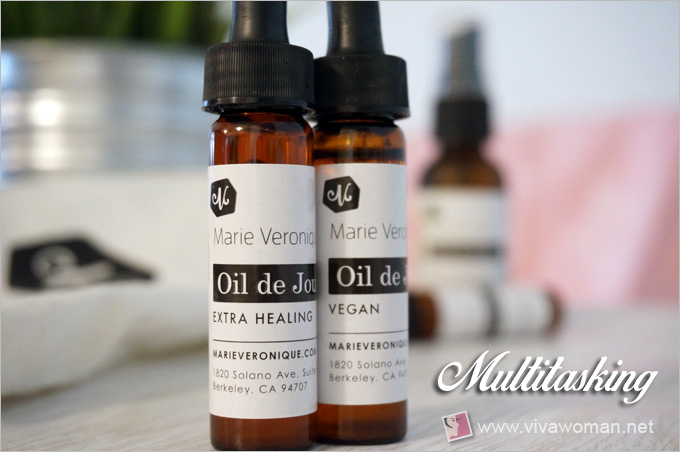 Oil de Jour 60ml, US$90
This is the equivalent of a sun protection oil as it contains pomegranate seed, tomato seed, raspberry seed and broccoli seed oils as well as astaxanthin to protect skin against UVA damage. Two versions are available: one for vegan and another for those who want emu oil for the extra healing.
I have always loved their oil and this is no different. Price is rather steep but if you look at the ingredients, it's not difficult to see why. I use about three drops for my face so a 60ml bottle can probably last me more than three months. If you like facial oils and want something more to protect your skin in the day, this product is worth considering. Personally, this is something I will buy for I used to purchase their sun protection oil. Both versions work for me but if I were to buy, I will probably go for the vegan offering.
Ingredient list
Camellia oleifera (camellia) oil, Limnanthes alba (meadowfoam) seed oil, Simmondsia chinensis (jojoba) oil, Borago officinalis (borage) oil, Persea americana (avocado) oil, Olea europaea (olive) oil, Actinidia deliciosa (kiwi) seed oil, Salvia hispanica (chia seed) oil, Rubus idaeus (red raspberry) seed oil, Sesamum indicum (sesame seed) oil, Calophyllum inophyllum (tamanu) oil, mixed tocopherols (vitamin E), Brassica oleracea italica (broccoli seed) oil, Punica granatum (pomegranate seed) oil, astaxanthin, Opuntia ficus indica (barbary fig seed) oil, Rosa rubignosa (rosehip) seed oil, algae oil, Lycopersicon esculentum miller (tomato seed) oil, Rosmarinus officinalis (rosemary) oleoresin. Essential oils: helichrysum italicum (helichrysum), Cananga odorata (ylang ylang), Myrtus communis (green myrtle)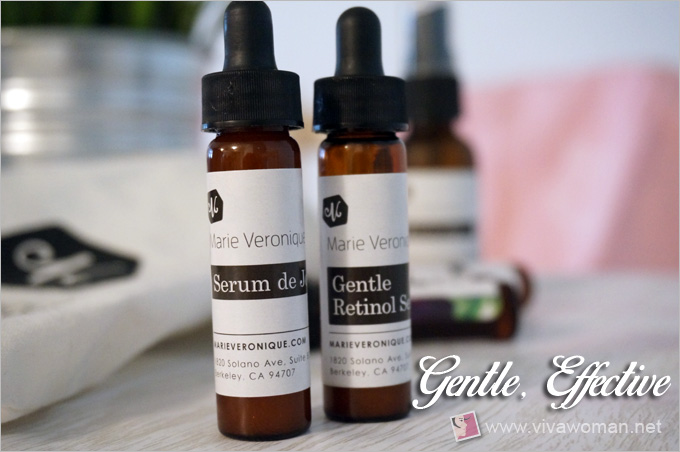 Serum de Jour 30ml, US$90
I love this serum. It has a watery consistency and is very hydrating for my skin; I use it right after applying Oil de Jour but before using my sunscreen.
Serum de Jour is antioxidant-rich, gentle and effective as it combines ferulic acid with vitamins C and E to provide environmental protection and promote skin health and vibrancy. According to the description on Marie Veronique's website, this serum along with Oil de Jour can be an alternative for those who don't want to apply sunscreen for some reason. The company qualifies that SPF has not been tested, but spectra tests indicate that Oil de Jour protects well in the UVA range, while the protective capacities of Serum de Jour's ingredients are supported by research studies.
I wouldn't recommend using just these two products for sun protection but they may be good enough if you stay indoors mostly.
Ingredient list
Camellia sinensis (green and white tea), Olea europaea (olive) oil, Citrus aurantium (neroli) hydrosol, Lavandula angustifolia (lavender) hydrosol, sodium salicylate, isododecane (stabilized L-ascorbic acid), mixed tocopherols (vitamin E), ferulic acid, probiotic complex, glucosamine HCl, niacinamide (Vitamin B3), astaxanthin, coenzyme-Q, non-GMO lecithin, xanthan gum, Psidia altissima (lary), Helichrysum italicum (helichrysum) essential oil, Lavandula angustifolia (lavender) essential oil
Gentle Retinol Serum | 30ml, US$110
The Marie Veronique Gentle Retinol Serum promises to boost collagen production, speed cell turnover and unclog pores. The formulation is revolutionary because its microencapsulation technology allows L-ascorbic acid and retinol to co-exist in the same environment—without compromising the effectiveness of either.
I am very hesitant to use products formulated with retinol but I acknowledge that they do improve my skin condition, for as long as I continue using them. In fact, I could see a difference to my face in my first week of using this serum–my skin looked plumped up and skin felt fuller. Yet it is also truly gentle as my skin did not experience any irritation nor did it peel and this is a surprise considering this formulation contains both retinol and vitamin C.
Ingredient list
Camelia sinensis (Green tea) infusion, Citrus aurantium (neroli) hydrosol, vegetable glycerine, kombucha tincture, encapsulated retinol (7%), niacinamide (Vitamin B3), beta glucan, sodium salicylate, n-acetyl glucosamine, Photoaging Repair Complexâ"¢, non-GMO lecithin, xanthan gum, isododecane (stabilized Vitamin C), mixed tocoperols (vitamin E), Argania spinosa (argan) oil, Rosa rubiginosa (rosehip seed) oil, Rubis fruticosus (blackberry seed) oil, Brassica oleracia italica (broccoli seed) oil, rosemary oleoresin, preserved with Leucidal® Liquid and aspen bark. Essential oils: Citrus aurantium (neroli), Carota daucus (carrot seed), Curcuma longa (curcuma), helichrysum italicum (helichrysum), Cistus ladaniferus (cistus), Boswellia carterii (frankincense)
Overall summary
The Marie Veronique PRO Collection is another quality range from the brand. Although formulated for specific skin conditions such as rosacea and acne, the products work across the board for normal skin conditions too. I have no rosacea nor do I have any more acne but I will consider using some of the products like their Mist de Jour, Serum de Jour and Oil de Jour (Vegan). The Gentle Retinol Serum is effective but I'll probably only use it for one season as it is not my preference to use retinol on a long term basis.
In terms of dollars and cents, Marie Veronique is pricey, no doubt about it. Not forgetting the brand is based in US although they ship to over 190 countries. However, you'll need to purchase over US$250 to enjoy free shipping. I guess if you're buying a few products, shipping cost isn't an issue. But you'll feel the pinch if you're just buying one or two products.
Despite the price, I highly recommend the brand. This is one natural brand that truly delivers and readers who have followed the brand over the years can attest to their quality as well. If you look at their ingredients, they're far better than most conventional brands that cost far more. Not only are they using cutting-edge ingredients that deliver results, we're talking about green tea and white tea base as opposed to water and quality hydrosols at the top of their ingredient list. In my opinion, their formulation is also far more superior than most in the natural/organic category from a clean beauty perspective. In fact, I'm 100 percent agreeable with their ingredient list as I rarely come across products formulated without plant alcohol.
Natural & Organic Monitor
I should also mention that Marie has set up the Natural & Organic Monitor or NOM for short. This is where she works with like-minded groups, such as the Center for Environmental Health (CEH), to create, a rating system similar to the EWG's, but exclusive to natural and organic products. And coming first up will be a comparison of naturals vs synthetics in the world of fragrance. Exciting yes?
To check out the Marie Veronique PRO Collection or look up more information on the brand, go to their website here (affiliate link). It is now marieveronique.com and no longer mvoorganics.com. You'll also find information on NOM there.
Oh, just a matter of curiosity, how many of you are still buying products from the brand? Let me know in the comments. I'm also keen to know your thoughts about the brand or their products since the identity change. I really, really pray that there won't be major changes to their branding from now on.
Products highlighted are media samples and this review is in line with my disclosure policy.
Marie Veronique PRO Collection
Comments