Is Panthenol beneficial for our skin?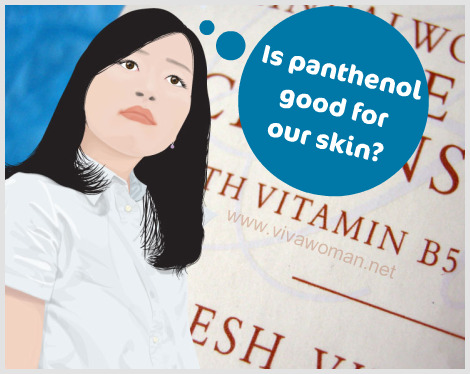 I've been using some skin care products containing Panthenol, which is a derivative of Vitamin B5, and it is commonly referred to as Pro-Vitamin B5. I wasn't quite sure of its properties when I purchased the products and was kind of disappointed to learn later that Panthenol is the alcohol form of vitamin B5. But it is said to be derived from plants and is used as natural humectant that improves the moisture-retention capacity of the skin and stimulates skin regeneration. It has an anti-inflammatory plus anti-itching effect and is said to be easily absorbed by the skin cells due to its ability to penetrate into the lower skin layers. As such, it makes an effective hydrating ingredient in skincare lotions and creams. In fact, the level of hydration panthenol provides as well as its anti-inflammatory benefits makes it effective in relieving the itchiness and discomfort of eczema, as well as skin rashes.
Used widely in makeup products
So far, I'm quite happy with how my skin is reacting to the products. Apparently, Panthenol also contains antimicrobial properties and can help to control the growth and spread of bacteria. This is why the ingredient is also used in a number of products that treat burns, cuts, scrapes and minor wounds. In addition, it is also used in acne treatments to counteract bacteria on the surface of the skin, and as an oral supplement to prevent bacteria spread beneath the top layers of the skin. I also found that it seems to work well as a face primer and discovered that the ingredient is popularly used in makeup products such as in foundations and concealers, to allow a smoother application of these products, and help create an illuminating complexion.
Pore clogging concerns
However, I read on various sources that hair shampoo or conditioner containing this ingredient can clog pores. Panthenol is widely used in hair care products and treatments to coat and bind to the hair follicles; it helps improve dry and damaged hair, reduce hair splitting, and makes hair easier to comb. Some sources also suggest that panthenol traps oil in pores and clogs them but according to this list from dermatologist, Dr. James Fulton, this ingredient is rated 0 and does not clog our pores at all.
Difference when used in hair products
So I was confused and started wondering if I should continue with the products although so far, they work for me.  Anyway, the Panthenol in my products comes from the naturally occurring D-Panthenol, which is said to contain double the activity compared to the much cheaper "DL" form often used. It appears that "DL" version is the one commonly used in hair products. In addition, I also read that Panthenol is converted to Pantothenic Acid when used on skin and hence serve cellular metabolism. This is however not the same in hair because hair contain no living cells. I wonder if this is true.
Does anyone use skin care products containing Panthenol? Do share your experience with me!
Comments