Viva Challenge: educate a male about sunscreen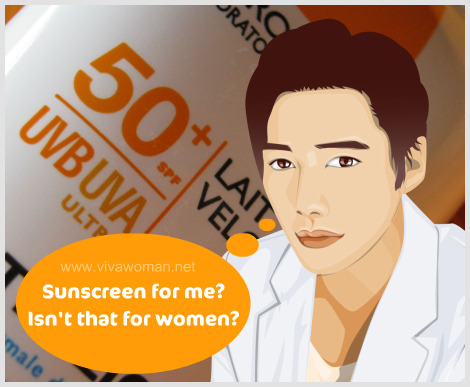 In my job, I deal with young people of both genders and it isn't beauty or health related. However, recently, there were some suitable opportunities for me to incorporate a small lesson to all of them about the importance of using sunscreen. I ran a random poll with them and discovered to my horror, that about 90% of the males who are active in outdoor activities do not use a sunscreen at all. And the topmost reason they cited was that sunscreen is a girl's product! How wrong is that! I had to correct their perception and to tell them that sunscreen should really be seen as a health product too because of the risk of skin cancer when we go under the sun unprotected.
Women more savvy about sun protection
I can't say about the situation in other countries but in Singapore, I think the women are more savvy about sun protection than the men. I suppose the need for flawless skin does put us on the right track from an early age as well. However, I can't say the same for our men. It took a long time before my husband, who is an avid sports fan, became more vigilant about sunscreen application and that happened only after numerous nagging sessions from me. Prior to that, he was using suntan lotion rather than a sunscreen lotion when swimming under the hot sun! He indicated that he dislike applying sunscreen because it was too creamy and greasy. So I introduced him to chemical sunscreens from La Roche-Posay that aren't greasy and he's been using them diligently. I also make him take Heliocare oral sun protection capsules if he exercises under the hot sun.
Educate your male family member or friend about sunscreen
So I think there is a need to educate the men around us on the importance of using sunscreen and I'll like to make this a challenge to all Viva Woman readers – tell a male family member, colleague or friend who doesn't use sunscreen the importance of using one today. Tell him that skin cancer is the seventh most common cancer in Singapore, according to the Singapore Cancer Society. Make him use one or better still, get him one. Tell him that sunscreen isn't a beauty product, but a health product too. Show him articles about the importance of using sunscreen. Educate him on the need to use a sunscreen offering broad spectrum protection against UVA and UVB rays and that he should re-apply every two hours when he is exercising. And introduce him to brands that offer a good selection of sunscreen so that he can find one that suits him. Personally, I think La Roche-Posay's are great for men.
Skin cancer risks around the world
This challenge does not only apply to those living in Singapore. In fact, according to a Forbes article, the countries with the greatest per-capita skin cancer burdens attributable to solar ultraviolet (UV) radiation include the United States, Canada and Cuba, as well as portions of the Pacific and even Northern Europe. Our risk is in fact lower, as we're listed at the bottom of that list, which consists mainly of South Asian countries, including India, Maldives, Bhutan and Bangladesh.
So no matter where you are, go tell a man why he needs to use a sunscreen today!
Comments