5 ways to use lemon for beauty & health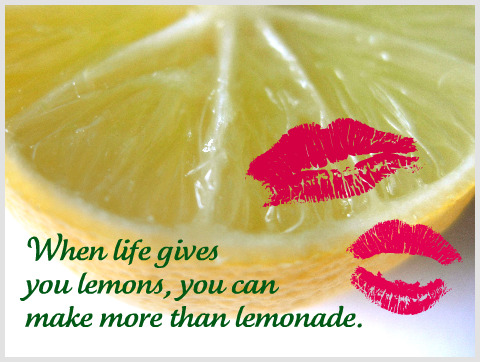 Lemons are sour to the taste but they're actually great for health and beauty. They are full of vitamin C goodness and are so easily available. You can use lemons in many ways; here are five ways I've tried or based on experience from someone I trust.
1. Lemon for removing pigmentation
Lemons work as a bleaching agent to help fade uneven pigmentation and diminish the appearance of such age spots. You can combine with other ingredients like milk as mentioned in my entry about a milk and lemon homemade whitening polisher. However, because lemon is acidic and has exfoliating properties, it is best to do this once or twice a week in the evenings. In addition, remember to apply sunscreen diligently while using this remedy. I use this on my arms and feet but not on my face because I found the stinging unbearable. If you want to use it on your face, remember to test on a small area and you may want to consider diluting the juice with water as well.
2. Lemon to whiten nails
To get rid of yellow stains on my nails, I have tried brushing my nails with a blend of lemon juice and baking soda. While my nails were not completely whitened, I managed to rid about 80% of the yellowish stains on my nails using this method.
3. Lemon to get rid of dark armpits
I like this one. In fact, when combined with milk, this is a great polisher for the underarm areas too as it kept them whiter and smoother.
4. Lemon to detox and reduce weight
As lemon juice is acidic, it is useful to help flush the waste from our body, and cleanse our system. One of my nephews who was considered obese, lost weight by drinking a glass of warm water mixed with juice from half a lemon every day for about a month. The acid actually turns alkaline when in the body, so it's an excellent way to start out the day balancing your pH as well. However, do not drink this on an empty stomach. You may consider adding some honey to the drink if you find the taste unbearable.
5. Lemon juice to increase your consumption of water
Many people tell me they hate to drink plain water. In this case, you might want to put a slice of lemon in your tub or glass of water. That will add some zing to the taste and it will be easier to down a few glasses of water that way. In addition, it can act as a natural breath freshener!
Word of caution
There are many other ways to use lemon, such as for acne, for exfoliation or for the hair. However, I'm only covering those I find are relatively safe. As lemon is acidic, do consider your skin type and health in using any of the above suggestions.
Comments