Guest review: Aubrey Organics Cleansing Lotion
♥Guest Post♥
This is a guest review from Crystal of
Watermoolen
on Aubrey Organics Vegecol Facial Cleansing Lotion.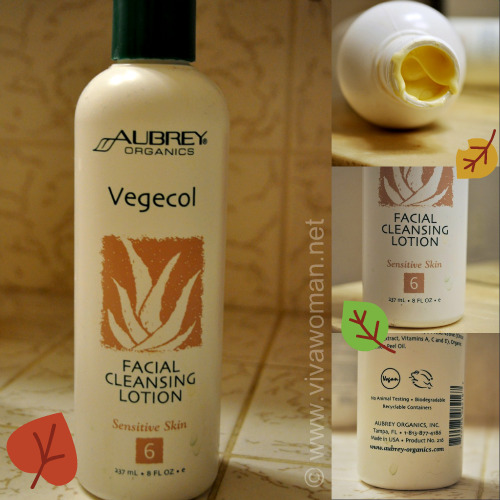 I had to travel a bit farther to obtain this cleanser because it is not sold in my local drugstores or nearby areas. Aubrey Organics is an animal-friendly and vegan company in which they provide natural and/or organic ingredients in their beauty products. Depending on what skin type you have, Aubrey Organics has products to target that. After my good experience with the calendula cream by California Baby, I wanted to find a similar effect from a natural, organic cleanser, too. After traveling to my local Whole Foods supermarket, I finally found the cleanser I was looking for.
Cream based, not water based
If you read the ingredients on most cleansers, they are water based. This means that water is labeled the first ingredient or one of the top ingredients on the product. However, this cleanser contains NO water at all. In fact the cream based is derived from a coconut fatty acid instead. This provides a thicker texture than what you may be used to.
"100% natural ingredients" and contains NO Alcohol
That's the first thing you see once you turn this bottle to the back. There are three organic ingredients (aloe vera, castile liquid soap, and lemon peel oil) but the other ingredients are promising as well: horsetail extract, calendula oil, carrot oil, and St. John's Wort oil. Compared to the cleansers that Aubrey Organics has, this was the only one that contained NO alcohol. The other cleansers (whether you're normal, oily, or even dry) contains some alcohol stringen which can dry out your skin. Good cleansers clean enough so that not all oils are stripped away from your face.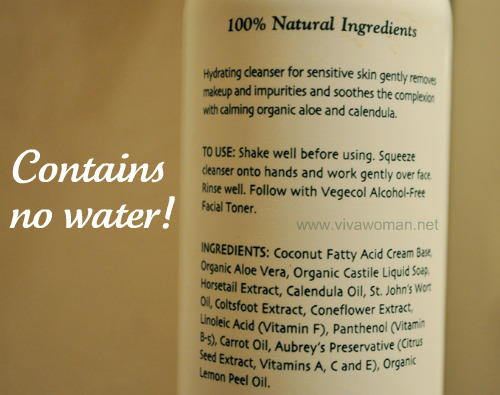 Does not lather
This cleanser does not contain any sulfates so do not expect any lather. At first, you may feel as though you're not getting enough product onto your face, but in reality, you may be putting too much. A quarter size will be fine. Just mix the product with water in your palm to try to make it watery so that it is easier to apply onto your face.
Thick texture and has no synthetic fragrance added
I like the fragrance a lot! It has has that citrus-y and soap smell to it, which could pass for aromatherapy. It's like applying aromatherapy to your face which can be soothing at times. However, the thick, yellow texture can be off putting because it is very hard for the cleanser to squeeze out. You may have to shake the bottle or place the bottle upside down for ease of use.
Does not remove light makeup
When I first used this cleanser, I started to break out more and didn't realize what was the problem. It was until I saw that this product doesn't remove all of my tinted moisturizer although the cleanser claims that it "gently removes makeup and impurities." My tinted moisturizer is not sweatproof or even waterproof, yet after washing with this cleanser, I can still see bits of the moisturizer on my face. I suppose the company assumes that people with sensitive skin does not wear any makeup at all.
Availability
If you go to their main website, you will see on the bottom of the website that they serve international orders. They so far serve to the United Kingdom, Russia, Germany, Japan, Australia, Poland, and Norway.
Though I like the concept that I am using a natural cleanser, I will not buy a new one once I am finished with this one. I found that the product falsely advertised the cleanser to be able to remove makeup when it failed to remove even the lightest makeup (regular tinted moisturizer). As a result, I had to use makeup wipes to clean off my moisturizer although I did not need to do so with past cleansers.
Comments