Aubrey Organics Treat 'Em Right Lip Balm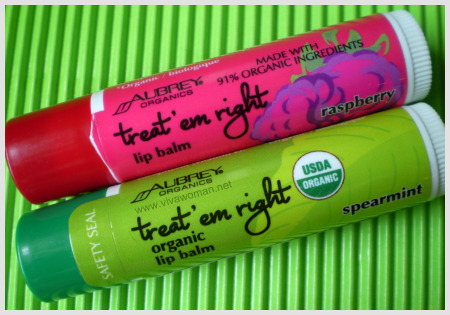 I don't think I have ever finished a lip balm before.  It's always a case of too many balms but so little time!  So what's my current lip balm flavor?  For this month, it is Aubrey Organics Treat 'Em Right in Raspberry.  I received this from Eco Living At Home and have been using it daily for about two weeks now. 
Natural organic ingredients
This is a nice sweet smelling lip balm with 91% organic ingredients including cera alba (organic beeswax), cocos nucifera (organic coconut) oil, virgin olea europaea (organic olive) oil, simmondsia chinensis (organic jojoba) seed oil, natural flavor, cannabis sativa (organic hemp) seed oil, rosa rubiginosa (organic Rosa Mosqueta®) seed oil, tocopherol (vitamin E).
USDA Certified vs 91% Organic
When I was comparing it with the other lip balms in the Aubrey Organics range,  I realized that some flavors in the range are USDA certified organic while some are just described as 91% organic.  I'm not exactly sure why but my guess is that it has something to do with the ingredients.  However, I'm not particular since the formulation is natural and does not contain synthetic ingredients.  In fact, I like the Treat 'Em Right Lip Balm in Raspberry as it smells wonderful with its moisture-rich Rosa Mosqueta oil and other all-natural ingredients. 
Features
Benefits
Organic Rosa
Mosqueta Oil
High in antioxidant vitamin C & nutrients; moisturizes & protects
All Other Organic Oils
Soften & condition; restore moisture balance
Ideal if it contains SPF
I don't seem to be able to locate this item on the website for now but I recall the retail price to be at S$8.95 or so.  It's great worn alone or with a lipstick and the moisturizing quality is very good.  What would have made this lip balm perfect would be for it to contain SPF.
Enter VivaBella Giveaway to win one
Anyway, you have a chance to win the Aubrey Organics Treat 'Em Right Lip Balm in Spearmint when you enter this month's VivaBella Giveaway.  If you haven't already done so, now is the time to enter!
Comments