Is a tingling sensation on the skin good or bad?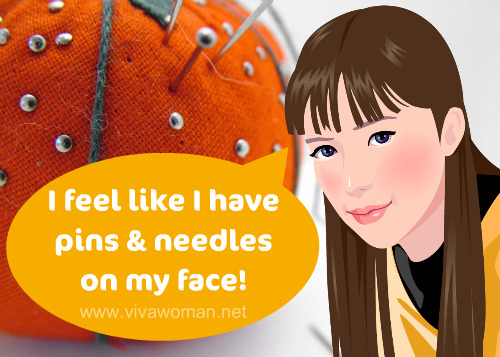 I was talking to my bestie over the weekend and she told me that she was slightly miffed by the explanation or lack of it regarding the tingling sensation from a face mask she was testing. She wanted to know why the mask was causing her skin to have a slight tingling sensation but the only answer she received from the supplier was, "oh, because it's doing something to your skin".
Then coincidentally, I had the same sensation during my facial yesterday and when asked, was told that the tingling sensation on my skin was because the product used was penetrating deeply into the dermis layer.
More often or not, you'll probably be told that you're feeling the slight tingle on your skin because the product is working. Is it really so?  And is a tingling sensation a good thing for our skin?
One school of thought: no, it's not a good thing
One school of thought will tell you that the tingling sensation isn't a good thing. If you're using a cleanser and that's causing some tingling sensation, it's likely that the product has removed the natural lipids rom your face and causing your skin's pH to become unbalance.
In fact, Paula Begoun has indicated in The Cosmetic Cop that a cooling or tingling sensation being a sign that your skin care product is really working is a myth.
Myth 14: This common myth couldn't be further from the truth. That familiar tingling sensation is actually just your skin responding to irritation, resulting in inflammation. Products that produce that sensation can actually damage your skin's healing process, make scarring worse, cause collagen and elastin to break down, and increase the growth of bacteria that cause pimples.

Ingredients such as menthol, peppermint, camphor, and mint are counter-irritants. Counter-irritants are used to induce local inflammation in an effort to reduce inflammation in deeper or adjacent tissues. In other words, they substitute one kind of inflammation for another, which is never good for skin. Irritation or inflammation, no matter what causes it or how it happens, impairs the skin's immune and healing response. And although your skin may not show it or doesn't react in an irritated fashion, if you apply irritants to your skin the damage is still taking place and is ongoing, so it adds up over time.
Funnily enough though, one of her products under Paula's Choice–Skin Balancing Carbon Mask–has been reviewed to provide a tingling, cooling, stinging, and burning sensation. At the same time, many of the reviewers said that the product actually works for them! (see reviews)
Second school of thought: the product is working
You may have also come across some products that indicate that you should expect a slight tingling sensation when you first use the product and that's considered normal. And according to Smartskincare, certain natural substances can produce a tingling sensation when reaching the dermis, i.e. the target layer for the majority of active ingredients. So it's actually a sign that your skin is absorbing the active ingredients.
In fact, it is supposedly quite normal for you to experience tingling sensation when using some products as their ingredients will bring the blood to the surface of the skin. Products containing oxygen is a good example as oxygen is often said to penetrate into skin to activate cells. The same is true for AHA or BHA products and a small amount of tingling is actually considered normal. Some tanning products apparently will stimulate the skin and cause oxygen to rush to the surface, which helps increase the skin's ability to tan.
Personally, I've tried products that cause a slight tingling sensation on the skin, such as those from Organic Apoteke, which are said to enhance microcirculation in our skin. Microcirculation really means increasing nourishment of skin cells as well as speeding the detoxification of the cells and hence, it is normal for our skin to experience a warm, tingling sensation because our skin is adjusting to a nutrient-rich diet.
My thoughts
Personally, I believe that it is true that the tingling sensation is caused by a response to the product or treatment. It is not uncommon to experience similar sensation when you subject your skin to some of the cosmetic treatments involving light penetration. So I would go with the explanation that the product is doing something to our skin. Whether it's good or bad is another question altogether though.
The intensity of the tingling effect will vary among people, much depending on their skin type. Obviously, someone with a thinner, more sensitive skin type will likely experience a stronger and maybe slightly unusual reaction. However, the tingling sensation should be really short, lasting like a few seconds and to me, a warmer sensation probably means an improvement in blood flow.
However, for those with sensitive skin conditions, the heat related with increased blood flow may actually trigger some of the sensory pain nerves and cause them to become sensitized. In some cases, I learnt that the ingredients may leak through blood vessels, activate these nerve endings and cause excessive inflammation, resulting in skin burning (source). Woah…surely you don't want to go there.
So if your skin is sensitive, you should really be careful with what you apply. Learn more about what ingredients might irritate your skin and yes, it's best you stay away from ingredients that can trigger such tingling sensation as you can never tell how your skin will definitely react.
I also feel that the adjustment to the product or treatment should be temporary. That means, this tingling sensation shouldn't be ongoing for long periods. Anything longer than a minute or two should be of some concern. I tend to agree with Paula Begoun's view that this isn't good for the skin when it is happening over a prolonged period as that would mean the skin is constantly being stressed.
What about you?  How do you feel about using products that cause your skin to tingle slightly?  Nay or yay?
Comments