Kiehl's Organic Açaí collection: a mister's view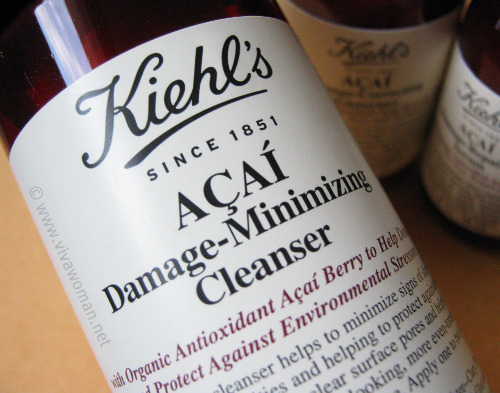 Finally, I'm writing something about Kiehl's Organic Acai range that was launched awhile ago. Well, it's Ecocert Organic Certified okay but I wasn't very keen on using it because of the alcohol denat I see listed as one of the top five ingredients in the range. Even though it's stated to come from 100% organic farming, I just don't like the idea of slathering anything with alcohol denat on my face daily. But I decided to claim some products from the range as part of the $200 I won from Kiehl's blogging competition for my husband. He's got thicker and oilier skin and I suppose some alcohol may do it some good. And just as I've guessed it, he loves the products!
Key antioxidant ingredient sourced from Brazil
Kiehl's Organic Acai collection comprise four products – a Damage-Minimizing Cleanser, a Damage-Correcting Moisturizer, a Damage-Repairing Serum and a Damage-Protecting Toning Mist – and I claimed the first three products. Looking at the product description, the Acai collection is positioned as an antioxidant range to counter the effects from free radicals. The key ingredient is of course Açaí, read as Ah-Sigh-Yee, which is a super berry sourced from Brazil with exceptionally high levels of nutrients. I haven't got a chance to try this rare fruit but my understanding is that it's delicious because it's like grapes but with a rich chocolate taste.
Kiehl's Acai Damage-Minimizing Cleanser 150ml S$51
This cleanser is all liquid and dispenses balls of foam. According to my mister, he needs two balls of the foam to wash his face because his face is quite big. What he likes is that this cleanser is able to clean his face well and yet, doesn't leave it dry and tight. Personally, I've tried it once and I think it's fun to use. But if I were to use it on my face full of makeup, it's best to use an oil or cream cleanser to get rid of the makeup before washing with this product. And even for that, I think three pumps of foam will do a better job. I suppose if I were to use this cleanser, I'll probably finish it up rather quickly. But I agree with him about the feel; not tight and taut and it smells great!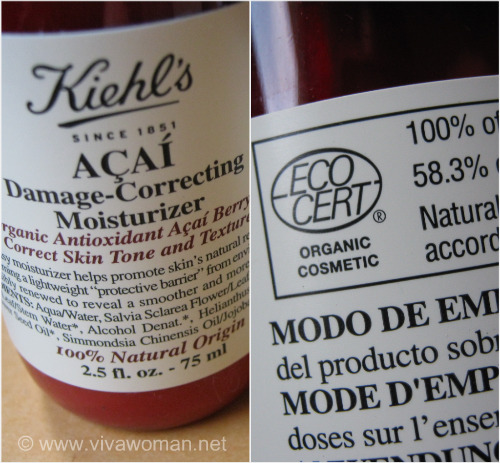 Kiehl's Damage-Correcting Moisturizer 75ml S$80
He seems to like this moisturizer a lot and I can see why. When I tested it, the texture was creamy but yet lightweight. So it applies easily without leaving a heavy oily residue. In fact, he used to have a rather oily face but this moisturizer kept his face matt and oil free for a good part of the day. I did noticed that after weeks of using this, his skin texture has somewhat improved and seems smoother. Hmm…that's not great news for me though because I think his skin shouldn't be better than mine!
Kiehl's Acai Damage-Repairing Serum 50ml S$84
He didn't want to use the serum and so I'm left to try it myself. However, because of the alcohol, I'm only using this on my neck region and so I can't really say much about it, especially since I haven't been very consistent in the usage. The only thing I would say is that I like the lavender scent, which is very soothing. The moisturizer smells almost similar too.
Overview
This is not a guest review since I'm still writing it so I can still sum up my thoughts on the products. I like the idea of an Ecocert organic certified range that is paraben and silicone free from Kiehl's. The usage of Acai berries as the key ingredient is very exotic and beneficial too. But why can't the range be alcohol free? Besides alcohol denat that is listed as one of the top five ingredients, the moisturizer for example has cetaryl alcohol and stearyl alcohol. So that's a no-no for me because I have already made my stand regarding alcohol-free organic skin care. But for those who don't mind the alcohol content, the products seem to work rather well especially if you have combination to oily skin type. Despite what others have said about the strong scent, I find the smell lovely and soothing. Anyway, my husband gave the two products he used a rating of four hearts out of five. So they're good for him!
Comments