What happened to the rage in mineral makeup?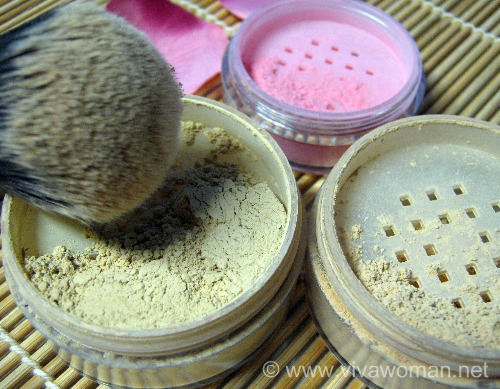 Mineral makeup was all the rage about two to three years ago. Almost every other week, a new indie brand was launched, touting the benefits of the natural makeup. Even the big boys came out with their own versions. But the rage seems to have died down quite a bit isn't it? Apart from the established brands, I no longer see that many mineral foundation or mineral eyeshadows being introduced. And that prompted me to ask, what's with mineral makeup these days and are women still using it? Well, I am sure there is still a market for the product but I have no idea if that many women are still using mineral makeup. Perhaps let me tell you about my status since I was using mineral makeup consistently for around two years since 2007.
Not all are that great
I started using mineral makeup when my skin condition was considered "fairly good", aside from the pigmentation that I've always had. I was struggling with the compact powdered foundation, which were heavy and cakey. Mineral makeup answered my desire for a more natural look, without all that. Depending on the brand used, most of the coverage turned out pretty sheer but they had worked for me by evening out my skin tone as a whole. In terms of formulation, mineral makeup was said to be better because of all the natural ingredients. However, that's not really true. I had a major allergy while using one of them and that made me re-thinked if mineral makeup was actually good for my skin; I also subsequently wrote an entry featuring a list of skin irritants in mineral makeup. I became more discerning with the ingredients and was less willing to try out new brands.  And my interest in mineral makeup took a further nosedive when I later realized that some mineral makeup are drying for my skin.
Not good for a blemished face
I really stopped using mineral makeup sometime this year when I noticed the foundation cannot cover up the blemishes from my acne breakouts. I needed a heavier coverage and so I returned to using compact powdered foundation. My mineral foundation has become a loose powder to me now and I only use it if I just wanted some powder to attain a matt feel. So my take with mineral makeup is that, it's great for those with fairly good skin of normal conditions. The sheer coverage would give such skin type a nice finishing. In addition, mineral makeup is also good if you just want something to even out your skin tone or reduce redness.
The best spin off from mineral makeup
Personally, I feel the best thing to spin off from mineral makeup is the brushes. I believe kabuki brushes were around for awhile but they didn't gain that much popularity till mineral makeup was introduced. I love my kabuki brushes and they work well with my compact powdered foundation. In fact, with the kabuki brush, the coverage is a lot lighter and it works just perfectly for me. So while I'm no longer hot about mineral makeup, I'm still raging about the kabuki brushes.
What about you? Are any of you still loving mineral makeup and using it consistently?
Comments