Kabuki brushes: animal or synthetic hair?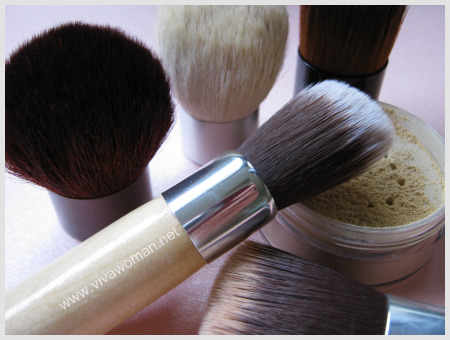 I love using Kabuki brushes to apply my foundation, whether I am using mineral or compact powder. They work better than sponges for me. I have Kabuki brushes using animal as well as synthetic hair. I alternate between the two, loving them for different reasons. Today, I like to make a comparison of the two based on some common properties.
Softness
I don't know why people say that animal hair is softer but my experience tells me otherwise. I've tried Kabuki brushes made with goat, sable and pony hair and all feels a tad scratchy on my face. Perhaps I haven't come across a superior grade that is really soft on contact. On the other hand, all the Kabuki brushes made with synthetic hair are incredibly soft and feels fabulous on my skin. Because they're very dense, I have no problem applying powder with them at all.
Application
Kabuki brushes made with animal hair are porous and hence, tend to pick up powder better. Although I've heard that animal grade Kabuki brushes don't need that much powder compared to synthetic ones, I personally don't see that much of a difference. And actually, I find that I make a bigger mess in terms of leftover powder on the table whenever I use a brush with animal hair.
Coverage
In fact, I feel that synthetic Kabuki brushes offer me smoother coverage and doesn't make my pores so obvious. Perhaps the softness of the hair makes it easier to blend the powder into my skin.
Maintainence
Generally, I find Kabuki brushes using animal hair easier to wash and quicker to dry though. Their shape also stays more or less intact after drying. Synthetic ones are not that difficult to wash either but they take a longer time to air dry. In addition, when washed over a period of time, their shapes tend to distort and the hair seem to get oilier.
Summary
Overall, I like synthetic grade Kabuki brushes better. I haven't come across a brush with animal hair that feels totally fabulous on my skin. However, some of you may have tried and if so, do leave a comment here to recommend. But I do like to alternate both types of brushes. Lucky thing also that I am not allergic to certain animal hairs as I know some people are.
So what about you? Do you use Kabuki brushes for powder application? If so, what's your preference?
Comments