Product review: Bod White Tea Cleansing Gel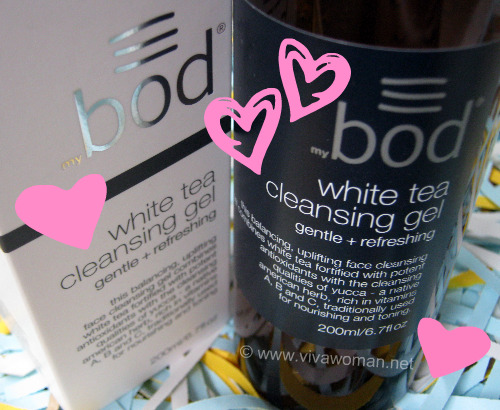 I'm done with my bottle of A'kin Sandalwood & Neroli Pure Facial Cleansing Gel and even though I had liked it and given it a 5 out of 5 rating, I decided to try something else. Well, the truth is, I need new stuff to review here. HA. So I went shopping at Watson's and picked up Bod White Tea Cleansing Gel this time. I wonder why it took me so long because this item is only S$36 and the short ingredient list look agreeable enough. Plus, the first ingredient is a white tea extract – so bonus points there already!
About Bod
Bod is an Australian brand that uses natural ingredients in their product range that are vegan friendly. Depending on what you use, some of the products do contain rather pure natural ingredients that are even certified organic. But on the whole, their range is said to be free from artificial scents, petrochemicals, animal products, artificial preservatives, SLS,sulphates and parabens.
About Bod White Tea Cleansing Gel
Ingredients: White tea extract, sodium lauroyl sarcosinate, decyl glucoside, oat protein extract, yucca extract, ylang ylang, geranium, tangerine essential oils, potassium sorbate, xanthan gum, citric acid, sodium hydroxy-methyl-glycinate.
This is a transparent cleansing gel that foams rather well because of the sodium lauroyl sarcosinate and decyl glucoside. It's supposed to contain quite a bit of antioxidant benefits going by the ingredients like white tea and yucca, a native American herb rich in vitamins A, B and C. The oats are to provide soothing qualities and is said to assist with reducing redness in skin.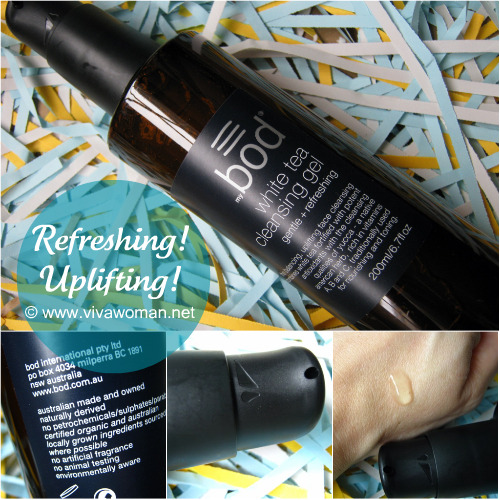 About the cleansing power and smell
This cleanser cleanse my combination skin well without drying it at all. In the mornings, I only need one pump and it is able to cleanse my face thoroughly. In the evenings, I'll use two pumps to cleanse off my light makeup before using a last pump to double cleanse and again, no complains there. Do note that I use very little eye makeup and so this works for me; this may not work for heavier eye makeup though. I find the smell of the xanthan gum to be quite strong but on the whole, the scent is pleasant and refreshing with its combination blends of ylang ylang, geranium and tangerine essential oils.
About the ingredients
I wouldn't say this is a 100% natural cleanser but I actually like the short ingredient list very much and more importantly, there's no alcohol in there! Tangerine essential oil may cause photosensitivity but it's not high up on the list and I'm not so worried since I always use a sunscreen. The last ingredient maybe a bit of a concern for some as it has been flagged out to be a potential skin and eye irritant. So those with sensitive skin may want to be aware. But I've tested this cleanser using a pH test strip and it's a 5, so it seems pretty gentle for most skin types.
About the packaging and price
The Bod White Tea Cleansing Gel is 200ml and that's going to last me awhile. It comes in a dark brown plastic pump bottle and is user friendly. The pump can be locked and I thought that was neat. I missed the 10% discount but thought S$36 is a fair price to pay for this item.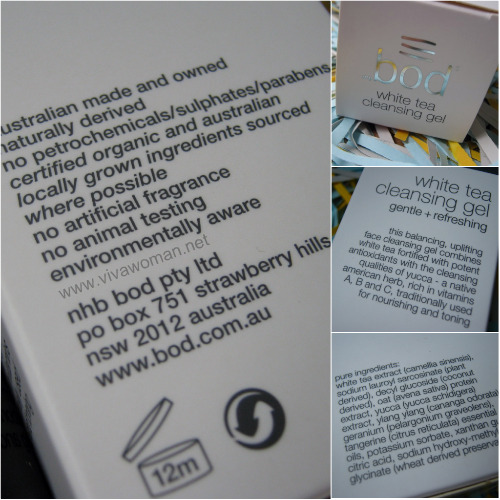 Overall summary
If you ask for a comparison, this is quite a hard fight with A'kin Sandalwood & Neroli Pure Facial Cleansing Gel that I was using. They're both priced about the same and the cleansing power of both cleansers are almost on par. Maybe the A'kin cleanser is a just a tad better but in terms of ingredients, I'll go for Bod White Tea Cleansing Gel. So would I re-purchase this cleanser? Yes I would! Provided I don't get distracted by other cleansers again. Heh.
Comments