What kind of base is used in your skin care?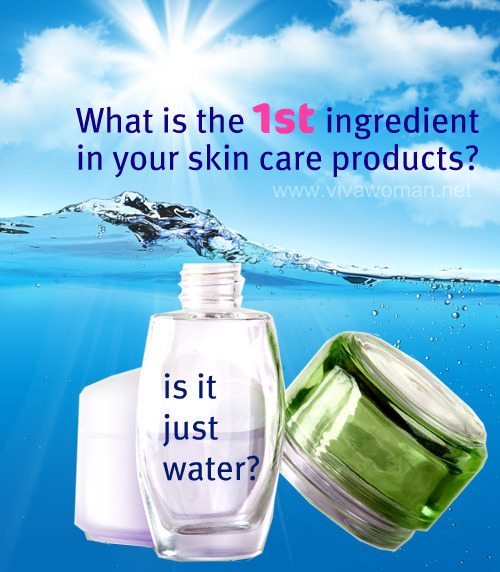 Hello VivaBellas! I'll like you to do something here. Go and take a look at the ingredient list on your current skin care products. What's the first item you see? Is it water? Aqua? Purified water? Deionized water? Or some exotic extracts? I just took a look at mine. Most of my favorites list a green tea and or white tea extract.
The reason why I'm going through this exercise is because I just read a piece of information that water based skin care products are bad. I didn't quite agree with that but it did get me thinking about the quality of the water used in most of the formulations. Personally, I try to avoid using water even in my own homemade beauty recipes and always substitute with distilled water or even floral water if I can afford it.
Water as a solvent or spreading agent
According to Cosmeticsinfo.org, water is primarily used as a solvent in cosmetics and personal care products in which it dissolves many of the ingredients that impart skin benefits, such as conditioning agents and cleansing agents. Water also forms emulsions in which the oil and water components of the product are combined to form creams and lotions. These are sometimes referred to as oil-in-water emulsions or as water-in-oil depending on the ratios of the oil phase and water phase.
Purified water in place of plain water
Cosmetic companies should not just use plain tap water as those contain minute quantities of substances, such as chlorine, sulphates, and various metal ions. They should be using purified water or sometimes called deionized water, which is water from any source that is physically processed to remove impurities. Some even claim that their source of water can penetrate skin and carry with it many water soluble anti-aging actives, to firm, tone, lift and boost radiance.
Governed by international cosmetic manufacturing standards
But how do we know that the companies are really using such water in the formulations? It appears that cosmetic companies purchase pure water in bulk quantities or have their own water supply and some of these companies do state the source of their water on their website. In addition, most of the companies do ensure that the quality of their water are highly purified to conform to microbiological standards and this practice is being monitored according to Good Manufacturing Practices outlined in FDA's Guidance on Cosmetic Manufacturing Practice Guidelines, and in international guidelines on Good Manufacturing Practices known as ISO 22716 (source).
Water is cheaper
By now, most of you are probably already aware that the first item listed on the ingredient list has the highest content. When water is listed as the first ingredient, it typically means it makes up to 40% of the content but I'm also aware it is possible for products to have up to 70% water content. It make sense to use water as the base ingredient because it can produce a lighter and thinner product than oil-based product. However, there are also other ingredients that can achieve this such as extracts from plants, flowers or fruits, which provide more antioxidant benefits for our skin. What many may not realize is that in addition to a better consistency, many water-based cosmetics actually cost less to produce as opposed to other bases. The exception would be those using water processed through their own water treatment facility, which are expensive to maintain.
Examine the ingredient list
Hence, the next time you come across a product that you consider expensive, take a look at the first ingredient. Is it just water? Does it state what kind of water? And are there more impressive ingredients than just water in the formulation?
Comments