7 Tried And Tested Made-In-Korea Clean K-Beauty Brands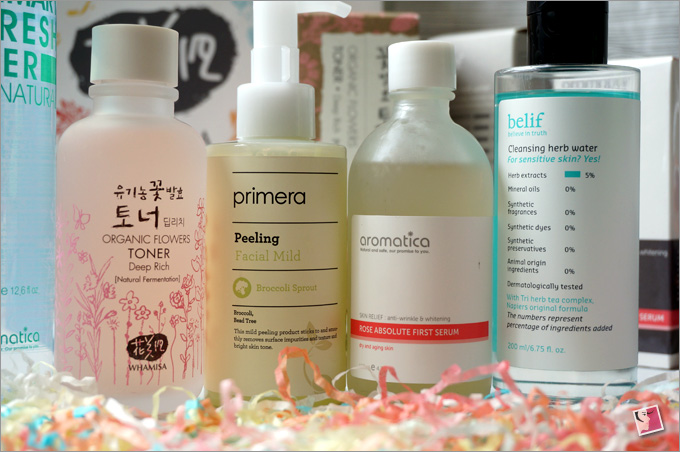 Keen to discover made-in-Korea clean beauty brands? Want to know which Korean brands are formulated using natural and organic ingredients? Come with me as I unveil seven tried and tested K-beauty clean brands.
As most of you already know, South Korea offers a plethora of beauty products. However, most of the widely accessible brands contain loads of synthetics and chemical additives. Very few are truly safe and natural. Don't be too surprised to know that some brands are positioned as natural but are really not.
One of my agendas during my last trip to Seoul was to get my hands on some of the K-beauty clean beauty brands. I'd made a list of them through my online research. Some of them are already available locally but I thought the range might be wider in Seoul. I was hoping they'll cost less too.
Obviously, it was impossible for me to hunt down all the brands given my limited time in the country. That plus the fact that some of the brands are quite elusive to the average shopper.
Here are a few brands that I've come across and made purchases. Not all of them conform to a being green from a purist standpoint. But I've included these brands either because they share a green philosophy or are committed to using natural and organic ingredients.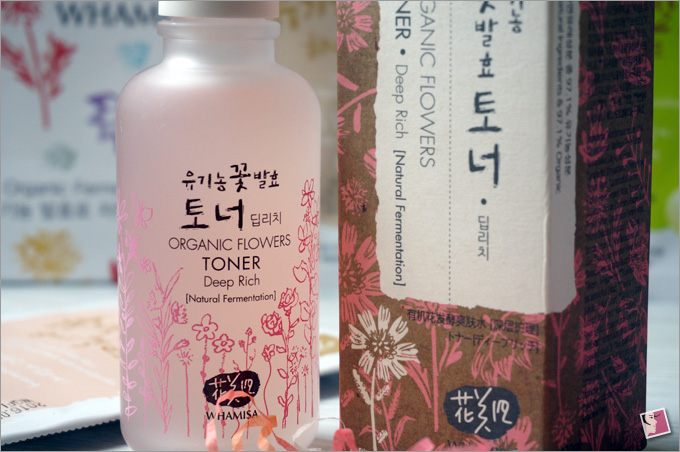 1. Whamisa
One such elusive brand is Whamisa, often considered as one of the better made-in-Korea organic skin care line. Available since 2010, this is an extensive range that covers face care, body care, hair care, sun care, men's care, as well as baby care.
What's unique about Whamisa is that their products are formulated with a unique blend of natural organic ingredients using Korean fermentation technology–the new buzzword in Korean skin care. The process minimizes the destruction of nutrients and divides nutrients into small particles which provide fast and deep absorption to the skin, providing deep hydration.
Another selling point is that the organic ingredients included in their formulation is quite high and many of their toners, lotions and creams are formulated without water. Instead, the product base is organic aloe vera extract or aloe vera water.
Green composition
Whamisa does not include synthetic preservatives, artificial surfactants, sterilizers, oxidation stabilizers, artificial colors, synthetic artificial fragrance and some other additives in its formulas. Majority of the products contain at least 90 percent certified organic ingredients. In addition, the brand is certified under BDIH (Germany) Standards and Ecocert (France).
To have a better idea of what goes into their products, here's a full ingredient list of the Whamisa Organic Flowers Natural Fermented Toner (Deep Rich) for reference:
*Aloe Barbadensis Leaf Extract , *Chrysanthemum Morifolium Flower Extract, *Avena Sativa (Oat) Kernel Extract, *Lactobacillus/Chrysanthemum Sinense Flower Ferment Filtrate, *Lactobacillus/Nelumbo Nucifera Flower Ferment Filtrate, *Lactobacillus/Teraxacum Officinale (Dandelion) Rhizome/Root Ferment Filtrate, Galactomyces Ferment Filtrate, *Persea Gratissima (Avocado) Oil, *Argania Spinosa Kernel Oil, *Aloe Barbadensis Leaf Juice, *Helichrysum Arenarium Flower Extract, *Brassica Oleracea Italica (Broccoli) Extract, *Glycerin, ☆Propanediol, **Scutellaria Baicalensis Root Extract, **Paeonia Suffruticosa Root Extract, **Glycyrrhiza Glabra (Licorice) Root Extract, Hibiscus Sabdariffa Flower Extract, Lithospermum Erythrorhizon Root Extract, Xanthan Gum, Aniba Rosaeodora (Rosewood) Wood Oil, *Citrus Aurantium Bergamia (Bergamot) Oil, Cymbopogon Schoenanthus Oil, ***Fragrance
Availability
The brand used to be available in higher end department stores until they changed their retail strategy to focus on distribution through organic supermarkets Dure-Coop and Orga Whole Foods. In fact, I couldn't find the brand while I was in Korea. I only spotted the hand wash in a section of a supermarket. In the end, I purchased their products via olly.sg, a local online store based in Singapore.
Bestsellers
The toners–Whamisa Organic Flowers Natural Fermented Toner (Deep Rich) and Whamisa Organic Flower Ferment Toner (Original) seem to be well sought after. For more information, check out their website.
My thoughts
I like this brand. I think its formulation is close to the purer green brands I've tried but the fermentation process makes it more intriguing. Price is higher than usual but given the premium ingredients and technology, they're justifiable. The toner reminds me of SKII's Pitera Essence, which is also derived from fermentation.
I bought the Whamisa Organic Flowers Natural Fermented Toner (Deep Rich) and masks packs. I plan to review their products a few weeks down the road so stay tuned.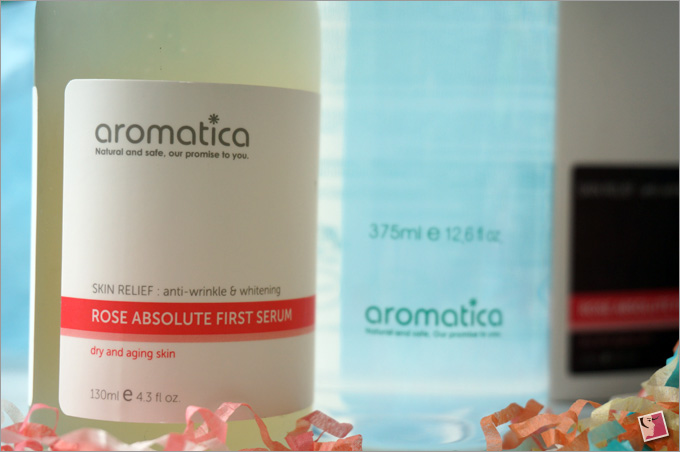 2. Aromatica
Aromatica was established by Jerry Kim with a quest to be 100 percent pure, natural and safe. The founder's passionate belief is that beauty should be honest and natural, not synthetic.
This explains why the brand only sources the best ingredients directly from local suppliers from all over the world, and use only the absolute best essential oils native to the source location.
Besides products for the face, Aromatica makes products for the hair and body.
Green composition
Aromatica's products and ingredients are Ecocert certified. Aromatica has won recognition from all over the world for its high standard of safe products, including being the only Korean beauty brand to earn EWG's Skindeep Champion Status awarded to beauty brands create toxin-free products.
To have a better idea of Aromatica's formulation, here's a full ingredient list of Aromatica Rose Absolute First Serum for reference:
96% natural formula and 79% USDA certified organic aloe vera leaf extract.
**Aloe Barbadensis Leaf Extract, *Propanediol, Glycerin, *Betaine, **Rosa Damascena Bud Extract, Niacinamide, Polyglyceryl-10 Laurate, Polyglyceryl-10 Myristate, Phenethyl Alcohol, Sodium Carbomer, Panthenol, *Glyceryl Caprylate, *Levulinic Acid, *Sodium Levulinate, Allantoin, *Malva Sylvestris (Mallow) Extract, *Mentha Piperita (Peppermint) Leaf Extract, *Primula Veris Extract, *Alchemilla Vulgaris Extract, *Veronica Officinalis Extract, *Melissa Officinalis Leaf Extract, *Achillea Millefolium Extract, Adenosine, ★Rosa Damascena Flower Oil
*Ecocert Approved Natural **From Organic Farming ★Pure Essential Oil
Aromatica also opposes to any kind of animal-testing.
Availability
In Seoul, Aromatica is available at Olive Young as well as in Lotte Mart.
Bestsellers
The Aromatica Rose Absolute First Serum, a highly enriched essence containing bulgarian damask rose oil and organic herb extracts that are rich in vitamins, providing vitality to the skin. For more information, check out their website.
My thoughts
I think very well of this brand. The ingredients are clean and the formulations seem superior even though it does not boast of using any special technology.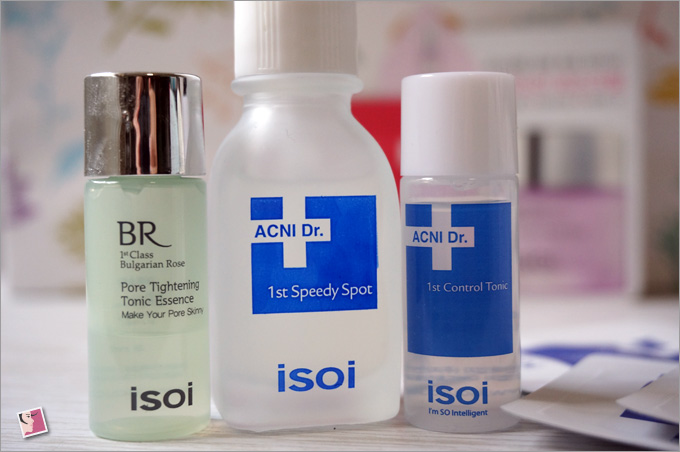 3. ISOI
isoi is a natural cosmetic brand positioned for intelligent customers who checks ingredients and understands what is beneficial to their skin. The brand stands for I Am So Intelligent and their formulations are said to be free from toxic and irritating ingredients. There are quite a lot of products under the brand but most products are more suited to younger skin that is prone to acne.
Green composition
isoi is not certified as organic or natural. But the brand promises that their products do not include parabens, synthetic colors and fragrance, PEG, mineral oils, propylene glycol, silicones, EDTA, cinnamate.
To have a better idea of what goes into their products, here's a full ingredient list of the isoi Bulgarian Rose Pore Tightening Tonic Essence, their bestseller, for reference:
Water, Rosa Damascena Flower Water, Mannan, Glycerin, Rosa Damascena Flower Oil, Alcohol, Citrus Limon (Lemon) Fruit Extract, Pyrus Malus(Apple)fruit extract, Vitis Vinifera (Grape) fruit Extract, Citric Acid, Glycolic acid, Lactic Acid, Rhus Semialata Gall Extract, Hamamelis Virginiana (Witch Hazel) Leaf Extract, Sodium Hyaluronate, Scutellaria Baicalensis Root Extract, Paeonia Suffruticosa Root Extract, Allantoin
Availability
The brand is available at selected Olive Young outlets in Seoul but I did not find the entire line of products there though. They have their own outlets at various locations which you can look up on their website. In Singapore, you can find the range at Bud Cosmetics.
Bestsellers
Their Bulgarian Rose line is their bestselling range and Bulgarian Rose Blemish Care Serum Plus appears to be their bestseller. What's worth mentioning is that isoi uses top-rated Prime Grade Bulgarian Rose oil certified by the Bulgarian government.
For those in the know, Bulgarian Rose is priced because 3000 rose petals are used to create 1ml of rose oil. Products that include this oil always smells divine.
My thoughts
In terms of ingredents, I would concur that isoi is quite green and clean. However, I didn't like that many of their products include alcohol. Also, I had a try at their best selling Bulgarian Rose Blemish Care Serum Plus and didn't like the rich, sticky texture.
I bought a bottle of their ACNI Dr 1st Speedy Spot while I was in Seoul. At that time, I had one blemish spot and thought the product might help. Unfortunately, It didn't do too much and I wasn't so impressed.
Like I highlighted, this brand is more suited to younger skin prone to blemishes. So I suppose that's why the products don't work too well for me since I don't deal with acne issues these days. That, or I need to try more of their products to find out more.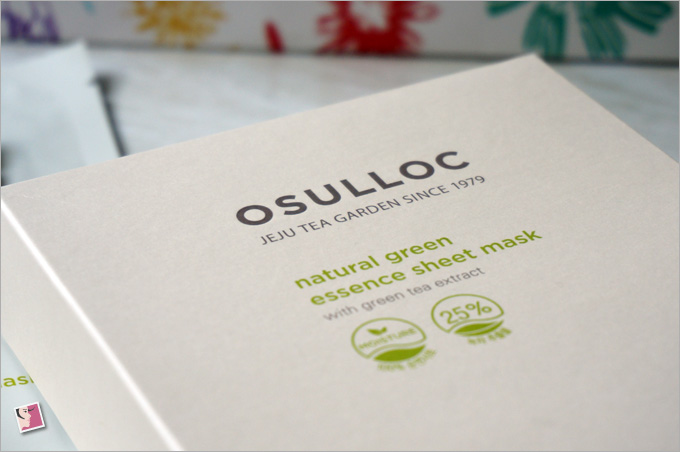 4. Osulloc
Osulloc is a brand owned by AmorePacific–the South Korean conglomerate that houses beauty brands like Sulwhasoo, Laneige, Mamonde, Etude, and Innisfree. Besides a variety of tea offerings, Osulloc offers a range of green tea skin care products containing organic green tea ingredients. Products available include soaps, cleaners, toners, lotions, and masks.
Green composition
I couldn't find a lot of information on Osulloc in English but based on the ingredient lists I've found on some of their products, it seems they are partially green, sans parabens, silicones and mineral oil. But all products contain a certain percentage of their green tea extract just that I don't see any recognizable labeling that tells me they are certified organic even though information online seems to suggest so.
Ingredient list of their Osulloc Natural Green Cleansing Foam:
Green Tea Extract 19 %, Glycerin, Stearic acid, myristic acid, Purified water, PEG-32, Potassium hydroxide, Kaolin, Lauric Acid, Trehalose, Glyceryl stearate, Cocamidopropyl betaine, Butylene Glycol, Rilgeul glycol caprylate, 1,2 Hexanediol, PEG-100 Stearate, Disodium EDTA, Sodium benzoate, Phenoxyethanol, Fragrance
Ingredient list of their Osulloc Natural Green Essence Sheet Mask:
Green Tea Extract 25 %, Purified water, Glycerin, Butylene Glycol, PEG / PPG-17/6 Copolymer, Ethanol, PEG-75, Grapefruit extract, Xanthan Gum, PEG-60 Hydrogenated Castor Oil, Disodium EDTA, Phenoxyethanol, Fragrance , Hyaluronidase sodium caprylate rilgeul glycol, 1,2-Hexanediol
Availability
Osulloc products are available at Osulloc Tea Houses in Seoul or Osulloc Museum in Jeju. Here are some addresses:
Osulloc Tea House at Myeongdong
12, Myeongdong 7-gil, Jung-gu, Seoul, South Korea
서울특별시 중구 명동7길 12 (명동1가)
Osulloc Tea House at Insadong
170 Gwanhun-dong, Jongno-gu, Seoul, South Korea
서울 종로구 인사동길 45-1 관훈동 170번지
You can also get them online via Qoo10 or ebay. Just google.
Bestsellers
I think the Osulloc Natural Green Essence Sheet Mask is quite popular because I've read some good reviews online.
My thoughts
As I couldn't read the Korean ingredient list, I only gave their Osulloc Natural Green Essence Sheet Mask a try and really liked it. I can't recall the specific price now but it isn't too expensive and I'd wished I stocked up a few boxes.
But other than their masks, I am not so keen to try others. If you like green tea and do not mind products that are not totally in the green category, you might want to check them out given the reasonable pricing.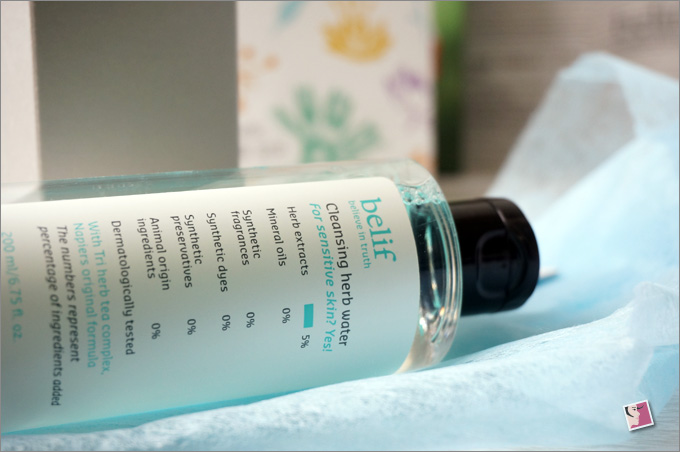 5. Belif
Belif comes under the LG Household & Health umbrella. It was conceived from the herbal recipes and philosophy of Duncan Napier, a medical herbalist who opened the first herbal shop and clinic in Edinburgh, Scotland, U.K. in 1860. So this Korean skincare brand uses Napiers' traditional herbal processing methods and philosophy, with a heritage of over 150 years.
Products include those for face, body, men and baby.
Green composition
The brand emphasizes on the quality of the products instead of fanciful packaging. Belif products are said to not contain synthetic preservatives, synthetic colours, synthetic fragrances, mineral oil and animal origin ingredients.
However, what I've noticed is that some of their ingredient list are long and contain a lot of silicones. Even alcohol denat ranks high on the list. I think that's why I was not very interested in the brand even though it has a presence in Singapore.
To have a better idea of Belif's formulation, here's the full ingredient list of Belif The True Cream Aqua Bomb for reference:
Jeongsesu , Dipropylene Glycol , Methyl Trimethoxysilane Dimethicone , Glycerin, Denatured Alcohol 40-B, Dimethicone, PEG , Cycle Menu Dimethicone , D Betameche Konol , Poly Methyl Silsesquioxane , Caprylic , Pentaerythrityl Tetra Ethyl Hexanoate, Sodium Acrylate, Iso- Hexadecane , Polysorbate 60 , Malachite Extract, Trimethoxy Phenyl Dimethicone , Pentaerythrityl Tetra- Iso- Stearate, 1,2- Hexanediol, Panthenol, PEG -150 , Carbomer , Tromethamine , PEG -40 Canyon Hydro Native Stereo Genesee Oil, Acrylates, Oat Kernel Extract, Calendula Flower Extract, Catnip Extract, Raspberry Leaf Extract, Wide Indigo Root Extract , Chickweed Extract, Virgin Choip Extract, Leaf Extract Soetteugi Wedge Herb Extract, Plantago Lanceolata Leaf Extract, Hydro Jeneyi Polydecene Painted , Painted Hydro Jeneyi Lecithin, Stearic Acid , C12-20 Alkyl Post Rocco Side , C14-22 Alcohols , Glyceryl Stearate , PEG -100 Stearate , Cholesteryl Hy Reel When Stearate, Cholesterol , Ceramide 3 , Triethanolamine, Trisodium This Is Dt , Orange Oil, Lime Oil, Rosemary Leaf Oil, Geranium Oil , Citronella , Limonene, Citral , Geraniol First , Lee Nalrul
Availability
I found the brand in Lotte Department Store. In Singapore, you can get it from their outlets at Plaza Singapura, Suntec City, Junction 8, Tangs Vivocity and Jurong Point.
Bestsellers
I was told their cleansing water sells very well. Their Hungarian Water Essence is also very popular. For more information, check out their website.
My thoughts
I have mixed thoughts about Belif. On one hand, this comes across as a rather clinical brand with a great philosophy. However, I found some of their ingredient list unappealing from a green beauty perspective. Some products even contain ingredients that are considered toxic. Hence, my recommendation is to scrutinize each product's ingredient list carefully before purchasing as some products are cleaner than others.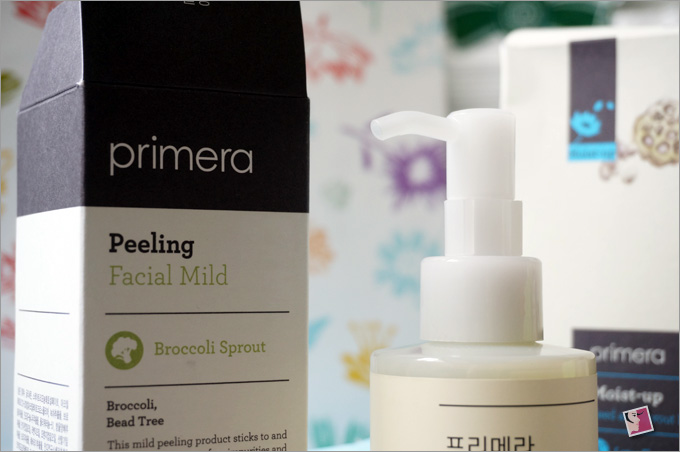 6. Primera
Primera, which comes under Amore Pacific umbrella, is positioned as an eco-friendly brand using natural ingredients and sprouting technology. Sprouting describes the revolutionary technique for extracting energy during germination for cosmetic application.
Its range is extensive–ranging from hair care, face care, body care to products for men and baby as well as home fragrances.
Green composition
Primera uses a minimal amount of chemical additives. Its products  do not include paraben, synthetic pigments, artificial fragrances. Some products are Ecocert certified.
To have a better idea of Primera's formulation, Here's the full ingredient list of the Primera Facial Mild Peeling for reference:
Water, Glycerin, Steartrimonium Methosulfate, Acrylates/C10-30 Alkyl Acrylate Crosspolymer, Camellia Sinensis Leaf Extract, Brassica Oleracea Italica (Broccoli) Extract, Melia Azadirachta Extract, Polyquaternium-51, Brassica Oleracea Gemmifera (Brussels Sprouts) Extract, Citrus Nobilis (Mandarin Orange) Peel Oil, Lavendula Angustifolia (Lavender) Oil, Citrus Aurantium Dulcis (Orange) Peel Oil, Fragaria Vesca (Strawberry) Leaf Extract, Borago Officinalis Extract, Helianthus Annuus (Sunflower) Extract, Phyllanthus Emblica Extract, Cocamidopropyl Betaine, Distearyldimonium Chloride, Isopropyl Alcohol
The brand is huge on eco-friendly packaging, using mostly FSC-certified paper for its packaging and prints in natural soy ink. In addition, the product information and instruction manuals are printed on the paperboard box to reduce any unnecessary waste of resources.
Availability
Primera's flagship store is at Myeongdong and the brand is also found in Lotte Department Stores.
Bestsellers
Their bestsellers include: Miracle Seed Essence, Super Sprout Serum & Cream, Alpine Berry Watery Cream, and Facial Mild Peeling.
My thoughts
Again, this is a brand that needs much scrutiny before purchase if you're particular about ingredients. Some products come with long ingredient list and include silicone as well as alcohol too. However, I like that the brand admits to using chemical additives minimally.
7. Beyond
Beyond is established in 2005 and is a total care brand which encompasses face, body and hair care. It's current brand ambassador is Kim Soo Hyun from My Love From The Star. ♡.♡
Green composition
Beyond has a whole eco-beauty philosophy outlined on its website, which includes a strong stance against animal testing and a commitment to using organic and natural ingredients. They are eco-friendly and recycle their packing.
I don't have an ingredient list to show for this brand but I understand their products do not contain paraben and they have minimum chemical colourants and fragrances.
Availability
You can find Beyond retailing at Myeongdong.
Bestsellers
Himalaya Deep Moisture Serum-In-Oil, Apple Mint Perfect Cleansing Melting Oil, Beyond Real Skin CC Cream. For more information, check out their website.
My thoughts
Although I did not manage to check out the ingredient list (because they're in Korean), I suspect that the list may not be as clean. They probably include some natural and organic ingredients with other synthetic additives. But I was willing to give the brand a go (purchased their eye masks) because of its eco-beauty and eco-friendly philosophy.
As you can see, these Korean skin care brands vary greatly on the green beauty scale. Going by the ingredient list alone, only Whamisa and Aromatica are pure.
But the others are included because they either minimize using synthetic additives as far as possible or they have a clear eco-friendly policy. You will need to verify their skin safety by checking their ingredient list. Some of their products are greener with cleaner ingredients while others may be less so.
It also appears to me that brands with a cleaner ingredient list comes with a premium pricing. These brands come with industry certification and I suppose that naturally adds to their cost, translating to a higher price for consumers.
I'll be reviewing some of the products from these brands in time to come so do stay tuned. In the meantime, if you know of any other made-in-Korea brands that are clean and green, do leave a comment.
Comments