Avène Thermal Spring Water: my dry skin savior
Recently I had a bad tummy and I couldn't drink a lot of water. As a result, I suffered from dehydration and my skin became very dry. My cheeks felt taut and tight and was extremely uncomfortable.  As I had already moisturized my face, I wasn't keen to slather more moisturizer for fear of clogging up the pores. So what did I do to relieve my skin of the dry feeling? I decided to use my trusty Avene Thermal Spring Water facial spray.
Ratings from Makeupalley
I have been using a few brands of facial sprays; common ones I use are from Evian and Vichy. However, I still found Avene to be the best as it provides me with instant soothing. And when I say instant, I mean INSTANT. No more dryness! No wonder it received 4.3 out of 5 rating from 302 reviewers at Makeupalley. Even Tine of Beautyholicsanonymous mentioned that it was one of the products that saved her skin from wreaking havoc recently.
Unique composition to restore skin's natural balance
This thermal spring water packaged in a sterile unit is ideal for sensitive, fragile skin because it contains a unique composition of silicate and trace elements that have been demonstrated by over 300 scientific studies to soothe, soften and restore skin's natural balance. In fact, it was used since 1743 in the Hydrotherapy Center to treat serious dermatological conditions such as atopic dermatitis, psoriasis and eczema (source). And because it comes with pH 7.5, the water does not sting or burn skin.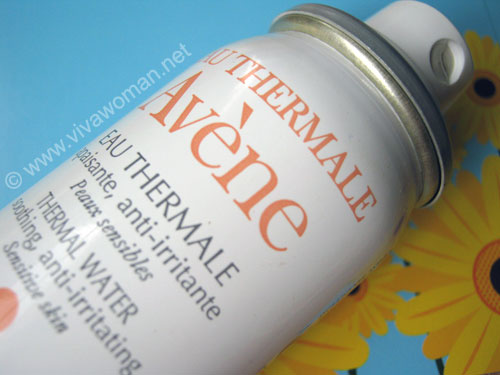 Directions for using
Avene Thermal Spring Water is great to be used whenever your skin is irritated such as:
– after excessive sun exposure
– after dermalogical treatments
– after waxing
– after shaving
In fact, I would even go a step further to recommend that you use it as a toner to mist on prior to applying your moisturizer. And one important lesson I learnt over the years is that I should always use a tissue paper to pat dry after using a facial spray or my skin would become drier with the evaporation – this does not apply when I use it prior to moisturizing. For other ways to use a mist, you can also read my post on 10 different ways to use a facial mist spray.
Price and availability
This product is readily available at leading pharmacies and the 50ml bottle cost S$9.90. I like the small bottle because it is portable and I can always carry it in my bag. And even though it is formulated for sensitive skin, this product is actually suitable for all skin types.
So are any of you also loving Avene Thermal Spring Water?
Comments