10 different ways I use a facial mist spray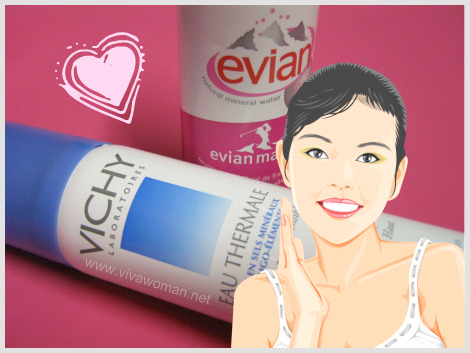 I have been hooked since I started using my first facial mist spray from Suisse Programme some years back. Since then, I find myself purchasing different brands of misting atomizers and using them on an almost daily basis. I started using the facial mist spray to set my makeup but later found it a great skin care aid and product mixer. Some people find that there is no difference between a toner and a facial mist and I discussed this at length in my entry on toner, toning mist or facial spray. However, even though I use a toner, these misting atomizers have become something I cannot do without on a daily basis.
1. Helps moisturizer seal in the hydration
I find that my skin looks a lot better when I bother to mist with a facial spray just before moisturizing with a cream or oil.  This is because moisturizing on a damp face helps to lock in the water on the upper layers of the epidermis and prevent evaporation.  Obviously the water contained in a facial mist spray is better than water from the faucet as they are either spring water, ocean water or simple purified water.   Some of you may ask why don't I apply straight after applying my toner.  Well, it's because I use an essence after my toner and they both dry up really quickly.  Currently, I'm using oil as a daily moisturizer and the facial mist makes application a lot easier and my skin doesn't feel so oily as well.
2. Helps dilute my thick cream
If I'm using a thick cream, I might mist a little and mix in with the cream to dilute it. I know it sounds strange but haven't you come across a cream you've purchased and it's too thick? So instead of putting it away, diluting it means you can still use it. I do this for creams on my neck too cos I find that some face creams are too expensive and I want to stretch them a little so when I do apply on my neck, I mist a little with the facial spray to improve the viscosity and the spread. This means I don't need so much cream for my neck!
3. Helps hydrate my skin
A facial mist spray helps improve the condition of my skin when it's exceptionally dry. Initially, I only spray and left the mist to dry up but later I found out that when you mist your face, the water evaporates, which can dry your skin so it's really better to pat my skin dry with a tissue paper after misting.  And it's true that doing so makes my skin feels a lot more hydrated.  So this is really great on when used during air travel as airplane oxygen and air conditioning typically leave our skin more parched.
4. Helps act as a mini facial mask
Remember Chizu Saeki's lotion mask? Facial mist sprays can be used in the same way. Spray some cotton pads generously and spread them on your cleansed face and you'll find your skin more hydrated afterwards. I've tried this for fun and it works to make my skin more hydrated but I would say it's kind of wasteful so I don't do this often. But if you run out of lotion or toner, this is another possibility for the lotion mask.
5. Helps set my makeup
I used to mist my face a lot after applying makeup at one point.  I don't do it now because I'm usually short on time.  But I did find that my makeup looked more dewy if I include this step of misting.
6. Helps as a mixer in my DIY concoction
I use mostly mineral water when I play with my DIY skin care concoctions.  However, when I run out of mineral or distill water, a facial mist spray can easily work as a substitute.  So I can really spray this into my baking soda for example and then mix the paste with some essential oil to use as a deodorant.
7. Helps to blend my makeup
I've tried using a facial mist spray to wet my sponge and apply my foundation wet. This is not something I do often but on and off when I find that my foundation isn't applying well. I understand that you can also mist your eyeshadow brush a little to apply your eyeshadow so that they can stay longer or look more dramatic. However, I haven't experimented with this before to say how it works.
8. Helps to reshape my hair
I usually have a facial mist spray somewhere in my bag not only to freshen up, but also to reshape my hair if needed.  Well, water from the tap can do the same thing but  find that mist do a better job because they're not so wet when applied, and allows my hair to dry up much quicker without a hair dryer.
9.  Helps to soothe irritated skin
Okay, this is not so much for myself but my son, when his skin develops some redness or rashes due to the heat. Usually, it'll help soothe and calm down the irritated skin because some of these facial mist contain anti-inflammatory properties.
10. Helps to refresh my mood after a long day
I don't know about others but misting has a mood lifting effect for me. I find it great to spray a mist on my face if my day is long and the weather is very hot.
It's possible to make your own facial mist spray but I prefer to purchase since it's so convenient and I don't have to think about spoilage, etc. The herbal mist are great as they do deliver some skin benefits but do note that whatever skin benefits are restricted to the upper layers of our skin. And did you know that some of these products were originally created as dermatological products to be used in hospitals and burn clinics? Due to the spring water used, they act as natural healer for burned, irritated and delicate skin.
Comments