Dagny & Lane Ionic Mineral Skincare review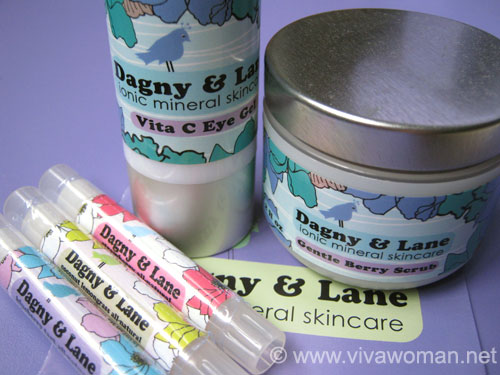 A couple of weeks ago, I mentioned that I was impressed by an eye product just days after trying it. The product is Dagny & Lane Vita C Eye Gel, which contains both vitamin A & C. I am usually reluctant to use vitamin A on my face but having read so much raves about this ingredient, I decided to give it a go for my eye area. I won't describe the results too much but instead, I'll leave you to decide based on the before and after pictures I've posted.
Dagny & Lane is based in US and their products are ionic mineral infused formulas that contain a mix of some organic and natural ingredients. They have products for both men and women and their woman's skincare line uses a 5-step daily regimen. Another selling point of their product is that they are formulated using targeted delivery systems that help the ingredients better penetrate into our skin. These products that I receive are complimentary from the company.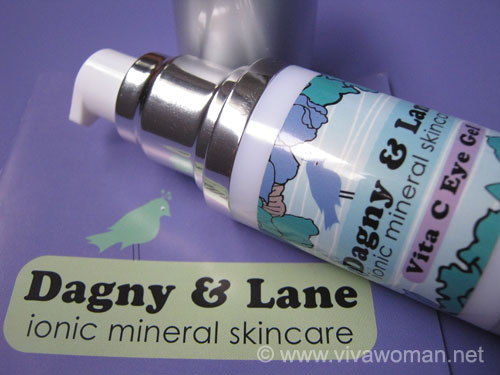 Vita C Eye Gel 1oz US$35
Ingredients: Organic Herbal Infusion, Organic Aloe Barbadensis Leaf Juice (Aloe Vera), Sodium Ascorbyl Phosphate (Vitamin C), Organic Simmondsia Chinensis (Jojoba Oil), Copper, Zinc, Magnesium, Cucumis Sativus (Cucumber Distillate), Silk Protein Amino Acid Blend (Sodium L-Pyrrolidone Carboxylate, Sodium Lactate, L'Arginine, L-Aspartic Acid, L-Pyrrolidonecarboxylic Acid, Glycine, L-Alanine, L-Serine, L-Valine, L-Proline, L-threonine, L-Isoleucine, L-Histidine, L-Phenylalanine), Hyaluronic Acid, Methylsulfonylmethane (MSM), Acrylates/C10-30 Alkyl Acrylate Crosspolymer, (2s)-2-Amino-5-guanidinopentanoic Acid, Retinyl Palmitate (Vitamin A), Tocopheryl Acetate (Vitamin E), Organic Glycyrrhiza Glabra (Licorice), Organic Vinca Major (Periwinkle), Ethylhexyl Glycerin, Phenoxyethanol.
This eye gel is said to provide up to eight-fold antioxidant protection, 96% reduction of sunburned cells, and prevention of the formation of free radicals in sun exposed skin. Other benefits include fading of sun spots and discoloration, refining skin texture and reducing wrinkle formation as well as minimizing existing wrinkles.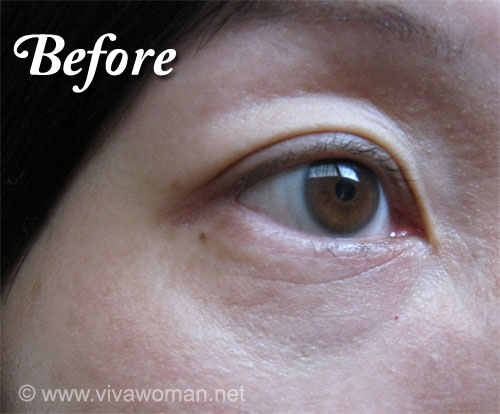 This product gives a warm, tingling sensation upon application. It does not sting though. And actually during the first few days I started using this product, I thought my eyes were less puffy looking. However, it seems the puffiness remained somewhat and I couldn't see more improvements beyond the first week of usage. However, what surprised me was the reduction of the fine lines. I am only using this eye gel in the night and I've been using it for less than a month and yet, the reduction is rather noticeable.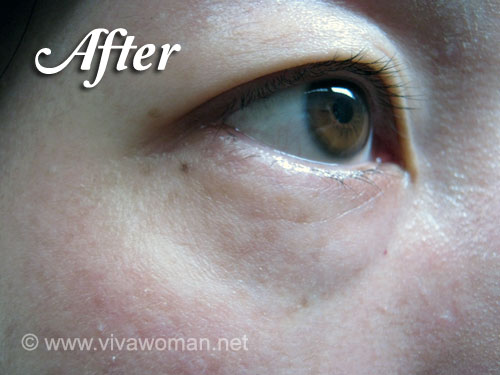 I won't say more but I leave you to decide if I'm exaggerating. But the spots remain and I'm hoping that this product will erase some of them in time to come. The thing I don't like about the product is the pump. It is a little clumsy in my opinion as I usually end up squirting a lot more eye gel than required.
Rating: 4 out of 5 hearts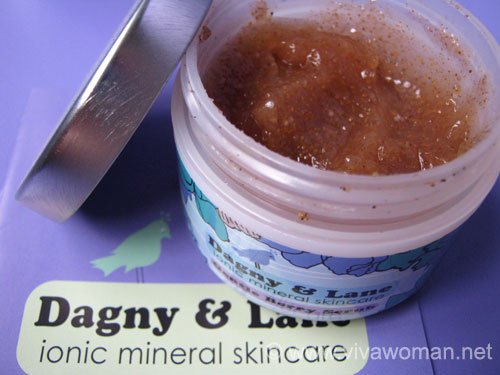 Gentle Berry Scrub 2oz US$24
Ingredients: Organic Herbal Infusion,Organic Aloe Barbadensis Leaf Juice (Aloe Vera), Olea Europaea (Olive Seed), Jojoba Beads, Hibiscus Sabdraffia (HIbiscus Buds) Cranberry Fibers, Organic Vaccinium Angustifolium (Blueberry), Acrylates/C10-30 Alkyl Acrytlate Crosspolymer, (2s)-2-Amino5 guanidinopentanoic Acid, Punica Gradatum (Pomegranate), Copper, Zinc, Magnesium, Citrus Aurantium (Petit Grain Essential Oil), Organic Rheum Palmatum (Rhubarb) Retinyl Palmitate (Vitamin A), Tocopheryl Acetate (Vitamin E), Citrus Nobilis (Tangerine Essential Oil), Ethylhexyl Glycerin, Phenoxyethanol.
This scrub contains ionic minerals and loads of antioxidants like blueberries, pomegranate, rhubarb, cranberries and vitamins for free-radical defense. The smell is somewhat strong, and reminds me of chilli. However, it doesn't feel spicy on my skin of course. In terms of results, I can't see much of a difference. But I do concede that this is a rather gentle facial scrub and I like to use it once or twice a week before applying my hydrating mask.
Rating: 3.5 out of 5 hearts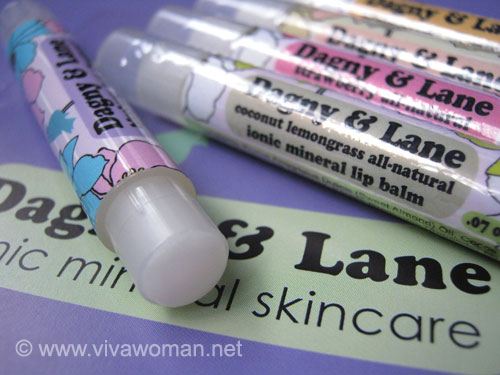 Lip Balms 0.7oz US$4.50
Ingredients: Prunus Amygdalus Dulcis (Sweet Almond) Oil, Cocos Nucifera (Coconut) Oil, Beeswax, Persea gratissima (Avocado) Oil, Theobroma Cacao (Cocoa) Seed Butter, Butyrospermum Parkii (Shea Butter), Copper, Zinc, Magnesium, Natural Flavor Oil, & Sweetener.
I actually haven't tried all the lip balms. The blueberry tart one I tried smells (and taste) delicious though! It is very moisturizing and does help to hydrate my lips for a long period. Nice to leave on during bedtime for softer lips the morning after!
Rating: 5 out of 5 hearts
Overall summary
I have to say Dagny & Lane Ionic Mineral Skincare are pretty promising, based on what I have tested. I like the fact that they try to use as many natural ingredients as possible with a mix of active ingredients with anti-aging properties. Additionally, I was quite surprised that the prices are rather reasonable. For the other products within the range, check out their website. You can also enjoy a generous 20% discount off your purchases by using code dl20 during checkout.
Comments