Sodium Ascorbyl Phosphate: a stable vitamin C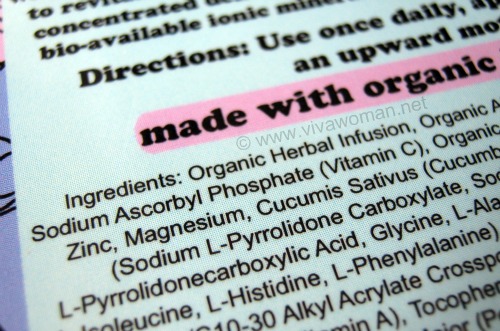 I'm a bit carried away by a new vitamin C eye gel that I'm testing since last Thursday. I know…it's less than a week and I'm already so excited. It's definitely not a placebo effect because I'm quite cynical regarding products formulated for the eye area. But nevertheless, I will give it another week or so before reviewing the product officially. Today, I want to discuss one of the ingredients in the product and that is Sodium Ascorbyl Phosphate, which is a relatively new derivative of Vitamin C.
Vitamin C is a great antioxidant
Vitamin C, as you know, is a good antioxidant that protects the cells of the skin from oxidizing agents and radicals. It is capable of suppressing the pigmentation of the skin and decomposing melanin. So many products include vitamin C as a skin lightener too. Vitamin C also helps to improve skin's elasticity as it promotes the formation of collagen.
Different types of vitamin C
I love using products containing vitamin C and more than two years back, I wrote an entry examining the different types of Vitamin C in skin care products.  Amongst the list, the one I use most frequently is L-Ascorbic acid and I've even used it to make my own DIY vitamin C serum.  However, while L-Ascorbic Acid is known to be the only natural form of Vitamin C in skin care products, it is  also the most unstable as it oxidize rapidly and this ingredient can also be irritating to those with sensitive skin.
Activation only upon penetration
I learnt that Sodium Ascorbyl Phosphate is a new vitamin C derivative that is both an effective antioxidant and collagen stimulator. Sodium Ascorbyl Phosphate is stable as it is converted to free vitamin C by enzymes present in the skin only upon penetration. Hence, this ingredient can be used in a wide range of formulations without worries of oxidation. It therefore represents a stable precursor of vitamin C that ensures a constant delivery of vitamin C into the skin. In addition, I understand that this ingredient is safe to use and does not irritate most skin types.
Helps in the treatment of acne
More interestingly, in vivo studies done, formulations with the ingredient significantly prevent the UVA-induced sebum oxidation up to 40%.  The ingredient also proved to be efficient in the prevention and treatment of acne vulgaris.
Concentration of Sodium Ascorbyl Phosphate in formulations
The final concentration of sodium ascorbyl phosphate in end-use products could be up to 5% depending on the application, but is typically 0.01 to 0.1% in most preparations.
Sources of info: International Journal of Cosmetic Science
So any of you come across Sodium Ascorbyl Phosphate? If so, do share your experience.
Comments