Review of Ujene Puriste Collagen range + 50% Promo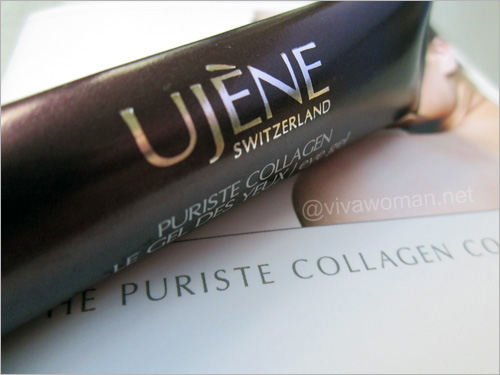 I've been testing a couple of new facial products this year and this Ujene range from Switzerland is the latest. Somehow I find products from Europe work particularly well for me and this is one of the reasons I agreed to take three of their products for a complimentary review. The other reason is that these products contain Oviluxe, which is 99% purity collagen that acts as a moisture-magnet in skin, drawing and plumping up vital moisture within skin's epidermis. Well, my skin can definitely do with more collagen, whether it is from food sources or from topical application of products.
Overview of the range
The Ujene (pronounced as Eugene) Puriste Collagen range of products comprise four products – an eye gel, a face serum, a day cream, and a night cream. The night cream is not available in Singapore as yet and so I've only tried the first three products and they're all said to be made with the finest grade ingredients and are free from phthalates, parabens, formaldehydes, propylene glycol, PEGs, volatile alcohols, mineral oil, petrolatum, paraffin wax, synthetic dyes, synthetic fragrance, and essential oils. The range is also said to be against cruelty and animal testing.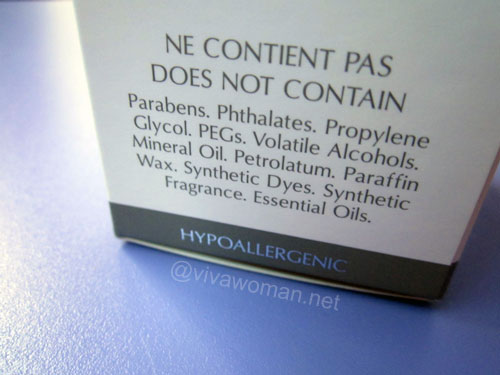 99% purity collagen
Interestingly, I learnt that while some products may claim to contain collagen content but it maybe less than 1% and the purity of the collagen maybe low at just 20%. The Ujene Oviluxe collagen on the other hand, are prepared at 99% purity with 10% in each product, except for the Eye Gel which has 5%. The sheepskin collagen used is also genetically closest to humans, biocompatible and cell-adhesive, unlike other types of collagen such as from marine source, and hence, is more effective.
Collagen extraction process
The extraction process of collagen from sheepskin used in the Ujene products is a patented technology as the extracted collagen is of highest purity concentration available in the market today at 99% and most importantly, it retains the original triple-helix collagen structure for maximum moisturizing efficacy. However, this bit of information got me rather concerned. What do they mean by using the purest grade BSE-free collagen extracted from sheepskin? Upon verification with the distributor here, I was informed that no sheep has been harmed or will be harmed for the sole purpose of extracting the collagen. Sheepskin is a by-product, which is used to create fleece rugs, or medical sheepskin for treatment of pressure ulcers in bed-ridden patients and in this case, to extract collagen. In addition, sheepskins used for these products are only taken from accredited sources where sheep are veterinary controlled and traceable back to its source. All collagen is certified halal, tested and certified Transmissible Spongiform Encephalopathy (TSE) free, Bovine Spongioform Encephalopathy (BSE) and Scrapie free.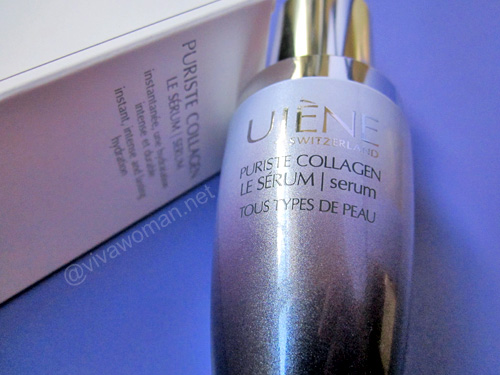 Ujene Puriste Collagen Serum S$130
Aqua, Soluble Collagen, Butylene Glycol, Rosa Centifolia Water, Glycerin, Aloe Vera Leaf Extract, Hydroxyethylcellulose, Panthenol, Hyaluronic Acid, Sodium Ascorbyl Phosphate, Panax Ginseng Root Extract, Niacinamide, Allantoin, Caprylyl Glycol, Glyceryl Acrylate/Acrylic Acid Copolymer, Tetrasodium Glutamate Diacetate, Ethylhexylglycerin, Phenoxyethanol, Sodium Benzoate, Chlorphenesin, Sodium Hydroxide
Ingredients
Of the three products, this serum is my favorite. Besides a generous dose of 10% active Oviluxe, this potent serum contains Hyaluronic Acid and Vitamin C, as well as finest grade botanical extracts including Ginseng and Aloe Vera. While I wouldn't go as far as to say that this product gave me a natural facelift, I actually noticed some my stubborn pigmented marks being lightened up and also some noticeable amount of skin firming after just using this serum for a week. In fact, even the reviewers at MakeupAlley rated this product 5 out of 5. My only gripe is that it doesn't work so well with my sunscreen and so I apply this serum mostly in the evenings now.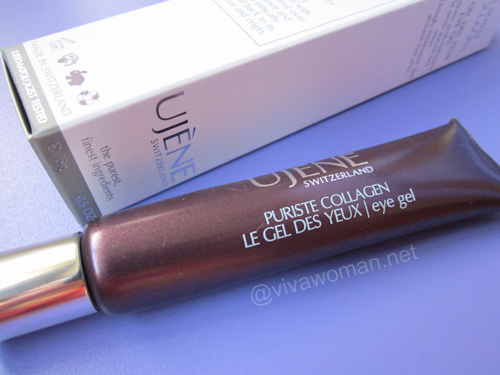 Ujene Purist Collagen Eye Gel S$70
Aqua, Rosa Centifolia Water, Aloe Barbadensis Leaf Extract, Glycerin, Soluble Collagen, Butylene Glycol, Sodium Ascorbyl Phosphate, Saccharomyces Cerevisiae Extract, Rhodiola Rosea Root Extract, Matricaria Flower Extract, Madecassoside, Asiaticoside, Allantoin, Betaine, Ethylhexylglycerin, Caprylyl Glycol, Pentylene Glycol, Acrylates/C10-30 Alkyl Acrylate Crosspolymer, Tetrasodium Glutamate Diacetate, Sodium Hydroxide, Phenoxyethanol, Chlorphenesin
Ingredients
I would say this product lives up to its claim of being able to reduce puffy eyebags to some extent for me. And when applied, the skin around my eyes do appear smoother with fewer fine lines but I'll say the results are temporary. The lines around my eyes appear again when I do not apply this eye gel. Perhaps I need to finish it up to know for sure but I've been using this eye gel exclusively day and night for over a month now.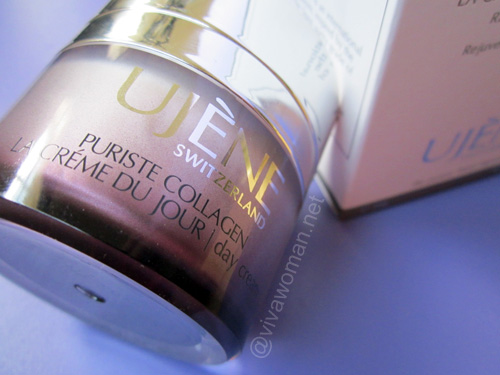 Ujene Puriste Collagen Day Cream S$120
Aqua, Soluble Collagen, Rosa Centifolia Water, Glycerin, Glyceryl Stearate, Caprylic/Capric Triglycerides, Dicaprylyl Carbonate, Stearic Acid, Cetearyl Alcohol, Grape Seed Oil, Apricot Kernel Oil, Cetearyl Glucoside, Hyaluronic Acid, Tocopheryl Acetate, Tripeptide-1, Hydrolyzed Wheat Protein, Hydrolyzed Soy Protein, Caprylyl Glycol, Butylene Glycol, Ethylhexylglycerin, Stearic Acid, Sodium Hydroxide, Xanthan Gum, Dimethicone, Carbomer, Phenoxyethanol, Tetrasodium Glutamate Diacetate, Chlorphenesin
Ingredients
Okay, I don't fancy day creams much, because they do not fit into my current skincare regime. But given that the night cream was not available and that this day cream does not contain SPF, I've actually been using this in my night routine, right after the serum. The Puriste Collagen Day Cream is actually quite impressive because it boasts of Aldeluxe, the first-ever ingredient to combat Reactive Carbonyl Species, a type of free radical more damaging than ROS, that causes oxidative stress and cellular damage. This proprietary active is also proven to boost Collagen III production by up to 300% in just 7 days. Well, I'm not exactly sure if it does that for me but I suppose this cream works synergistically with the serum to give my skin the needed boost. I kinda like this day cream except that I wish it did not contain dimethicone, even though it's almost at the end of the list.


50% off all products for 1st 30 Viva Woman readers
Given the kind of ingredients that go into the range, the price point is actually reasonable by my standard. I suppose some vegan lovers might be offended by the ingredients but I have no issues given the explanation that sheepskin is a by-product. The products do not contain any strange smell in case some of you are wondering; they're almost scent-free to me. I'm quite impressed with the results of the serum in particular and would recommend this especially now that you can enjoy 50% discount off all Ujene products with free local delivery. Just use promo code sesame. Do note that this special promo is limited to the first 30 customers based in Singapore and will expire 12 August 2012. For more information, check out the website which also provides a full international listing of product availability.
Comments