Are you blending away your mineral sunscreen?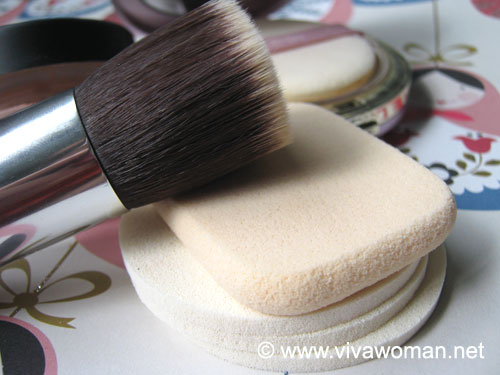 I had a question for myself recently while I was applying my makeup: did I just apply away my sunscreen? Okay, this sounds like a trivia question but well, for a skincare fanatic when it comes to the area of sun protection, nothing is too trivia eh?
I use a mineral sunscreen a.k.a physical sunblock containing Zinc Oxide and because Zinc Oxide and or Titanium Dioxide in a mineral sunscreen is meant to sit on top of our skin to deflect the UVA and UVB rays, it is thus better to leave them "undisturbed" after application. However, many of us do apply some powder or foundation over our face after our sunscreen application and so what makeup tools are better to be used after that – a brush, a sponge, a puff, or fingers? And what should we do to minimize disturbance of the sunscreen?
Using fingers
I know some ladies like to apply their makeup with their fingers. In this case, I would suggest that you dab on rather than blend on so as to minimize rubbing away your sunscreen.
Using sponge
Sponge offers better coverage but I realized that one may tend to use the sponge to blend the foundation on the skin and when that happens, you may actually be blending your mineral sunscreen away. So again, dabbing might be a way to avoid the "disturbance".
Using powder puff
I actually quite like the idea of puffing powder on my face as that hardly disturbs the layer of sunscreen sitting on my skin. The light puffing action ensures almost no disturbance.
Using brushes
However, most of the time, I use synthetic kabuki brushes to apply my face powder, whether it is a mineral foundation or a compact foundation. The soft bristles seem to ensure that I barely need to disturb my mineral sunscreen that I've applied on the face. However, I think it really depends on the pressure that one applies although I usually apply with a light hand and so the disturbance should be minimal.
What about chemical sunscreen?
While I've kept my discussion to only usage of mineral sunscreen, you can also apply the same tips when using a chemical sunscreen although the latter work by absorbing the sun's rays and should be the first thing you apply on your skin even before using an additional moisturizer. However, because mineral sunscreens need to form an external barrier on your skin and hence, it is more important not to rub or blend them away since they're the last of the skincare products you apply before your makeup.
Applying makeup about 10 mins after using a sunscreen
But whether you are using a mineral sunscreen or a chemical sunscreen, it is actually best to let your sunscreen sit and settle on your skin for a few minutes before applying your makeup. If you can afford the time, 10 minutes or slightly longer is good.
Comments