Get your custom blend mineral makeup at Lolita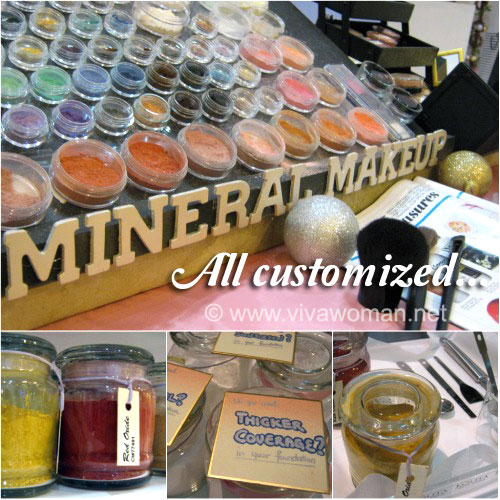 I had some fun on Sunday visiting Lolita at Marina Square, a makeup store that specializes in custom blend mineral foundation and makeup. I think this store will intrigue a number of you who have had problems getting your foundation to match your skin color. In fact, I learnt that many of us tend to "force" our skin tone to suit the makeup color when we should really be paying for makeup that suit our skin tone.
Investigation of ingredients led to a custom blend shop concept
Actually, I've kind of lost interest in mineral makeup. Those of you who have followed this blog for awhile know that I was raving about mineral makeup some time back. However, since suffering an allergy using one of them, I stopped experimenting so much with them. Jo, the Chief at Lolita can emphatize with my concerns and this is what she wrote when she first contacted me via email:
Few years ago, I followed the big craze on mineral makeup and frequently ordered from USA online. I introduced my girlfriends to the makeup and when one day a girlfriend asked me why did a natural makeup caused her more breakouts. I went to google and found out that a few ingredients were mentioned as irritants in your blog. Light dawned on me and I started to investigate every ingredients in my own makeup. As I got more into the mineral makeup, I learnt more and more through several sources… Finally, I set up an online shop selling custom blend mineral makeup and now a real brick and mortar shop at Marina Square.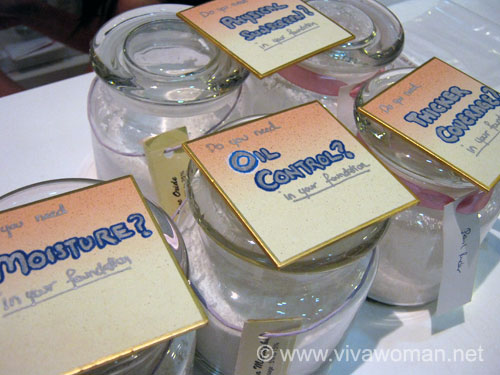 Custom Blend Foundation
I think all of you will agree that getting the right foundation color is important. Because most makeup are mass produced, so we can only purchase according to the limited options given. Sometimes they work, sometimes they don't. So Jo's rationale for offering custom blend mineral makeup is that users not only have the option of getting makeup that suit their skin tone, they can also pick and choose ingredients according to their skin type. Another plus point is they will custom blend foundations that do not cake or oxidize after a few hours of usage.
Blended according to skin types without irritants
According to her, every skin is different and no one makeup product can be suitable for everyone's unique skin type. Hence, Lolita work to formulate the makeup foundation from scratch for each customer. "No harmful and useless ingredients added to save cost in a mass production. Just a raw mixture of what your skin needs". The cards were all laid down for me when I was introduced to their products. Nah, not gambling cards but these coastal like cards that users can pick according to their skin type or needs. Interesting right?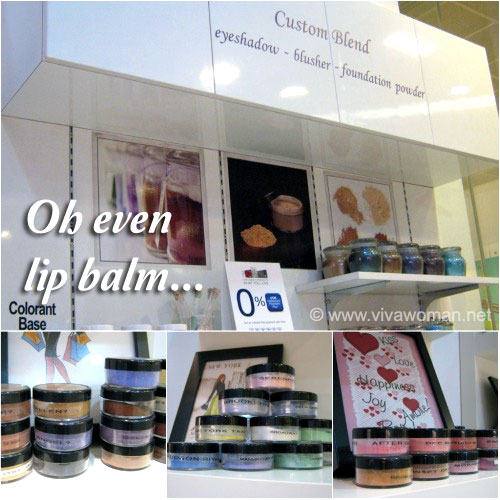 Custom blend eyeshadow and blush
Besides the mineral foundation, Lolita also offers customization for eyeshadows, blushers and lip balms. All these can be blended to suit our skin tone and so it's truly customized in the personal sense. And one interesting point Jo raised was that we can also concoct our own unique eyeshadows with zinc oxide as one of the key ingredients as that would offer our eye area some amount of sun protection. I don't know if I need that since I'm already getting protection from my sunscreen and the foundation powder but it's definitely a noteworthy suggestion.
Custom blend lip balm using lip sale blusher
I was told that my lip color didn't suit my skin tone and I think so because I'm the sort who do not care very much for lip colors. I tend to go for dark colors and truly, I think such colors dull my complexion too. So it was nice to know that I can also get a custom blend lip balm, which interestingly uses lip safe blusher as the colorant. And what works for me seems to be a lighter pink shade.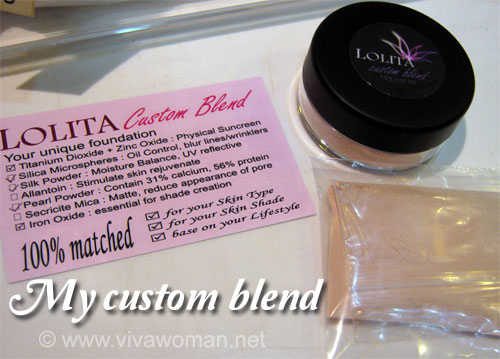 My 100% matched custom blend foundation
So this is my custom blend foundation, concocted to my exact shade and according to my skin requirements of having better oil control, moisture, dewy glow and some sun protection. I learnt through the entire process that the key to achieving the right foundation color is really to play with the right color correctors. I know something of that but I hadn't realized that it is actually possible to mix all the correctors.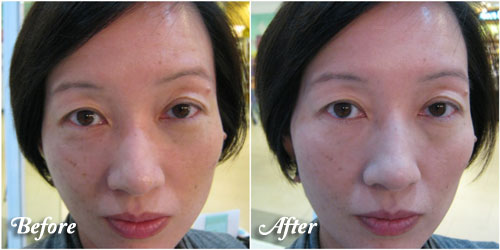 Before and after
The first picture shows the left half of my face with the blended foundation and the second picture shows the completed look. The 'After' picture appears pink probably due to the lighting in the shop but in reality, it was matching my skin tone. In the course of the makeup, Jo taught me several makeup enhancement tricks using the color correctors and I learnt that these tricks are all imparted to all their customers to get the most out of the products purchased.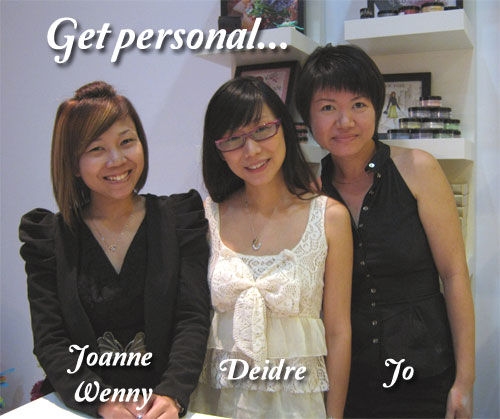 Friendly, personalized service
These are the lovely ladies at Lolita, who will offer you personalized service on top of creating custom blend makeup for you. They're as warm and friendly as you see them here. I thought the name Lolita is kind of cheeky and Deidre explained that it's really meant to define both the girl and the woman inside us. There's even a definition printed on one of their walls – it is a state of mind that liberates the girl inside a woman looking for that eternal youth, evokes the woman in a girl who aspires to exude her feminine charm. Well, a bit wordy there but we're definitely for eternal youth yay?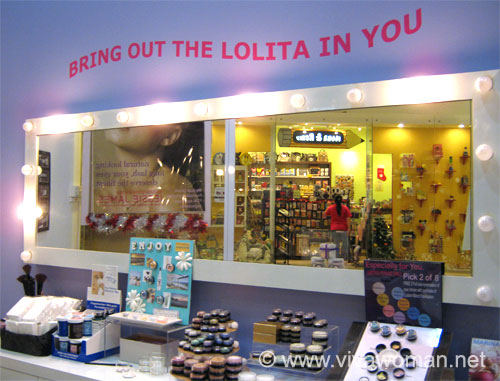 Prices of custom blend makeup
I spent some time at the shop talking to the ladies but I was told that it should take around 20 to 30 minutes for them to custom blend a foundation for a customer, including showing her how to use the makeup. Since it is customized according to skin tone and needs, the cost of the foundation is higher at S$58.90 for 10 grams worth of powder. The customized eye shadow is S$17.90 each; blusher is S$24.90 each, lip balm is S$12.90 each, color correctors at S$19.90 each, touch up powder is $29.90 each and finishing powder is S$48.90 each.
Eyelash extension service
Additionally, the shop also offers eyelash extension service providing natural looking lash based on a healthy lash extension system from Novalash USA. The first trial is S$89 and customers who take on the lash extension service can even get S$28 off their custom blend foundation.
Location
Lolita is located at 6 Raffles Boulevard #B1-12 Marina Square (direct access from Esplanade Exchange). You can also contact them at 6338 9981 or SMS 9683 7339 to find out more.
UPDATE: Lolita is extending a 20% discount for all regular priced items to Viva Woman readers. All you need to do is to quote vivawoman during your purchase.
Comments